September AOTM - Martin DC-16GTE Premium
Background:
I originally purchased this guitar from my old guitar teacher from high school about a year ago for $1000 USD. As you will see from the pictures, Someone added some sort of armrest on the guitar. I've been told that it's so your arm doesn't stain or blemish the top, although it's gloss top, so that wouldn't matter very much anyways. My guitar teacher said that the previous owner might added that to let the top vibrate more freely (although I have my doubts about that as well). Either way, I think it adds a certain aesthetic value to my guitar and certainly makes it one of a kind to me.
Specs:
MODEL DC-16GTE Premium
CONSTRUCTION: Mortise/Tenon Neck Joint
BODY SIZE: D-14 Fret Cutaway TOP: Solid Sitka Spruce
ROSETTE: Bold Herringbone
TOP BRACING PATTERN: Hybrid ''X'' Scalloped
TOP BRACES: Solid Sitka Spruce 5/16"
BACK MATERIAL: Solid Genuine Mahogany
SIDE MATERIAL: Solid Genuine Mahogany
ENDPIECE: Black Boltaron
BINDING: Black Boltaron
NECK MATERIAL: Select Hardwood
NECK SHAPE: Modified Low Oval
NUT MATERIAL: White Corian
HEADSTOCK: Solid/Square Taper
HEADPLATE: Solid East Indian Rosewood /Raised Gold Foil
HEELCAP: Solid Indian Rosewood
FINGERBOARD MATERIAL: Black Micarta
SCALE LENGTH: 25.4''
# OF FRETS CLEAR: 14
# OF FRETS TOTAL: 20
FINGERBOARD WIDTH AT NUT: 1-11/16''
FINGERBOARD WIDTH AT 12TH FRET: 2-1/8''
FINGERBOARD POSITION INLAYS: Style 28
FINGERBOARD BINDING: none
FINISH BACK & SIDES: Satin
FINISH TOP: Polished Gloss
FINISH NECK: Satin
BRIDGE MATERIAL: Black Micarta
BRIDGE STYLE: Belly
BRIDGE STRING SPACING: 2-1/8''
SADDLE: 16'' Radius/Compensated/White Tusq
TUNING MACHINES: Chrome w/ Small Buttons
ELECTRONICS: Fishman Prefix Premium Blend
Looks:
The gloss Sitka spruce top looks absolutely gorgeous, as do the mahogany sides and back. The dark and light color from the sides and top really compliment each other well, and the black binding brings it all together beautifully. I really do love the look of everything on this guitar especially it's ebony fingerboard and cutaway.
Sound:
What you would expect from a Martin, a rich, deep, bassy sound,. This is an excellent strumming and flatpicking guitar, and also sounds really good fingerpicked, although sometimes the bass can seem a bit powerful for some (although the right set of strings can help counter that) . This concern disappears once you plug in and use the onboard Fishman Prefix Premium Blend. This preamp allows you to change your sound to almost anything you might want out of an acoustic guitar, with a 4 band EQ, and also an internal goose necked microphone (my favorite part) which can be blended with the bridge pickup for a truly rich, deep, yet crisp sound.
Features:
This is the first guitar I've used with an on-board tuner, and it has totally changed the way I play. I can tune ok by ear, but now I can change from Standard to DADGAD, to Open C (or anything in between) all on the fly. I realize that onboard tuners are old news to all of you, probably but it's still a huge deal to me.

I've explained the sound features in the previous section, but there are some other goodies on the Fishman Preamp such as a Phase button and Notch filter knob to combat feedback, which is essential when plugging into any amp.
Playability
Plays like butter, it won't cut in to your fingers like other guitars and the action is perfect, low, yet not too low. Barre chords are incredibly easy, and the neck is a very comfortable width.
Reliability.
This guitar is solid, I have taken it to the beach (Ill advised, I know, but the thought of playing Ocean, at an actual ocean was too tempting to pass up) and it held up pretty well. It has stood up to minor bumps and collisions, but nothing major has happened to it yet (I hope to keep it that way), although it would probably hold together if dropped or hit, to a certain extent. That being said, there is a concern with the satin finish on the back and sides, in that it scratches or dings very easily, so care is required when handling this guitar. Like any other high end guitar, it always stays in it's case with a humidifier when not in use. I haven't had any electrics issues with this guitar yet, and I've only had to change the 9 volt battery once in the entire time I've had it. I'm not a regular gigging musician, but if I was, I would be fairly comfortable using this thing without a backup.
Pics!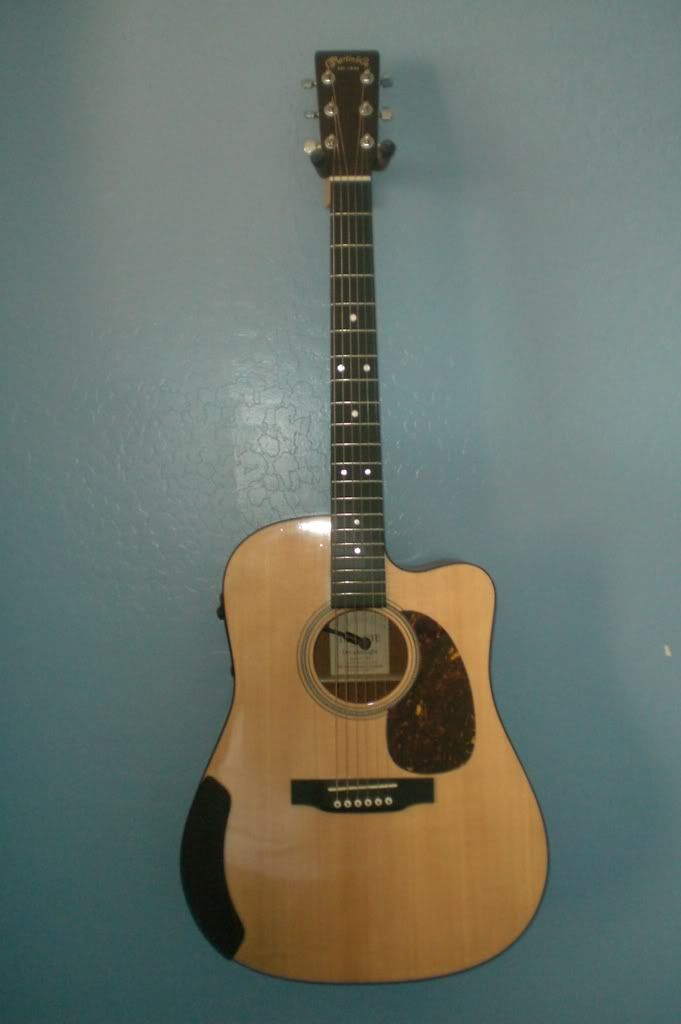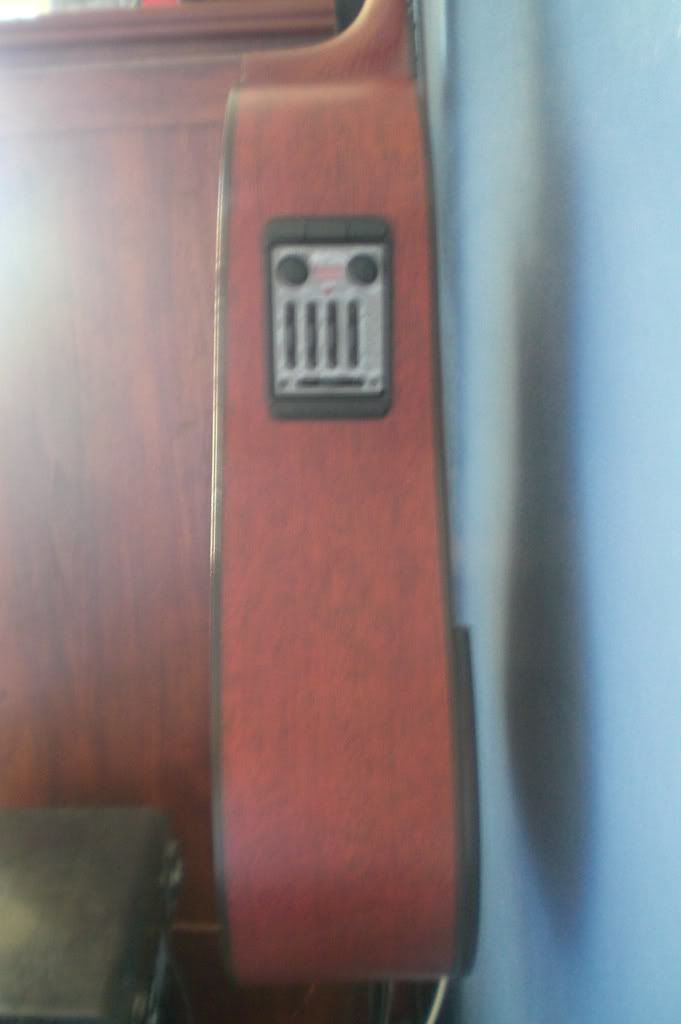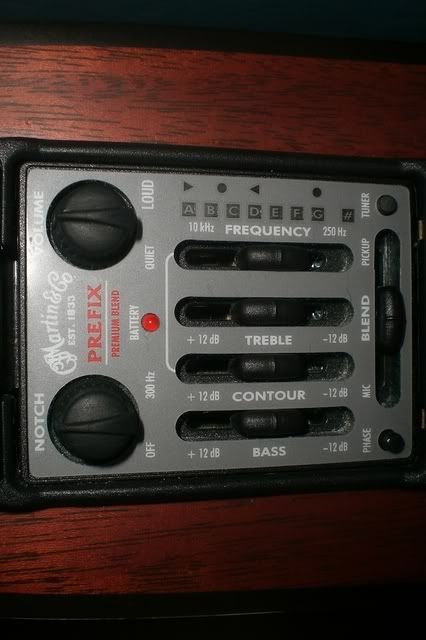 Thanks for reading!
cool stuff. how was the arm rest attached?
Probably some really strong glue/epoxy of some sort.
It seems just as sturdy as anything else on the guitar.

Join date: Sep 2007
40

IQ
Nice guitar, but didn't Captivate do the same model except rosewood, last month?
No cutaway or electronics for me. I bought my electronics separately. other than that, it's abou the same, ahahaha.
Yeah, it was a bit of a coincedence that we have such similar guitars.
except for the arm rest, that is one gorgeous guitar! that plays well, I'm sure.