FS: Ibanez RG7321, LTD M-10, both highly upgraded
I HATE to do this, but;
I'm absolutely broke, time to meltdown some of the stuff I don't play anymore.
First up: damn near mint condition Ibanez RG7321. I bought this from Eric (BAZGUITARMAN) a little over a month ago, the thing's in just about perfect condition, I couldn't really find any marks on this guitar. Eric put a White pearl pickguard on it, and locking tuners and strap locks.
Specs:
*basswood body
*maple Wizard II neck
*bound rosewood fret board
*all access neck joint
*25.5" scale/24 frets
*string through fixed bridge
*color- black w/black hardware
Eric said he also had the frets leveled. The guitar will be shipped in a form fitting ibanez case, and comes with a leather strap.
I'm only asking what I paid for it:
300 + shipping.
Pics: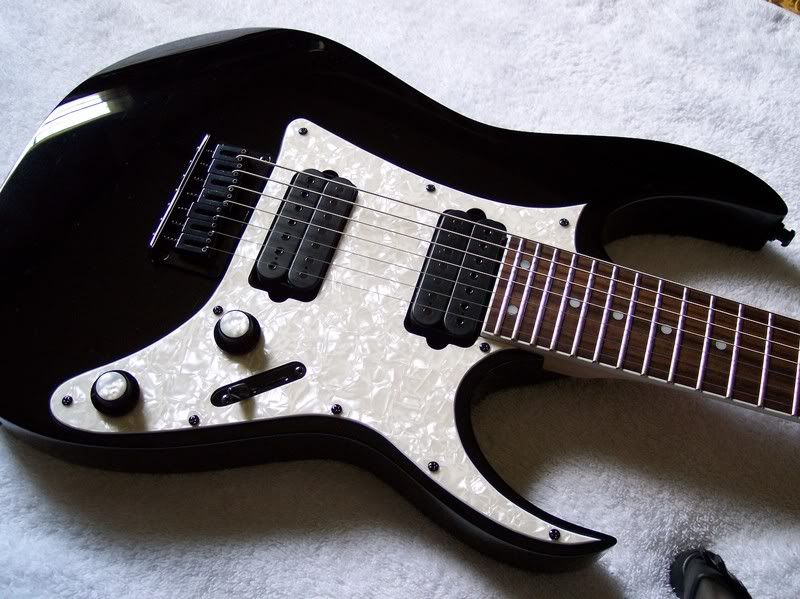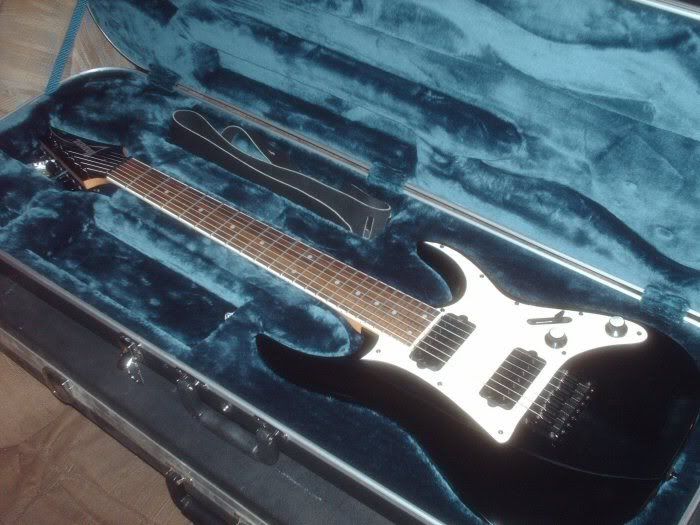 Next up; an older LTD by ESP from the days before they moved to Indonesia, this is a Korean LTD M-10, with an insane amount of upgrades. First off; I had it custom painted, it doesn't show up so well in the pics, but the guitar and headstock are all painted pearlescent white, and turns green and blueish depending on how much and what angle the light is hitting it, what a beautiful thing under stage lights! Next, it had schaller tuners installed, and oversized strap knobs. Also comes with a Seymour Duncan Custom V in the bridge and a Seymour Duncan Jazz in the neck. 3 position selector with the middle being a killswitch. Both pickups are 4 conductor, so coil tapping would make a whole new monster out of this. The upgrades alone cost hundreds of $$, I'm asking for
$400 + shipping
NOTE: the two black lines on the guitar are electrical tape NOT paint, and can be removed pain-free, my other guitarist in the band thought it would be brewtal looking or something, FAIL, anyhow: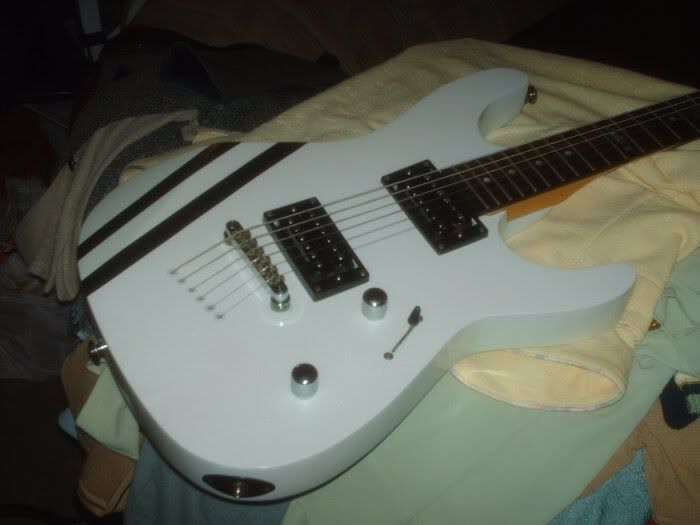 would you be willing to trade for the rg7321 plus some cash?(not a normal trade either) its a bunch of airsoft stuff, my JG Steyr AUG+5 mags+scope+vest+5000 bbs and i will ship it all oh and maybe $100 or atleast around it
Thanks for the offer, but no. I need cash because I'm completely dead in the water.. haha.

Join date: Nov 2006
1,232

IQ
Damn, I wish my SG would sell, because that RG is beautiful.

Do want.
Well, hopefully it will sell cause I need to unload this baby! Keep in touch


Join date: Jul 2005
90

IQ
Gutted you're not in the UK mate, I just got a good wage this month and that 7 looks a total beast.
=[

would you be willing to half shipping prices on it if we could strike up a deal?

PM me
Mike
I sent you a pm, man

I found a lead on an amp I've been wanting forever, so..

Ibanez 300$ SHIPPEd,

LTD 370$ shipped

Join date: Oct 2006
130

IQ
Send me a pm with your paypal info, I'm 99% sure I want the Ibanez 7 string

Join date: Oct 2006
130

IQ
You know what, I realized I don't have the money right now....

Thats a GREAT deal though. I'll get back to you if I get a check any time soon but I think it will sell by then.
Keep me updated, man.
Remember, this Ibanez is coming with a BEAUTIFUL HSC, form-fitting for the seven, locking tuners, a pearl guard.. that case alone was like 125$..
help me out..

just a reminder, this is NOT and ESP, the guy that did the custom paintjob just had some fun with the headstock, and I Am NOT selling this as an ESP
here's a pic of the headstock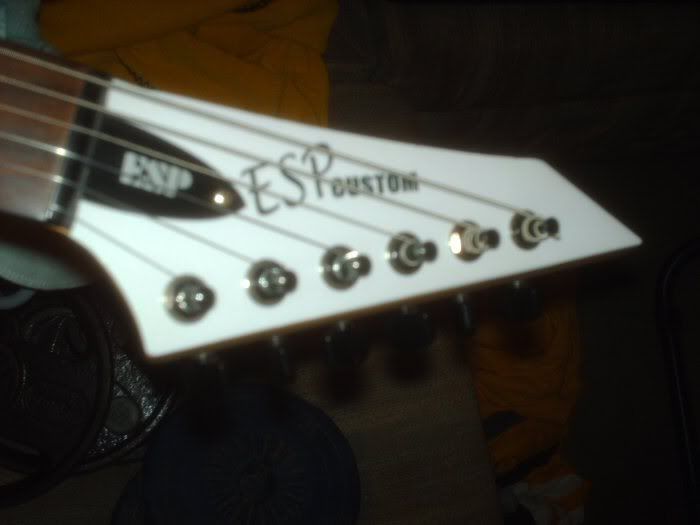 alright not too far away. do you have an ebay account?
yes, the ibanez is on ebay right now.
i gotta go now. i'll talk to u ltr
if you're interested, please PM me, I'm trying to get these sold tonight.
thanks!

no one wants these? I'm seriously selling as low as I can go before losing a shit ton of money

no deadline, just trying to keep myself alive.. haha
well, the guy who is selling his Ibanez SA Series isn't posting any pics. I told him if he doesn't post by tomorrow at 5:00, i'm gonna consider your deal.
alright, man.

thanks for the heads up

Join date: Aug 2006
170

IQ
Interested in the RG. I'll see how my financial situation looks.
let me know


Join date: Jan 2008
20

IQ
is your ebay name josh_8969?
that;s me..


thganks for the buump.

ps im sduernk
ok just on last question. what are the upgrades u have done to the guitar?

Join date: Oct 2005
271

IQ
any chance of a deal to the UK?

and what sort of price if possible?

This is about the Rg7321 btw, lovely guitar.
Thanks Guitar-God, I'll consider it for sure!
sak all the upgrades are listed in the ad


Join date: Oct 2005
271

IQ
got any prices on the rg7321 to the uk?

or have you decided usa only?
I sent you a PM!

anyone?