Friend Selling His Bass
Hope this is the right place to post this.
I'm not selling anything, but a friend is.
I just want some opinions about his asking price.
Well, he is actually the son of one of my mom's friends.
Its a Silvertone Apocalypse Pro bass (Paul Stanley model).
Hes asking $500. I think hes nuts, but its actually not a bad bass.
I borrowed it from him awhile back for about a month to record some stuff.
The neck is a bit bowed, but not so bad that a little truss rod adjustments can't take care of.
I've looked around to try to get an idea of the value of this bass, but came up empty.
You think hes out of line with his asking price?
When I borrowed it, I was thinking about offering him around $100 for it.
Heres a little picture of it: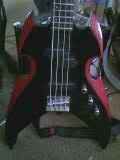 And Craigslist listing:
Craigslist link
Thanks

Join date: May 2008
10

IQ
well it goes for over $1,100 so yeah thats a good price

Join date: Mar 2008
400

IQ
Hope this is the right place to post this.

I'm not selling anything, but a friend is.

I just want some opinions about his asking price.

Well, he is actually the son of one of my mom's friends.

Its a Silvertone Apocalypse Pro bass (Paul Stanley model).

Hes asking $500. I think hes nuts, but its actually not a bad bass.

I borrowed it from him awhile back for about a month to record some stuff.

The neck is a bit bowed, but not so bad that a little truss rod adjustments can't take care of.

I've looked around to try to get an idea of the value of this bass, but came up empty.

You think hes out of line with his asking price?

When I borrowed it, I was thinking about offering him around $100 for it.

Heres a little picture of it:

And Craigslist listing:

Craigslist link

Thanks
I got myn for 300 with a leather case