*SALE or TRADE: Beautiful Xray XB8 Nitro buggy For Sale*
Hi,
Today we have for sale an immaculate Xray XB8 buggy.
To start off, it has been my pride and joy. It has been raced a total of 10 times and has never failed my once. In the entire time I have had it, I have NOT broken ANY parts. After every time of running, I striped it down and detailed it; finishing it off with STP protectant on the plastics and tires.
It has every upgrade you can buy for it, including a Jammin JPX .21 paired up with a Jammin JP-3 pipe (faster than my baja) . This motor has about 2 gallons on it. It was set at BDC after every run and kept at a solid temp of 230-250 degrees. It always starts on the first second or two on the starter box.
I will detail it even further if wanted before shipping
It has been set up to drive like a dream.
Never abused, flies great, and has unbelievable power
Here's what the buggy has on it:
All EC upgrades-including one-piece motor mount, chassis braces, and suspension parts.
Jammin JPX .21 motor with JP-3 pipe. Puts out insane horsepower.
Hitec 965MG throttle servo; JR 650m steering servo
Aluminum carriers on all 4's.
CVD's
Proline Crimefighters with about a gallon on them.
Chrome top starter box w/ battery. (lasts months without going dead)
All manuals
The Specktrum DX2 with sr3000 receiver can be included for another $100
Spares:
4 ½ sets of wheels
Mounted panthers on Xray wheels- about 50% left
Rechargeable glow igniter
Brand new screw set
Brand new body not opened
New wing
Fuel tank
Full set of brand new a-arms
New sway bars
New hardened wheel nuts
New plastic carriers
Stock carbon parts
Shock caps, retainers, and bushings. All new
Spur and clutch bell
Stock motor mount.
Rod ends
Total cost is about $1800-$1900I'm asking $850 or $950 with radio and receiver (plus shipping)
If you have anymore questions, please ask.
Entertain me with trades- trade value is of $1500-$2000
WILL TRADE FOR GUITAR GOODS. I'm looking for an SG (68 reissue or better), Les Paul, or telecaster. offer up, I CAN add cash.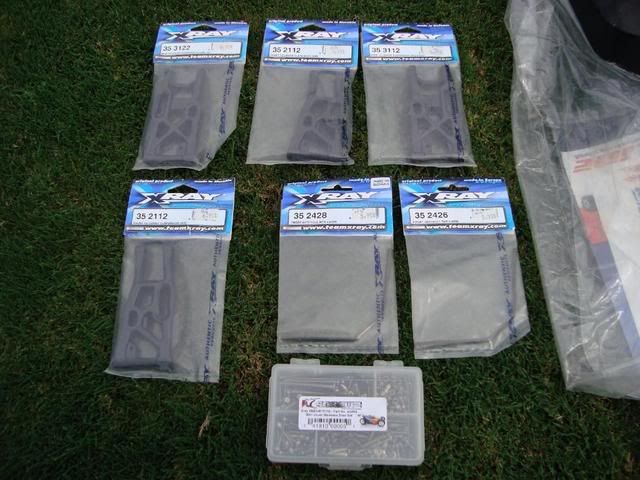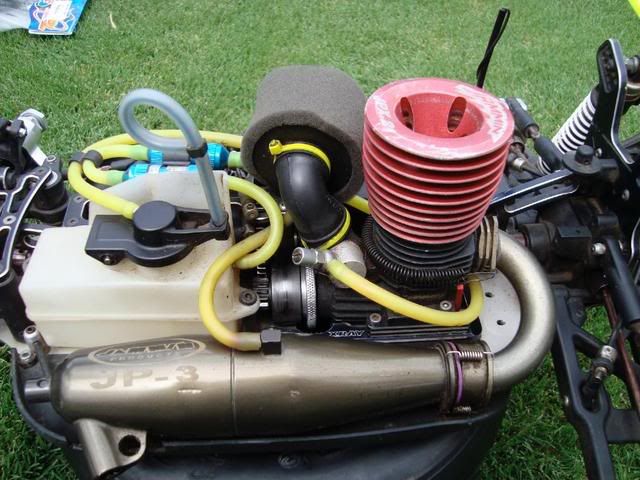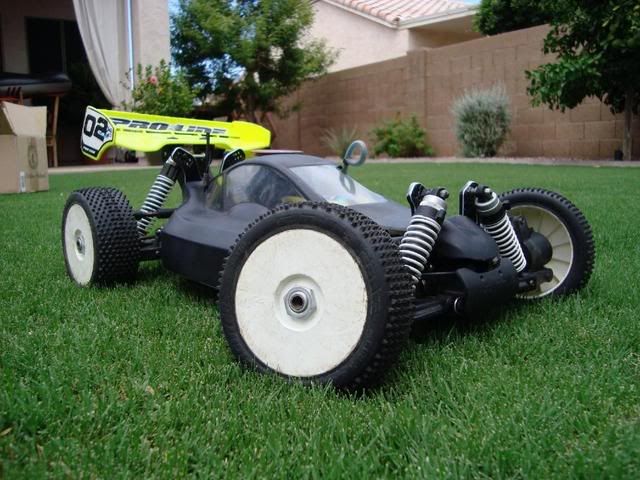 Also will take guitar and amp trades.
Guitars I'm looking for are a Fender tele, 61 reissue SG, or Les Paul
Thanks
Oh man looks freakin awesome.
Oh man looks freakin awesome.
Yea, it is.
It's so fast it's not even funny, the motor is top notch and will run with and beat all of the other buggies. Drives like a dream also.
Its funny how nitro cars cost as much as guitars lol.
Its funny how nitro cars cost as much as guitars lol.
Yeah I know especially the kits like this one.
You throw a $300 motor and another $300 in electronics, then $300 in hop ups, then $600 for the kit. LOL, it adds up fast.
Join date: Feb 2006
30

IQ
so does this come with a new set of strings and tuner?

so does this come with a new set of strings and tuner?
Yep, D'addario wheels with chromatic tires LOL

Join date: Feb 2006
30

IQ
nice free bump for you then

Join date: Jun 2008
36

IQ
when reading the description i expected a go kart haha
Bump,
Offer up!

Up,
Make some offers guys.
PRICE DROP: $800 for everything including radio.
Please help me out,
Thanks

Join date: Mar 2008
92

IQ
Its funny how nitro cars cost as much as guitars lol.
Heh, the transmitter for my airplane cost about as much as the car is gonna sell for. It's no wonder I'm always broke.
:O $800 for all of that makes me want to get back into the hobby haha, if only I had $800

. Someone buy this stuff, all of this is a freaking steal!
Yeah, it's an awesome deal.

Get back into the hobby! LOL, the only reason I'm selling is because I have more than one and I need money.
This really is a great set up and an extremely fun hobby.