Rick Rolling the MTV Europe Music Awards.
The upcoming EMA's are in Liverpool so I decided to look it up and cast some votes, but while I was at it I had an idea. What if we could Rick Roll the whole MTV Music Awards? and thought how amazingly funny that would be.
If you want to do this, go to their website
http://ema.mtv.co.uk/vote/#_
And at the bottom of the page, it gives you this option: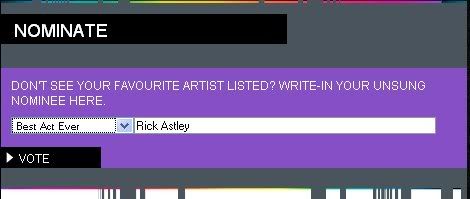 and type Rick Astley in the 'Best Act Ever'.
I didn't get this idea off any other site/forum, but feel free to spread the word and hopefully we'll all be able to Rick Roll MTV Music Awards by the power of the internet!
By the way the category they will be competing in will have the likes of The Beatles, The Rolling Stones, Led Zeppelin, Michael Jackson and Nirvana.
BY THE POWER OF THE INTERNET WE CAN GET RICK ASTLEY THE MOST PRESTIGIOUS AWARD OF THE NIGHT.
UPDATE:
THE NOMINATION PHASE IN THE MAIN CATEGORIES IS NOW CLOSED. BUT YOU CAN STILL VOTE FOR YOUR FAVOURITE REGIONAL ACT HERE. AND CHECK BACK ON MONDAY, 29 SEPTEMBER TO SEE THE OFFICIAL 2008 MTV EUROPE MUSIC AWARDS NOMINEES IN ALL CATEGORIES - CHOSEN BY YOU.

UPDATE UPDATE:
They have released the nominations for all the categorys, 'Best Act Ever', however isn't there. If they choose to ignore thousands and thousands of peoples' votes then at least we can prove it's completely rigged.
MOTHER ****ING UPDATE:
Holy ****ing Shit!!!! He is in it!!!
He has not won yet, if you want Rick Astley to win vote:
http://ema.mtv.co.uk/vote/#__best_act_ever
Last edited by kidsilcon at Oct 2, 2008,