For Sale Guitars + Gear UK

Join date: Jun 2004
101

IQ
Hey guys
Basicly I'm heading off to Cardiff for uni this week and need the cash so its gear clearout time! I have no experiance with posting guitars and so the guitars are only for pickup in gloucester (where I live now) and Cardiff. The body and pedal can be posted.
Idealy I need a quick sale so if theres no offers then I will put everything on ebay.
If everything goes then I will not have a guitar so will be on the lookout for a second hand guitar with two humbuckers and that is not a 'metal' guitar PM me.
Cort x-6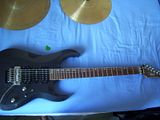 I have owned this guitar for a few years and I'm only selling because it doesn't fit my style anymore. Everything works fine apart from the trem arm which is a little wobbly (never bortherd me) and the headstock which as you can see from the photos has a dent in it.
£125 ono pickup only
Aria starter kit
Your basic strat starter pack. Stg 004 (2 sc 1 humbucker) with 20 watt aria amp, case and lead. Had this for 4 years and its done a good job. Only minor chips with a dent in back of body. Plays fine would be a idea starter kit for a learner.
£125 ono pickup only
*note I would stick the amp etc with the encore guitar if anybody is interested*
Encore strat copy
Had this for about a year was in crap condition when i bought it. Body has chips (not seriously) and scuffs in places, screws are slightly rusted (but still work), one of the tuners is a bit suspect but still works and pick up selector sometimes makes a noise when used. Also missing a bridge post but that doesnt effect playablity.
Plays fine mind and apart from the pick up selector no electronic problems. Would be good for a learner or somebody who wants to take a guitar apart and experiment.
£30 ono pickup only
Telecaster body.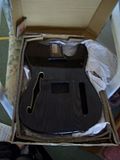 Had this about 9 months would of loved to of made a proper job out of it put sadly school work got in the way. Looks awesome routed for one sc and one humbucker.
Needs to be routed for a bridge and neck pocket is bigger than ordinary but comes with a neck plate and screws. No chips or other flaws like that will make a brilliant project fro somebody.
£30 ono + p&p (about £12)

Zoom 505/2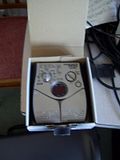 BROKEN. Batterys don't work but 9v adapt will. Also one of the sockets is loose and is very unreiable it might be a simple fix but I don't know. Have not tested this for about a year. For somebody who whats to ''have a go'' at electronics.
£7.50 ono + p&p
Thanks for looking. If I get no replys then it will go up on ebay mon/tues. I leave for cardiff thurs/friday so will need to know if anybody is interested and their location by then. Please note I will not post anywhere out side of the UK.
Can you please test the zoom, if it works i may take it.

Join date: Jun 2004
101

IQ
sorry mate i haven't got a 9v adapter to test it with, pretty sure it would work with it but then its a question off wether you would get sound for it.

Join date: Jul 2006
161

IQ
you're going to cardiff for uni? me 2, what uni are you going to?