My first custom strat!!!
Okay, so this thread will be a "work in progress" for quite awhile. Anywho, I picked up a really cheap strat copy on Craigslist and want to use this opportunity to make it a really awesome beast (isn't that what everyone wants?). Anywho, here is what we are currently working with. I just took this picture and as we speak im getting ready to take the hardware/electronics out and get to sanding the paint.
I have been thinking for at least a week about what kind of paint I want to put on it. I thought lime green/blue but nothing really just stuck in my mind. Finally, it hit me....one of my good girl friends is an art student, so im giving it to her to paint something contemporary on it and to make it truly one of a kind.
Heres what we've got right now.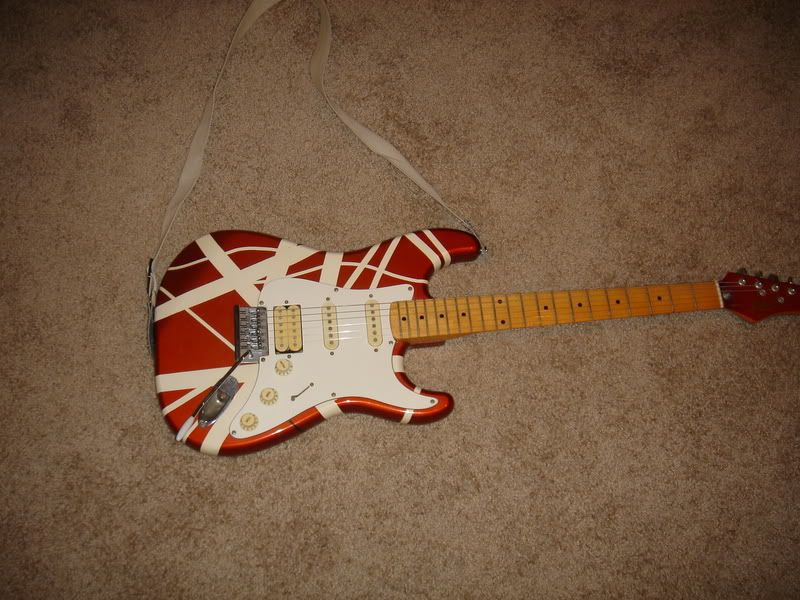 I want to put a new tremelo on it, probably try to find a washburn "wonder bar" so I don't have to do any routing. Any other good tremelos that I don't have to rout?
As far as pickups, i'm looking at a pair of Seymour Duncan Pearly Gates.....any tips/help is appreciated.
Last edited by Paith at Sep 25, 2008,

Join date: Jul 2008
10

IQ
I had one of my friends who's an art student do the pickguard on my Gibson SG. She put my initials on it and did some work around the pickups.

Join date: Dec 2007
30

IQ
the pearly gates are amazing pups.
and as far as trems, look for wilkenson (sp?) trems...there great replacements for the standard strat trem...also look at new tuners, and ur set.
EDIT: @therudycometh: is that an sg faded with EMG's???? nice

EVH much?
I paid $45 for the guitar......AND it works!!!
whats a super vee?
Google it. It's vibrato that you don't need to route for.
Google it. It's vibrato that you don't need to route for.
awesome....I like that....I didn't see on there, but its floating right?
awesome....I like that....I didn't see on there, but its floating right?
Yes I beleive you can set it to floating or flat.
get a vintage style wilkinson, i love mine, lovely fat block too, better than a fender IMO
btw, i'm going to lose the two single coils and just add one extra humbucker. Nothing I play uses singles.

Or do you think its better to have the versatility of having both since 90% of the time I use the bridge anyway?
Updates: The guitar is all primed and I just got it finished painted. Clearcoating here in about 10 minutes.....it looks freaking amazing. Don't want to spoil what it looks like, but i'll have some pics very soon. Ill post the primered pictures in a second. Time to order the FR
UPDATES WITH PICS
Okay, so here are the primered pictures!!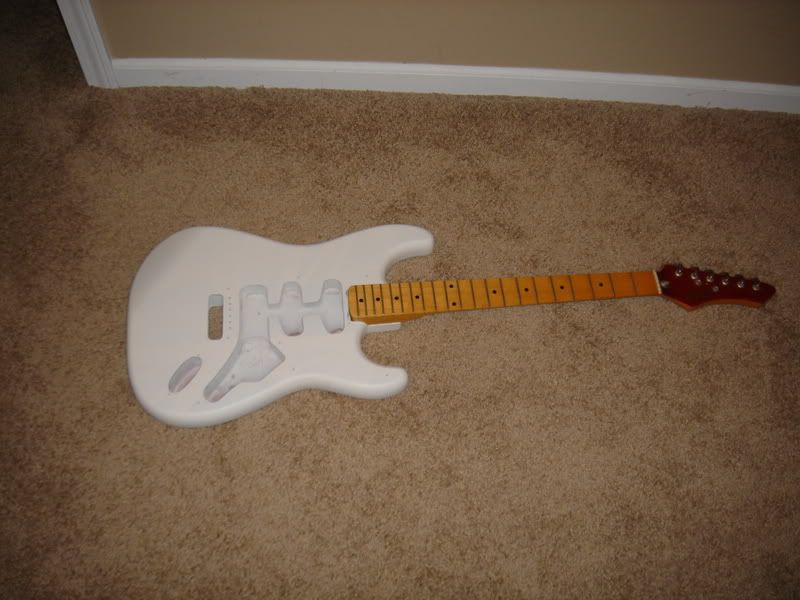 now if you notice, i didn't sand all the paint off underneath.....I wanted it like this because those white strips are at a slightly different height and this would provide the new paint with some awesome looks!!
So I spent forever trying to decide on what to paint it......I mean forever. First it was EVH, then I changed, then back to EVH, and changed, and finally decided on EVH.....then I said I want something more my own.....so I bought some of that paint that changes colors!!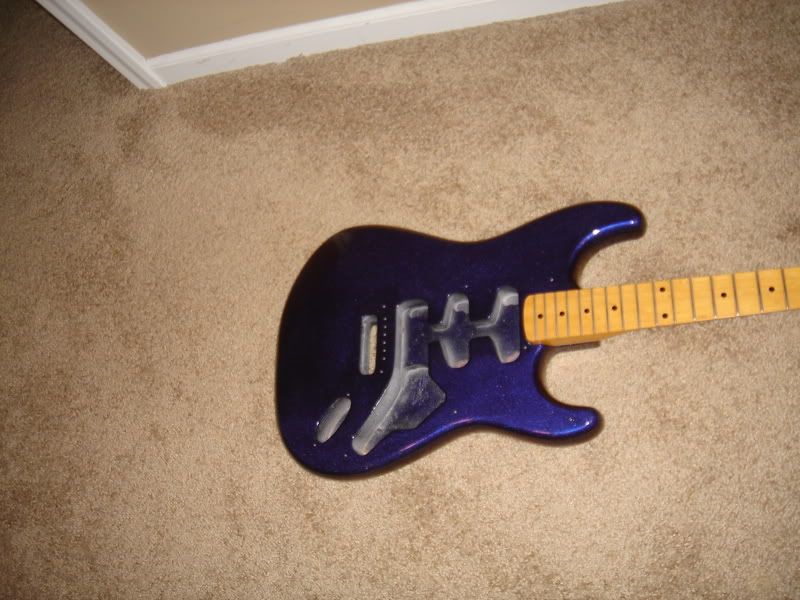 I had trouble getting the photos right and my camera died....so its charging, but it goes from a deep purple, to a dark blue, to red......it looks amazing in my opinon. Then i'll strap a chrome tremelo (FR or might just go american strat one and be done with it) throw in some pups, and im going to do a white tortoise shell pickguard and i have some orange/yellow reflectors to stick on the back!! I can't wait to get some more updates, im really excited about it.

Join date: Dec 2007
30

IQ
So while i'm waiting for my FR to come in (monday!!!), I went ahead and added some effects to the back. I really like the look of these!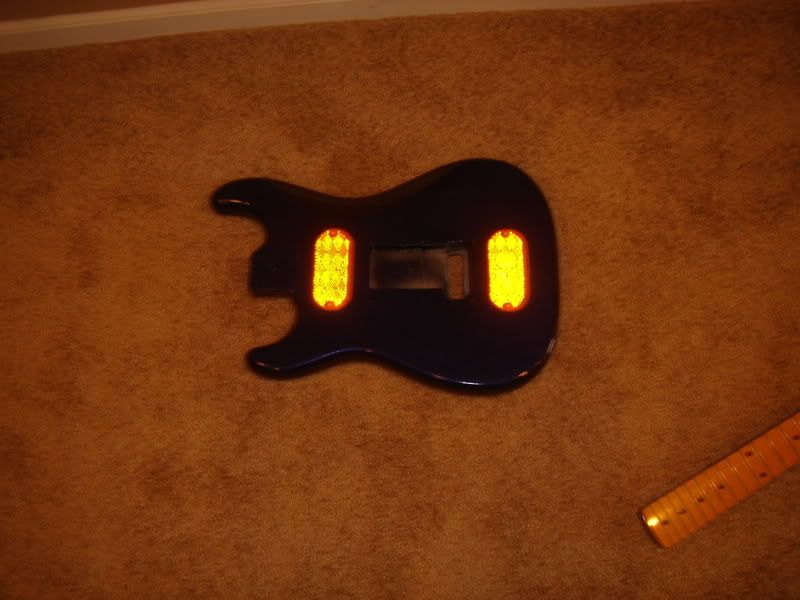 but then I wanted more.........but what else? So as I was browsing through a store, I found these awesome concave mirrors, and thought, what the hell, so I added them too.
So thats the current state, as soon as the floyd gets here, i'll update pics showing my routering work and various comments on the installation.
I really need to find a way to capture the paint, seeing it change colors is awesome.
The floyd has arrived. Routing will start tomorrow morning. I'm being honest, it doesn't look that complicated, the nut is going to be my only issue. I also forgot (im an idiot) to order a retainer bar, so i've got to pick one of those up. I'm goign to post a lot of pictures and ways im doing the FR install, as i'm sure alot of you will want to see if its too difficult. new pics coming soon!!

Join date: Apr 2006
10

IQ
Are you seriously leaving those mirrors and reflectors on it?

and why didnt you wait to route it before applying the finish?

chameleon paint is awesome though, hope you can get some good pics.
hell yes the reflectors and mirrors are staying. They are special mirrors, they're angled so nothing looks normal....the reflectors on the paint are perfect.

As to why i didn't route before I did the finish.......there are some things you don't think about ahead of time....that was one of them! Hopefully though, it'll be ok, i'm going to mask the area, and am pretty talented with a router.

will try to get some better pics in sunlight tomorrow.

Join date: Aug 2006
250

IQ
Well, in my opinion that bicycle and funhouse shit ruins it, but hey, at least you can scare children, and be visible while gigging in the dark.

Anyway good luck man.
ive played some venues with some pretty awesome lights, thats why I really wanted it. This guitar is a reflection of my personality....never the same. The colors change just like moods, its got a chrome FR (flashy), and it kicks ass, the reflectors/mirrors are there as a surprise, as to not something you'd have everyday, which is what i show in my guitar playing.....I try to make each song unique, not different, just I play a solo with some extra, or give a little tremelo, perhaps as little as a fill. I am doing this guitar, the way I want to have the guitar. Its built to suit me, not steve vai, SRV, or Joe Perry. This is my signature guitar, built the way I enjoy it. My pups, my settings and everything.....

I know the reflectors/mirrors aren't for everyone, but its just something that makes it different.

Join date: Mar 2008
20

IQ
a pickguard made out of a reflector would be pretty awesome. it'd be a bit thick too but awesome nonetheless.
have you thought about a HSH pup configuration?
i was going to do HH, but is there a good reason as to why I should do HSH?? Let me hear!!

Join date: Apr 2008
220

IQ
so you can put a series of push pull pots and mini toggles into it and make it so confusing that you'll only use the neck and bridge humbuckers but still have bragging rights of 1432189714321741289 sound configurations