The Reasons Why I Bash Bugera!
Alright well, let me start off by saying I don't bash these amps for no reason. I bash these amps because they're cheaply built knock-offs of other amps. The reason I don't like them is not just because I think they lack warmth and clarity in there tone, but because they're horribly made. Ever since I've been on this forum I've seen these amps being recommended to alot of musicians, and seeing many people praise these amp heads.
A buddy of mine, well, more of an aquantance (spelling?) of mine, baught one of these amps a few months ago. He was planning on buying something much nicer, but figured he would give the Bugera a try. After only 8 days of owning and playing the amp, the amp had completely died. It wasn't a problem with the fuse, or a bad pot, but the inside of the amp had actually begun to fry.
Believe me? No, you probably don't, so here are pictures of other people who have had problems with these amps.
-You notice anything wrong there?
-Hard to see, but I'm sure it will be a bit more noticable here:
-Do you want this in your amp?
-How about this?
Here, take a closer look: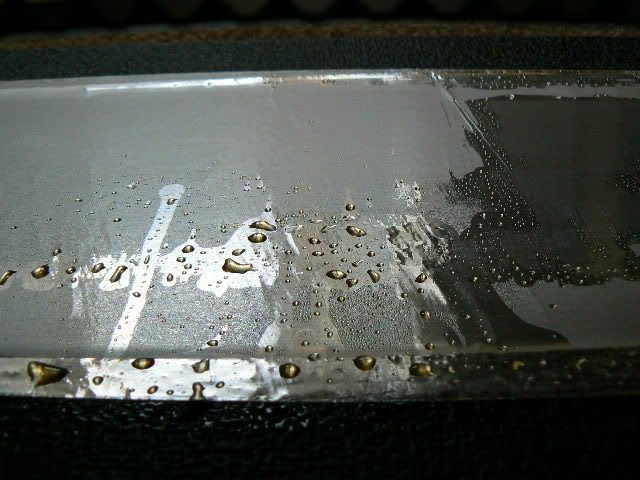 From spending alot of my time on other forums besides here at UG, I've come across many problems with these amps. I've even taken the privilage of trying these amps myself, to see what all the fus what about. Three (3) of the Bugeras I seen in shops wouldn't even turn on, which is not a good thing. The few that had worked for me had sounded very thin, and were lacking alot of clarity. It's as if these amps were being built using leftover parts which had been laying around.
I'm not trying to judge these amps by tone, but by the build quality as well. I'm sure there are quite a few people here who own a Bugera amp, and may possibly like it. This thread isn't made to stop people from purchasing these amps, but to show why I consider these amps to be junk. After reading the bad reviews, seeing pictures and trying them for myself, it's safe to say that I will never be an owner of a Bugera product. If you're in the market for a new amp, then it'd probably be best to put a little more cash up and getting the real thing. I've never seen or heard any other company have as many problems as this company in such little time.
That, UG, is why I'm seen suggesting other users to try other amps before purchasing a Bugera. This thread was not made to turn into a flame war, or bashing any users on here, but to show how I, and many others, look at this amp company.
-Mike.