epiphone so cal 50 stack for sale
I realized i don't really need this because I don't play shows and i can't turn it past 1/8 the volume without shaking my windows. So, I'm selling it. It is in perfect condition and the tubes are just starting to break in. I'm looking for $600 obo + shipping. (the head alone costs $500) lmk if you are interrested.
pic: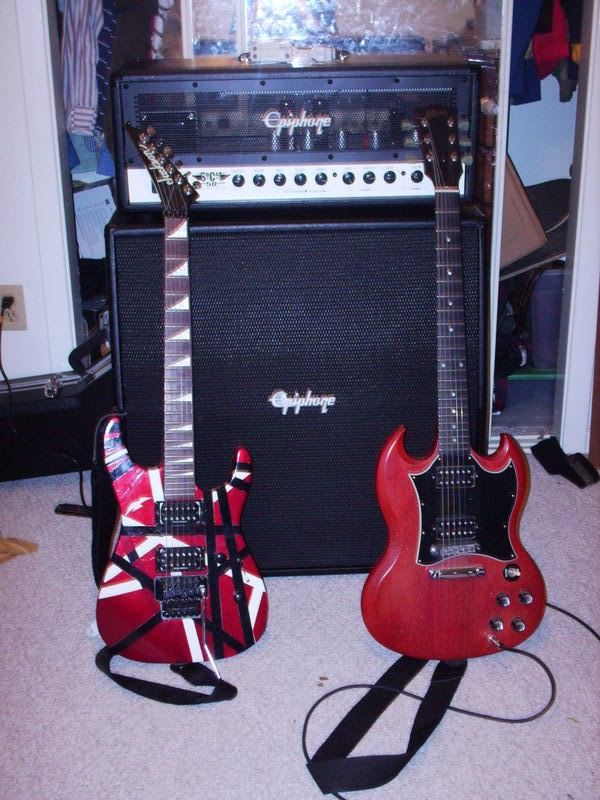 very nice looking!
does it sound fairly good at low volumes though?
does it do classic rock fairly well?
probably won't have enough money for it though...
good luck selling
new price: $450+shipping. need to pay for my truck.
Would you sell just the head? I live in Canada and the cab would kill me for shipping.
Also do you have any references?
I am in Louisiana. I have one reference for selling a jackson dinky on this website, over 40 positive on pbnation.com and 16 positive on ebay. I'm on the good trader list on this site.
I am in Saskatchewan Canada.

I have tons of references on this board. Check the good trader thread, and if you check the old trader thread you can read what others have said about me.

Not one negative.
well what is your offer on the head?
Can you give me a shipping quote to 55124
what kind of voicing does the amp have? Is it more british or american? More vintage or modern? I might be interested in the head, specifically.

Join date: Mar 2006
100

IQ
Any trades? I'm looking to trade either my Fender Jazzmaster or Gibson SG Classic (P-90s) for a tube amp. Send me a PM if you're interested.
willing to trade for a nice acoustic electric plus cash/