got this 80's Jap strat
bought this today, pretty spur of the moment, walked into the shop, went straight to that strat section to see if they sold G&L Legacy's, was in the market for a Strat this summer and wanted to try one of those legacy's out, but i seen this second hand 1986 Jap strat, so a tried it out and i really liked the way it sounded and played, it has a real good set up. so 2 mins later i was walking out of the shop with it!
im pretty sure it was a decent price for it €295. im thinking about spraying it a different colour and putting Texas specials and a brass or roller bearing nut in it.
what yous think?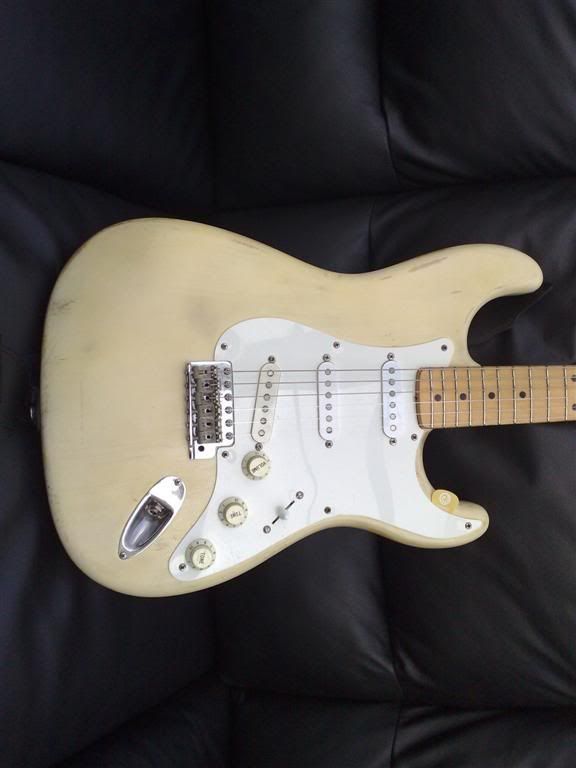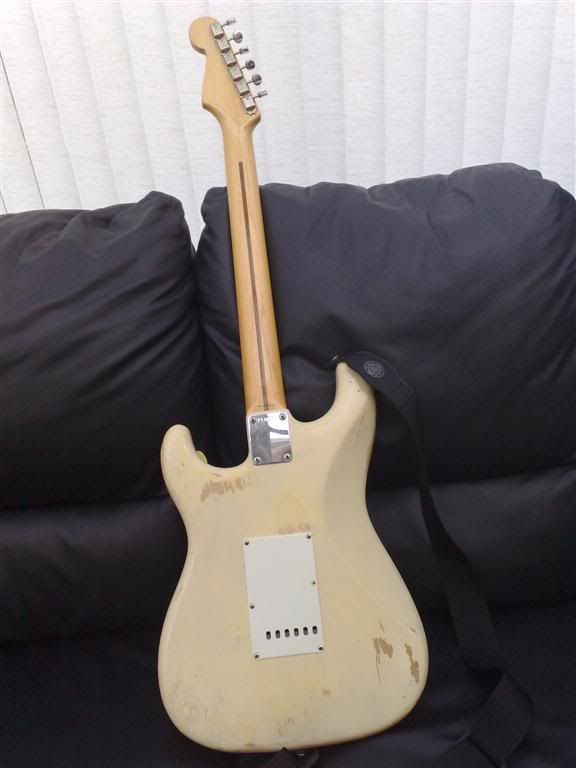 a nice project guitar at least
Very nice! Congratulations!
I'd leave the colour etc. as it is! That colour of strat is awesome - especially with the maple neck! Definately a new nut and pickups though

Wish I could find one like that :P
diggin the vintage vibe on it
yeh thats what sold me on it, i really love the old look to it, funny enough it was amongst the relics and i was like, damn thats a pretty realistic relic!

then i realized

Join date: Oct 2005
80

IQ
the fretboard looks like it's in good condition. nice score on that.


Join date: Dec 2007
150

IQ
I wouldn't change anything on it. Are you sure it's an 86? I don't remember any Strats like that in 1986 and the neck plate looks odd but maybe it's something they didn't sell in the US of A.
Looks good

Great man, my dad has one from around the same time. They play like dreams! I'd get some Bareknuckle pickups, they're the best!

Keep the colour, I'd kill for a guitar that looked like that!
sounds like a good deal to me, as long as all those scratches/dents are superficial.
japanese fenders (and gibson and fender copies) generally are badass, especially the older ones. great score.

Awesome relic. Some people kick their guitar around their garden to get that look!!!
cheers guys, only one thing though, the guitar didnt come with a whammy bar and none of the ones in the store would fit! so if anyone knows what type of bar i have to get for it could they let me know! i suppose il have to order a japanese fender whammy bar presuming thats the difference
Tremolo bars are surprisingly hard to get here! Mine didn't come with one either lol

Online is probably the best bet - Japanese is the same as the other Fender's. Just the cheaper strat copies and Squier's don't fit.
tell me about it man, what
can
we get over here

Japanese not "Jap". Thats an ignorant term. Nice guitar though.
I doubt his Strat is going to file a complaint though...

Join date: Mar 2008
30

IQ
LEAVE THE COLOUR!!!

Put on a black pickguard and you'll have one darn nice looking strat!

If you want another colour, buy a new body and sell that one to me!