Jackson KE3. Please Help!
Im thinking of buying a Jackson KE3 but dont know what colour to get. Trans Blue/ Trans Black or Cobalt Blue. Does anyone have any pics of it in trans blue beacause i cant find any and haven't seen it properly. Thanks


Join date: Mar 2005
41

IQ
thanks but thats blue green not trans blue

I have the trans black one.

Join date: Jun 2007
95

IQ
trans black dude, its beautiful.
The Black does look nice. Im looking for trans blue pics though. Are you ahppy with the guitar btw?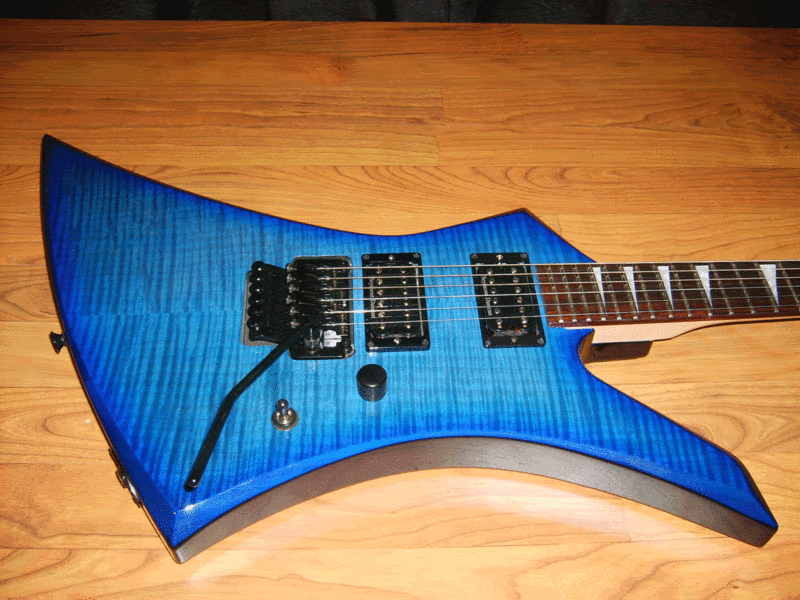 It's a good guitar. get it.

Join date: Feb 2008
141

IQ
The trans blue looks nice.
I had trans red, and it was pretty cool too.
It's really down to what colours you like.
Trans blue, red or black

there all awesome.

Join date: Feb 2008
30

IQ
all are awesome but i have the crimson swirl.

Join date: Feb 2006
160

IQ
Eerie dess or crimson swirl.
The blue does look nice. Is it the same colour on the side?

Join date: May 2006
40

IQ
they all look good, but you can't go wrong with the black
Actually it is an awesome guitar =P!
Yeah but my guitar now is black i wanted a change lol.
Yes, I love the guitar if you're asking me.

I installed a killswitch on it.
i dont thionk the trans black fits. the trans blue is much better. trans red is nice too. i think straight black look noobish