New game! Which one you like better?
View poll results: Which guitar tone did you like better?
| | | | |
| --- | --- | --- | --- |
| I preferred Guitar A... | | 1 | 33% |
| I preferred Guitar B... | | 0 | 0% |
| I preferred Guitar C... | | 0 | 0% |
| I liked some cilps from one guitar, and some from another... (Please comment and explain below.) | | 2 | 67% |
Well, the last test showed some interesting results. (
https://www.ultimate-guitar.com/forum/showthread.php?t=964937
) Almost even across the board and many people appearantly had a hard time telling one from another.
Now I'm going for simply which one people like better.
Equipment was kept the same: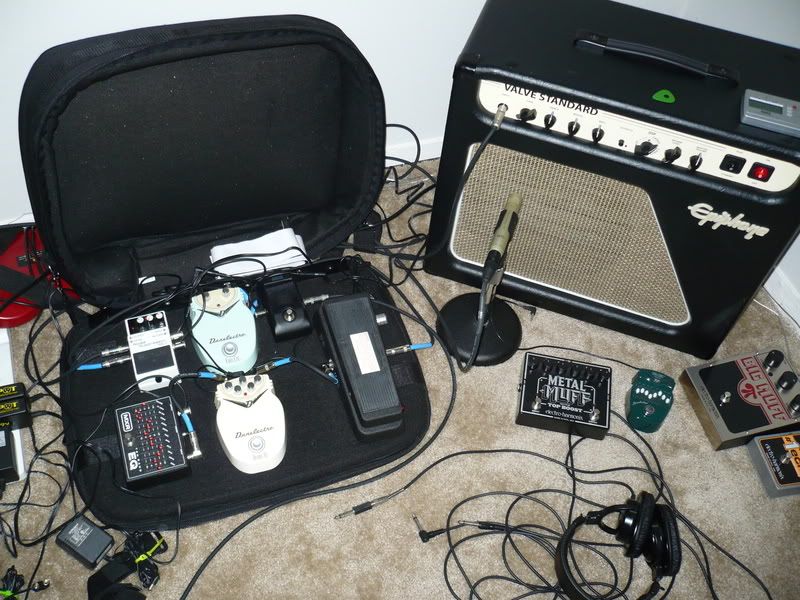 If you'll notice the settings the 10-band EQ was set to a clean setting, and the amp EQ was flatlined at the 12 o'clock position for bass, middle, treble. OD was supplied by the Danelectro Daddy-O. Pots on each guitar were dimed, and no settings were changed between guitar switching.
Now to throw a little twist in. I threw a third guitar into the mix, so you know that one guitar is the Hellraiser (EMGs), another is the Blackjack (SD Blackouts), and the third is a mystery dual humbucker guitar (and since I'm working on setting up a number of guitars for some friends, it's not limited to my own collection). Again, just made some quick recordings, wanted to keep things simple. I know my playing isn't great, so please no comments about that.
Choices (and links) are listed as follows:
Guitar A -
1
,
2
, &
3
.
Guitar B -
1
,
2
, &
3
.
Guitar C -
1
,
2
, &
3
.
1 = Clean tone.
2 & 3 = OD engaged.
For each clip, the neck pickup was played first, immediately followed by the bridge pickup.
Clips for this particular test have the "New test" title and are on my profile.
So, tell me which one you guys like more! Do you like A, B, or C better? Or... do you like part of A, and part of B, or part of C? Please comment below as to why.
Thanks for participating!

Last edited by Hakael at Sep 27, 2008,
where are links
Whoops...
They're on my profile. 1st post has also been updated with links.
Last edited by Hakael at Sep 27, 2008,
Slow participation.

Remember, if you choose the last one, I'd like to hear what parts you liked and why.