Anyone here make any custom pickgaurds??
if so, what kind of store would be a good start to look for the material???

I have an ASAT with the magnetic field single coils, and i have a set of wcr crossroads lying around that i would like to throw in it.

Join date: Jul 2007
108

IQ
I'm not sure how you spell his name but a member of UG has a website called pickguardcorner.com and I think he offers a discount to members of UG, I'm sure someone can help you out better, but yeah, he does loads of shapes and designs.
muikoma is the guy xharass_natox is talking about.

He's the only UGer I can think of..

places like warmoth do custom pickguards, too, though I think they're more expensive..

Join date: Apr 2008
220

IQ
stewmac has pickguard material... so does guitarjonesusa.com and i think warmoth.
go with pickguardcorner, they did the pickguard on my build, and not to toot my own horn or anything, but it's pretty awesome
overgronE, can we get a pic of that up here?
I did the pickguard and the truss rod cover for my EPI LP out of formica. Epoxied the formica to some plexiglass to get the thickness and strength (formica is pretty brittle):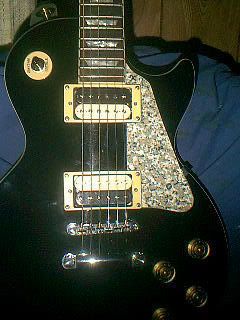 Started making one for my strat from the same formica, cut it to size, cut/drilled the pickup and mounting holes. Then when I went to drill the hole for the pots, it cracked..Gotta start over now