broken muff
ok so i have a big muff pi. I have somehow managed to break the tone pot(the shaft came out) so it no longer works until i get a new put. it was a 100k pot.
Now my question, I have two 25k pots and two 500k pots just laying around, so could i just use one of them or would that mess it up?
I'm almost positive that putting a 120k resistor in parallel with one of the 500k pots will give you a ~96k ohm pot, going by the 1/R1 + 1/R2 = 1/R(t) rule.

I'd wait till someone who's entirely sure to confirm that, though. Although I'm pretty positive..
yeah i have like no clue wat that means... im not really an electronic person lol

and i don't have a 120
and the whole reason i was wondering was because i really just dont feel like driving an hour to the nearest electronics place for one pot

EDIT: or is there a way to just by pass it all together cause i usually just have it at 12 anyways
ha, k.

If you don't have the right resistor lying around, then I'd just say go ahead and get a new pot.

You can probably find a radio shack or similar place closer to you that'll have a 100k pot. Although lately stores like that have really been lacking in terms of stock..
yeah i have a radio shack here in town but they have nothing everytime i go in there, though the one an hour away does have the stuff

but yeah so i pretty much have no choice but to go get the pot to fix it?
if you can get a new pot, thatd be best, but (I just saw your edit now) you could bypass it if you want. I'm just trying to think of how to explain how to do it..
I could do it myself no problem, or I could show you, but how to type it out completely escapes me...
..erm.
If you can upload a picture of the pot, I can edit it in paint/whatever, labeling stuff, then just say 'connect x and x, ect'.
I'm much more of a visual person than the internet lets me be...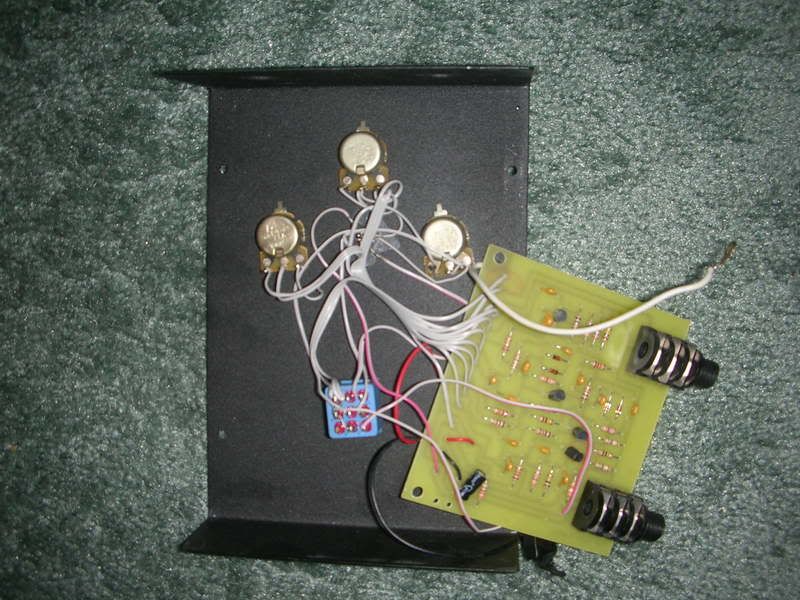 i hope those work
EDIT: the tone pot, incase you dont know is the one on the top in the first picture and the one on the left in the second picture
I dunno why I needed a picture for this... I was just overthinking it in my head, I guess.

connecting the wires from the middle and left lugs should act the same as having the tone turned all the way up.
Try using a little peice of wire to jumper the connection, first, though, I'm not 100% sure... just ....confident.
and then just leave the right lug alone?
yup.

It's a lot simpler than I was trying to picture in my mind, really.

cause when a pot is all the way on, it's just connecting those two lugs internally.
awesome ill jump on that then
kk so that didnt work, i took off the left and middle wires and just soldered them together, and the pedal wont even turn on now. should i have left them on the pot and then just wired them together or wat?
..it won't even turn on?

thats weird..

it shouldn't have affected the pedals ability to turn on/off..
uhmmmm...
well everything is back the way it was im positive of thati guess ill get the new pot and try it.
if it still doesnt work then i shall probably cry like a bitch cause that is my favorite pedal
here's hoping it works with the new pot

Jumper lugs 1 and 3...don't touch the centre lug.

This should work so that your tone is maxed all the time.
oh so i just did the wrong ones?
What have you done so far?
all i did was connect the center and left lugs, i'm at school right now so i cant fix it and the way you said to
i just wanted to tell you i dont know shit about fixing pedals but this thread title made me lol