Adjusting pole height
How do I do this on my MIM strat? I have some tone issues, so I want to adjust them, probably just to normal fender standards. How do I go about doing this?
you can adjust pole height on pups with screw heads on them.
for solid poles, you need to adjust the whole pup height on the left or right side of the pickup.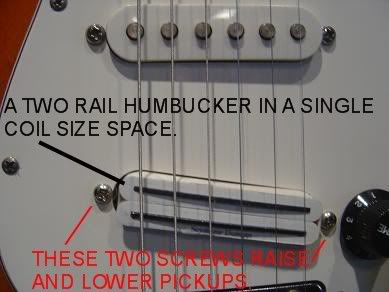 red lines.
and the solid pole pups are like the one at the top of the picture.
bottom row of the humbucker below has adjustable poles.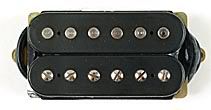 Last edited by jj1565 at Sep 30, 2008,
I know about pickup height, but what about the poles themselves?
i edited in the second picture.

if your pickup has screws you can adjust them. if not, you cant. you'll just break the pup.
So on a standard MIM strat with SSS pickups, I cant adjust the poles?
Darn, so do I just adjust the pickup height to change my tone? Im getting a strange overpowering tone, but not quite close enough to the strings for a wolf-tone.
you can tilt the pup, one side higher than the other.

you can raise individual strings to de-emphasize them.

lower strings to try to emphasize.

they have fixed poles because they are meant to be voiced the way they are.
so, yeah i swapped out my mex standards pups.
Ive been intending to get some better pickups. Due to the guy who set up my strat, the pickups are slightly too high, so hopefully a small adjustment can fix my issues. Its a strange issues, first I thought it was sympathetic buzz, but it doesnt happen on clean. Then I thought it was bad frets, but nope. My MIM is actually a lucky one, (it was actually good) other than the pickups it seems. So, (sorry if this is a noob question, but ive never replaced pickups) Is it really like $150 per pickup, or just for a set of them?
if you buy a soldering iron and have a little practice using it, you can install them yourself.


pickups sets are about $150- $200+
some individual pickups are $70.
some are $40

it really depends what you're looking for.

and some local shops charge $20 a pup to put in.
some GC stores charge $40.

if you think you can do it urself. (i did and that's not saying much) anyway if you can it's worth it.