The "LETS SEE YOUR GUITAR" Thread.
I'm kinda bored and I'm always interested in what kinda guitars everyone has. So...
Post a pic of your guitar
OR
Post a pic of a guitar that you're planning on getting soon
Just tell us a bit about the guitar. How long you've had it, why you love it, why you hate it, why you want to smash it to bits, why you'll never buy another guitar, what you want to upgrade on your guitar, etc.
Here's a few pics of some guitars I have around the house:
This is my babyy. Martin D-16RGT. I've named her Kayla. For a Martin, she's surprisingly balanced, yet still full and bassy. The only thing I would ever change on this baby is the neck. I'm not a fan of V shaped necks, and even though the V on this one is very soft, it's not very comfortable to me. I got some sausage fingers goin on. Surprisingly, I like thick, chunky, round necks. Go figure...
This pic was just to highlight the white boltaron binding. I really like the binding. It'll probably cost me a crap load of money when I re-fret, but ohh well.
This one's just a pic of my martin and seagull headstocks. These were one of the first shots that my brother took with his Nikon D200.
Please note that this thead requires a picture. POST AWAY PEOPLE! I WANNA SEE YOUR GUITARS.
EDIT: Here's another pic.
All the acoustic guitars I have in my house. My Art & Lutherie Cedar CW at the top, the Martin D-16RGT at the top right, the Seagull 25th Anniversary Flame Maple at the bottom right, and my Almansa 402 Abeto classical on the left bottom.

Join date: Dec 2005
122

IQ
I can't believe this hasnt been thought of before. I've posted mine a lot and it's sticked but I'll contribute to the thread just for you captivate.
Last edited by Silverstein14 at Oct 2, 2008,
Dang, sorry for the huge pictures. Didn't know they'd turn out so big. Anyway, I'm surprised that I haven't seen this thread in here before too, haha.

Join date: Dec 2005
122

IQ
Captivate, how do you like your Art & Lutherie? Feel free to add me to msn to talk if you don't want to clog the thread, my email should be on my profile.
i know two of them are electric but thats all of my acoustics
It's an ibanez v300. It was my dads old guitar... I'm not sure the exact year i think its either 70's or 80's but it plays really well and the action is good ive never had to mess with it at all.
Its a maestro EA-2. She is the 1st guitar that I bought, which is why I'm probably going to keep her around forever. Although I might buy a new guitar when I have the money and more importantly, feel that I deserve it.

Join date: Jun 2008
20

IQ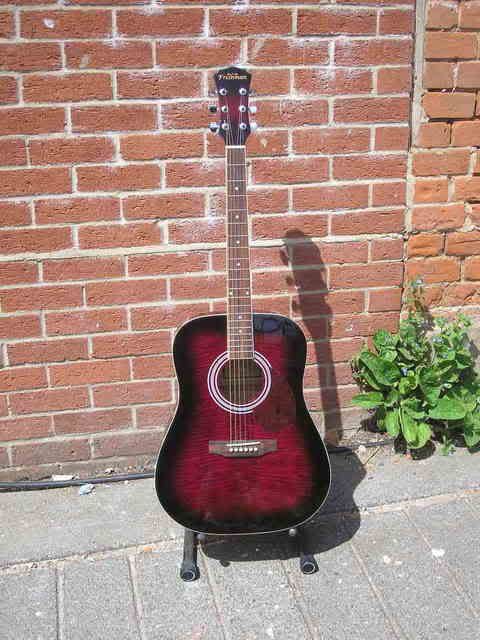 My Freshman acoustic. She is my first guitar, bought in May 08. I started off with an old classical, & after a few weeks and i proved i really did want to play guitar, my hubby bought me this baby. She's really pretty. Ouside in the bright light, she's a lovely pinky-purple colour, with an animal print kinda pattern. I also have 2 classical guitars, but i only play this one.

Nice stuff people. Keep 'em coming =)

Join date: Jul 2006
101

IQ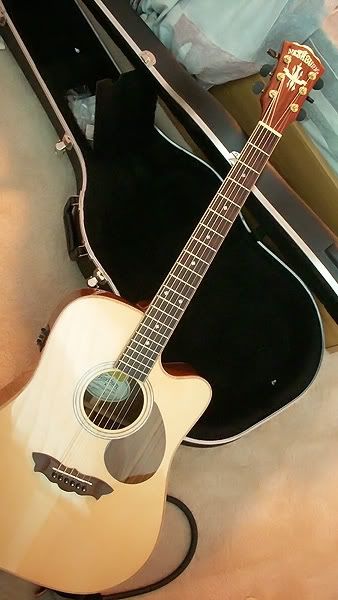 Washburn WD55-SWCE that I named "Flora".
Limited edition 2006 Augusta. Spruce over ovangkol.
Last edited by Shinoda_Ex at Oct 3, 2008,
Here is my blueridge 140a w/greven 50's pickguard.

Join date: Dec 2007
93

IQ
My MD95. I apologize for the terrible lighting, but I don't think the people who built my 4plex believed in actually installing any. And no, I didn't bother to clean my guitar before I took these.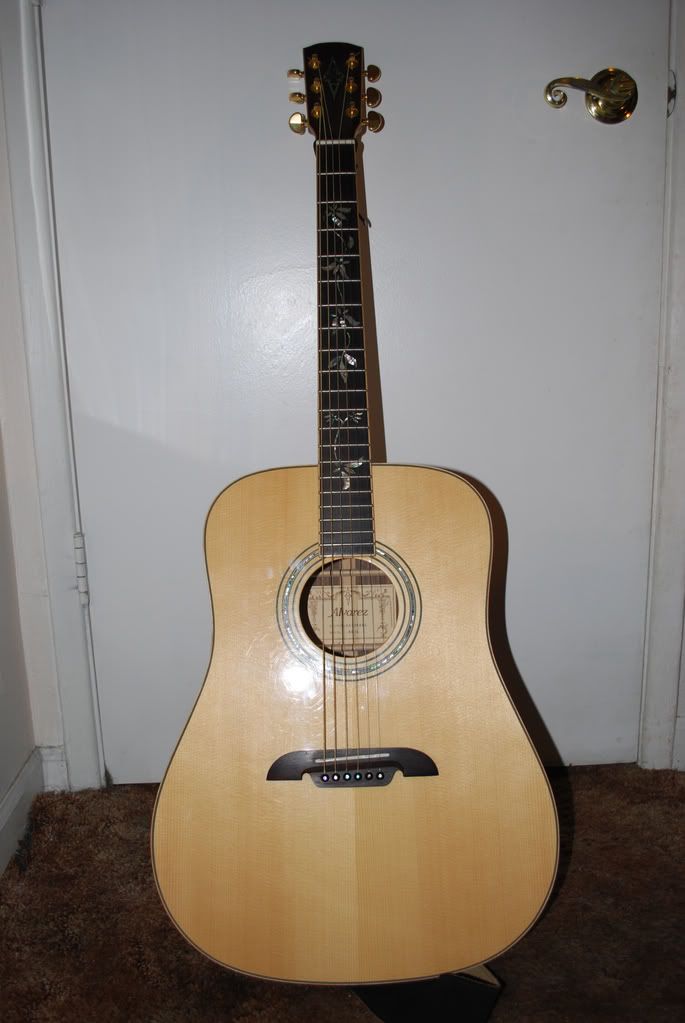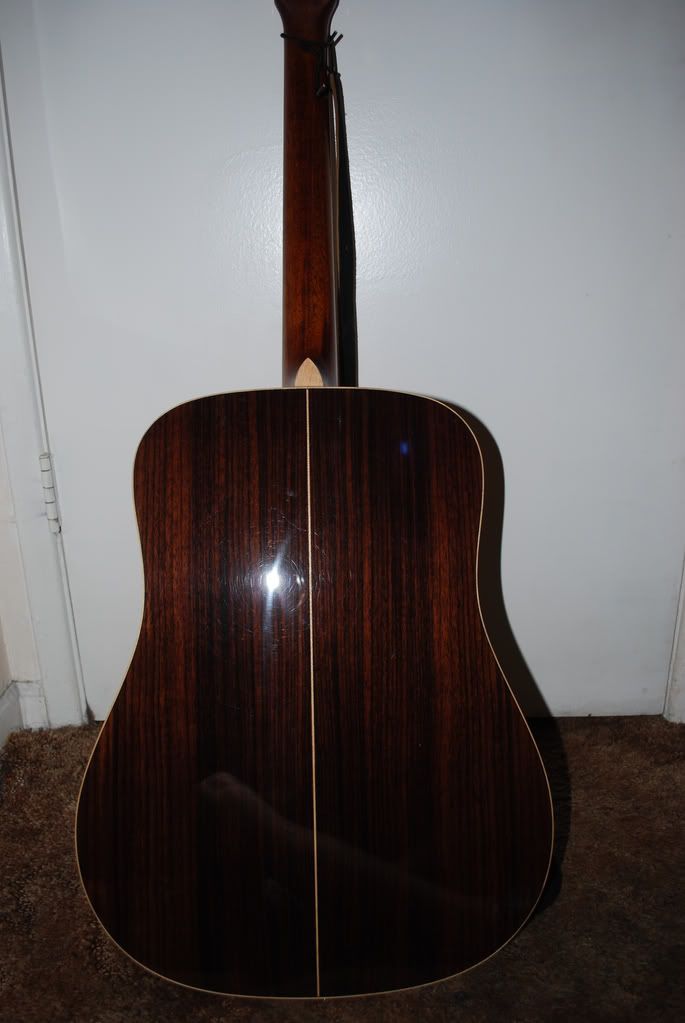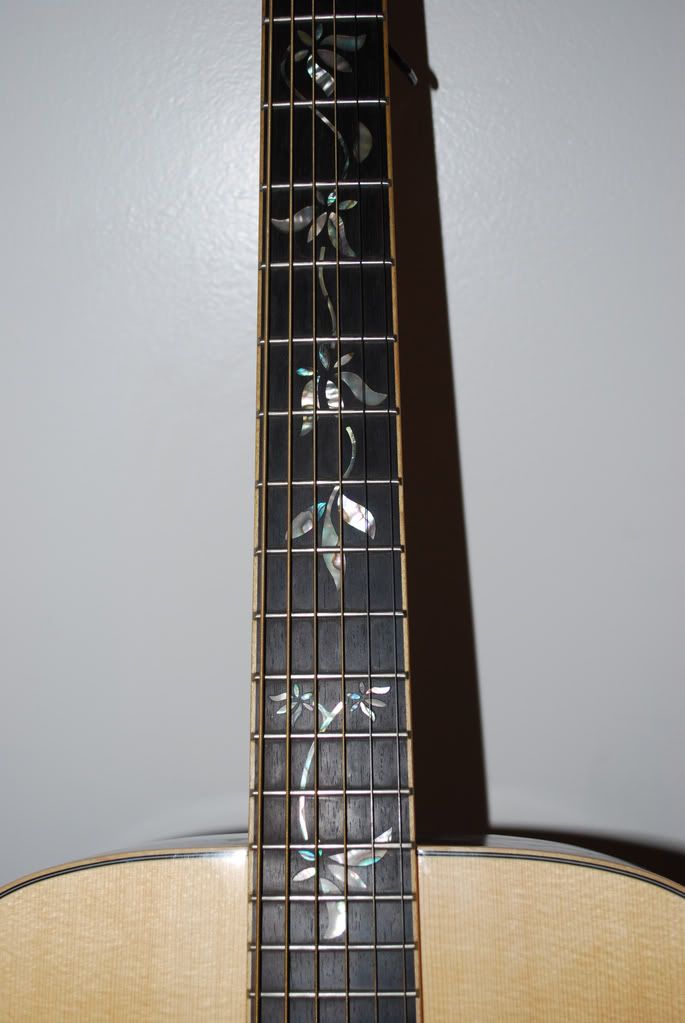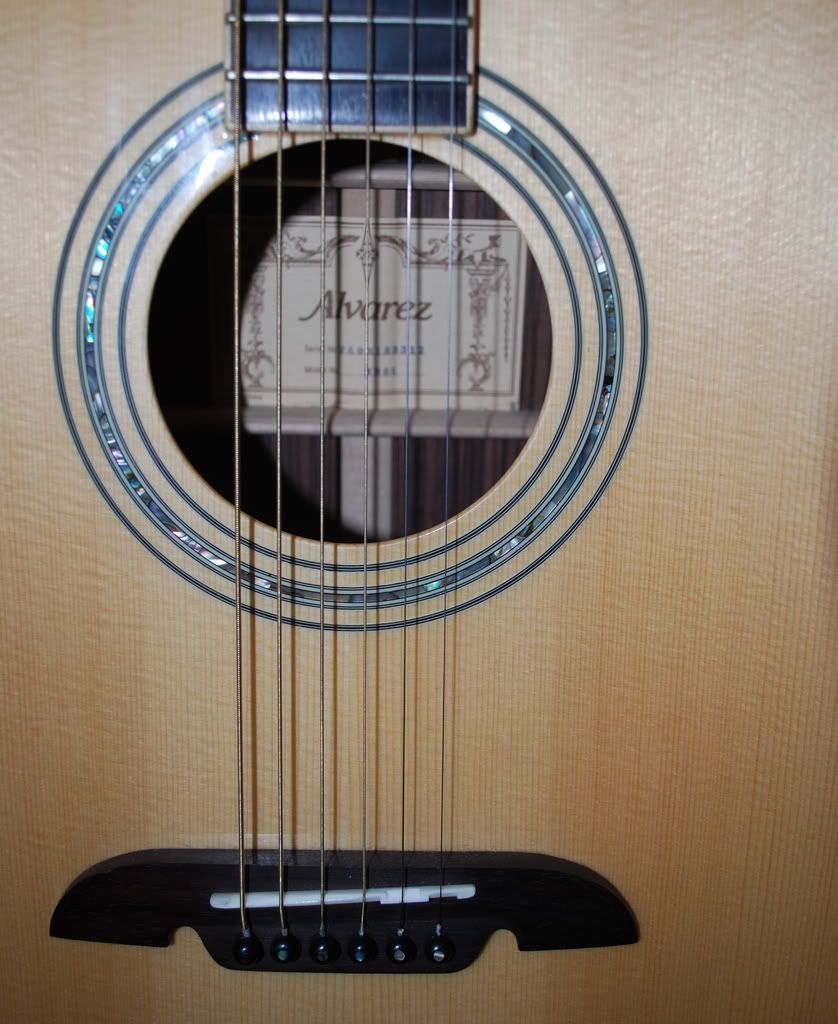 Join date: Jun 2008
129

IQ
It will be mine, oh yes, it will be mine...
Here's my Moondog Howlin' resonator...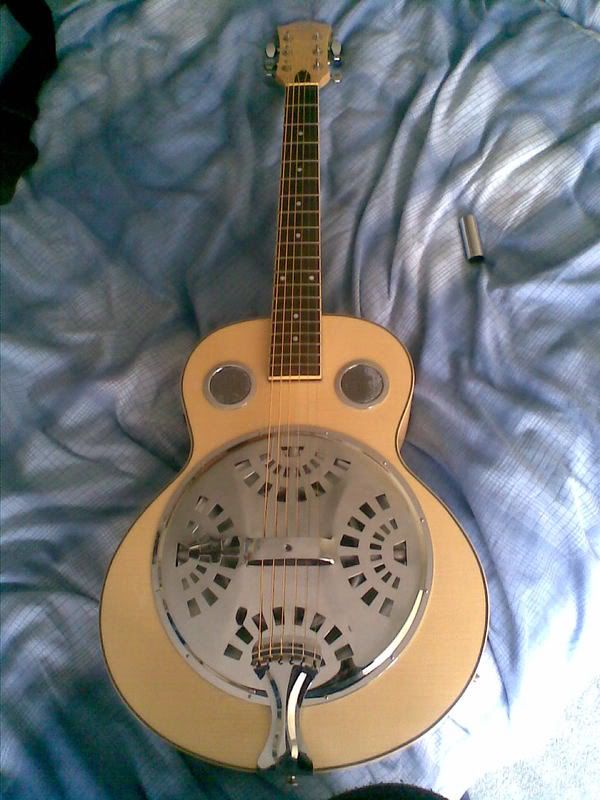 My other acoustic is a fairly generic low-end Takamine cutaway jumbo, not really worth posting a picture of...
My baby Ibanez AW120ECE great guitar!
2006 model... they quit producing it.
Last edited by JonIngi at Oct 6, 2008,
I also thought to show off my guitar a bit

Yeah, a nice Taylor 214E
I really admire a lot of Taylors of their easy plain design and their crystal clear sound.
But chose this one to be my Taylor, have it now for over 7 months and am still enjoying every last bit of it

Greetings, Alexey
Electric Stuff:
Epi Les Paul Std
Epi Sheraton II
Epi Valve Jr V3 Combo
Traynor YCV50Blue
Fulltone OCD
Line6 DL4
Ibanez Bass
Acoustic Stuff (from the top down, left to right):
Fender Mandolin
Taylor Big Leaf Maple Limited
Larrivee OM-09 (Canadian Factory)
'87 Washburn Woodstock 12-string
Esteve Valencia Flamenco (Hand Built in Spain)
Janky Yamaha Classical from Costco
Martin "Little Martian" as I call it
Other Stuff:
Awkward coyote dog waiting to attack!
Last edited by Nims at Oct 7, 2008,

Join date: Apr 2007
51

IQ
My pride and joy, my Washburn J58SW.
Solid flame maple back & sides. solid spruce top, maple binding, rosewood butterfly bridge, rosewood capped headstock, bone nut and saddle. Lovely guitar.