New Guitar!
Hello UG!

Well, after 4 years of playing I have finally attained my second guitar. After countless hours of trawling the Web and guitar stores looking for the guitar that's right for me, I finally found it. As of Thursday I became the proud owner of an ESP LTD EC-400 TSB!

(Apologies for the large photos & shoddy clarity close up, it's a camera phone)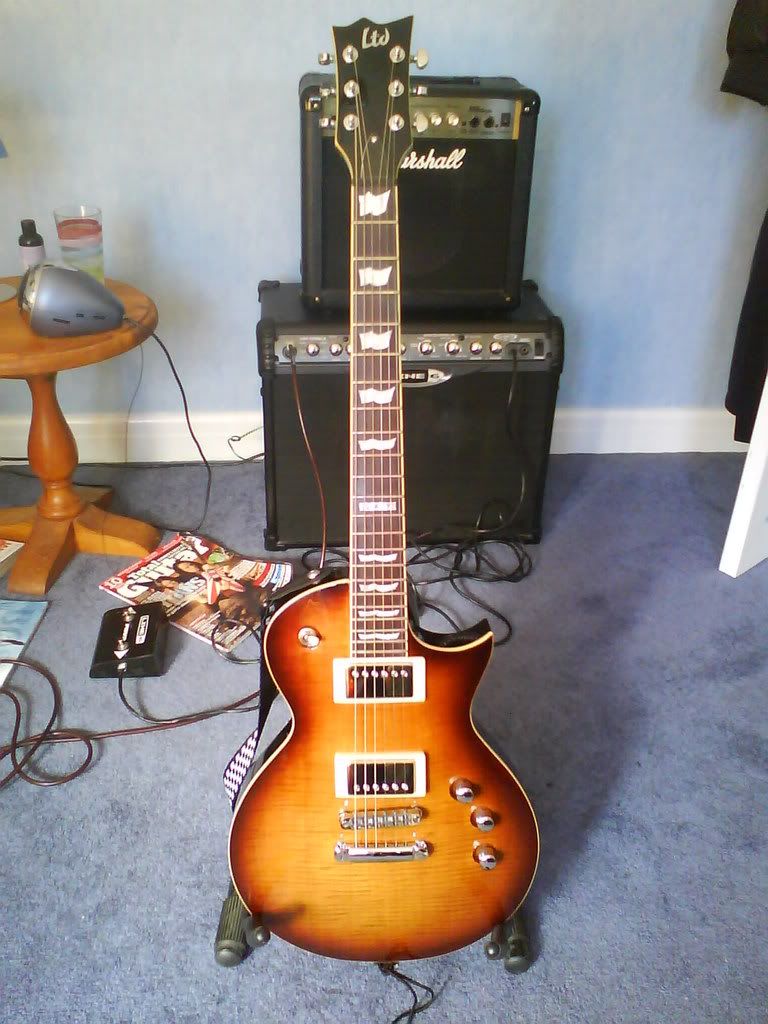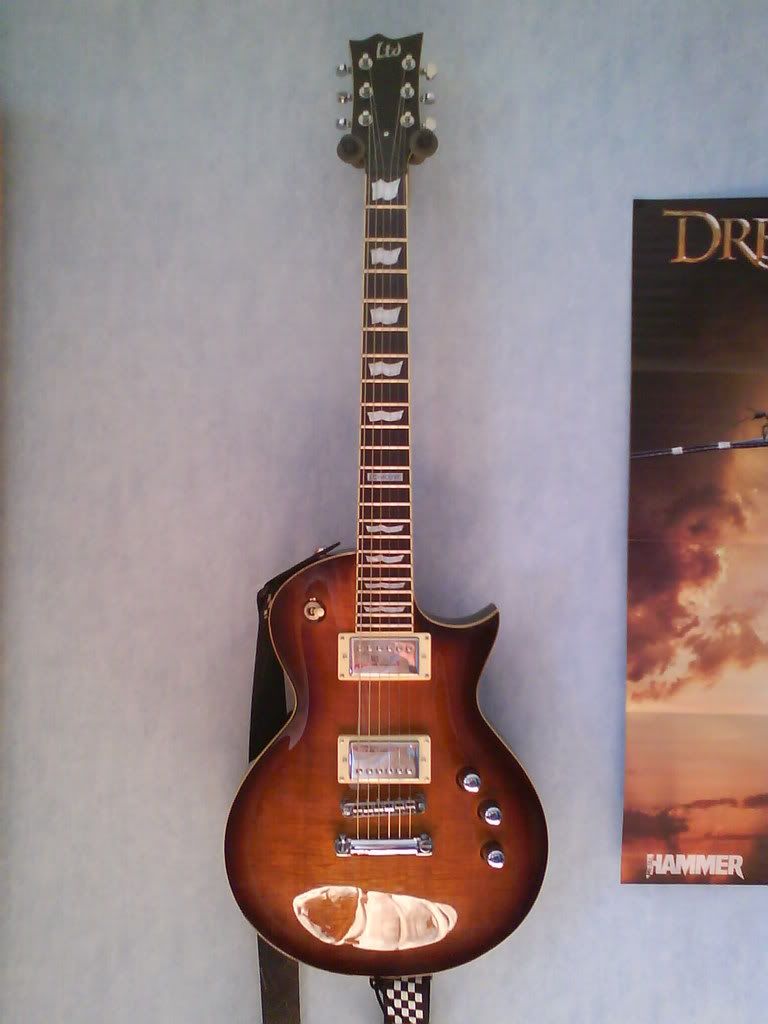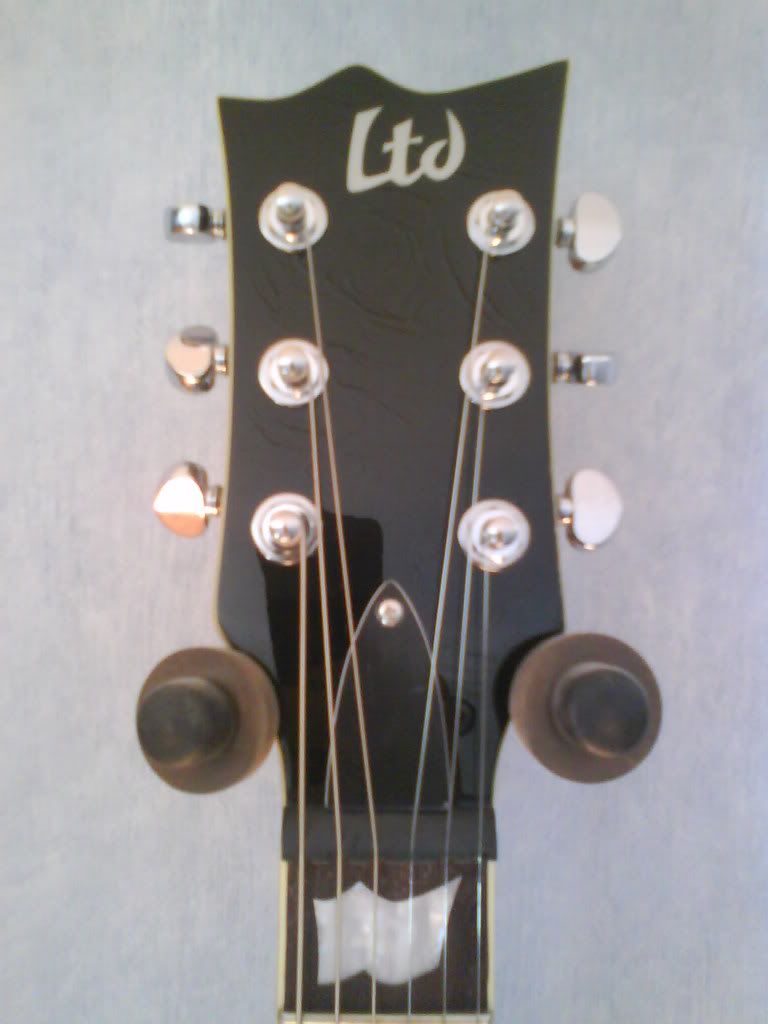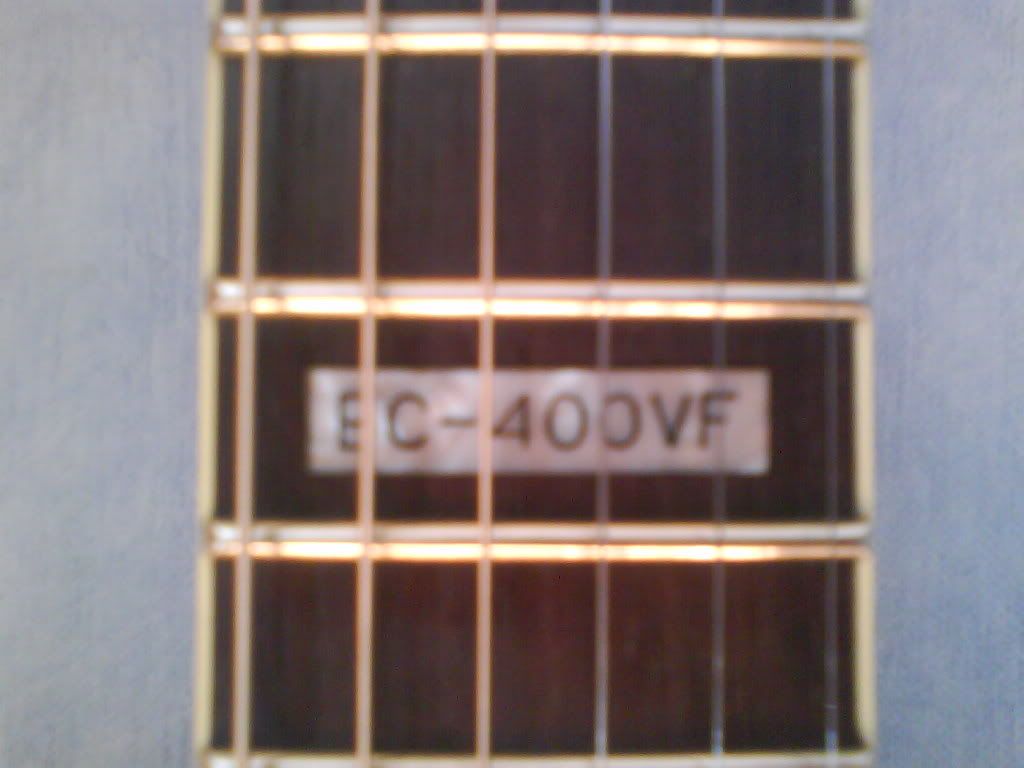 This guitar is everything I could have asked for. The neck is fantastic to play (Thin U style I believe) and the body suits me just fine. The Seymour Duncan JB/59 combo works an absolute treat, and is as versatile as I could have hoped for. Aesthetically I think it's gorgeous, I love the flamed maple top (very well matched) and how the finish changes hue and brightness under different conditions.
I'll most likely make a proper review of the guitar once I've got to know it's ins-and-outs more.
Just thought I'd share!

Last edited by Saint of Steel at Oct 5, 2008,

Join date: Aug 2006
70

IQ
Wait a second, is that a Spider underneath a MG?!?
Just kidding!

Nice guitar, have a free e-beer on me!

nice guitar, man

Thats a beauty! Enjoy that thing my friend!
I was waiting for some amp hating...

Ah, the Spider does the business, and the MG was part of the starter pack I bought many a moon ago. Finances willing I'll be able to upgrade my amp situation before or after purchasing some form of electro-acoustic.
The guitar looks nice.so now you can buy yourself a new amp

In my opinion its always better to have a better amp than to have a good guitar and a crappy amp.I myself have that little marshall and i know its crappy and line 6 is...hmm...a line 6

She looks nice. Congrats.

Join date: Feb 2008
440

IQ
i love the finish on that one.
thats really nice man, i always liked that sharp cut out on the ESP's

Join date: Sep 2008
10

IQ
Very nice. That's the guitar I plan on getting as well. If only I had the money.

your amps made me giggle

but that is one nice guitar man
very nice, i thought you had to go up to the 1000s to get a figured top, guess i was wrong (or else they brought out a new model).

very nice, i thought you had to go up to the 1000s to get a figured top, guess i was wrong (or else they brought out a new model).
I had originally wanted an EC-1000 a while ago, but realised that I didn't particularly need 24 frets, and the small differences in hardware (which are few and far between) were not worth an extra £250.
sexy sexy sexy.
I'm usually not too fond pf that kind of finish, but it fits that guitar well
The Sytematic Chaos poster almost makes up for your "mini stack of doom". Almost....

JK, and awesome guitar. Very classy looking.
VERY nice looking. And if your looking for a cheap but still really nice amp, the crate v series (the v18 and the v33) in particular are all tube and only like 250, I just got the v33 and it sounds great. But anyways, guitar looks great, congratz dude!
I knew I was asking for trouble when the amps got in the shot...

Put it this way, are there any UGers out there who wouldn't want a guitar upgrade after having the same crappy beginners guitar for nigh on 4 years? The Line 6 does it's job and at the time was great value for money, the amp situation will be rectified as soon as funds are permitting now I have a new guitar.

yeah, definitely. i normally advise buying a new amp before a guitar, but it does depend on how good the current guitar is. black and white advice is generally a bad thing... i mean, i'd personally rather play a good guitar through a microcube, or a spider, than a $50 pos through a nicer amp. of course, though, if you already have the good guitar, i'd rather buy a new amp than buy a slightly nicer guitar...

There's an enormous chrysalis on your guitar in the second picture. Use the gravity gun to stun it then walk over the bulb for some extra health.
Very nice guitar!! Gotta love LTD's.

May i ask what it weighs, and if it is neckheavy?

Join date: Apr 2008
960

IQ
Silly man.

Do I see a bottle of chloroform on the table in the first pic?
Very nice guitar!! Gotta love LTD's.

May i ask what it weighs, and if it is neckheavy?
Ta mate.

Couldn't give you an exact weight, but it's not back-breakingly heavy like some LP shaped guitars. There's weight to it, but it's not overbearing. Assuming you aren't a complete wimp then it's an entirely manageable weight.
Neck heavy? Nope, not in the slightest! Stays where it's supposed to when you're standing.

I'm still to find a fault with this guitar, the only possible niggle I have at the moment is the lack of an extra tone knob, but then as I use the tone controls sparingly this isn't much of an issue at the moment.
I have one of these on my EXTENSIVE GAS list. When i got the viper i have now, i was choosing between it and a similar EC. I picked my viper over the EC because it seemed to have better fret access. I sort of regret it now, because mines a neckheavy SOB. If you get a chance to weigh yours and want to compare it to my viper, mine weighs 8lbs.
Nice one man, hope it plays as nice as it looks.