complete refurberishing :]
ok i plan on fixing up my guitar. i have a De Armond bluebird m75
i have to realign my guitar neck, i want to paint my guitar white or black, clean rust of the pickups and giant metal D sign. fix the fret board it has cracks
Alright. Your point of this thread is...?
Alright. Your point of this thread is...?
How can i do this?
Oh here's the picture of my guitar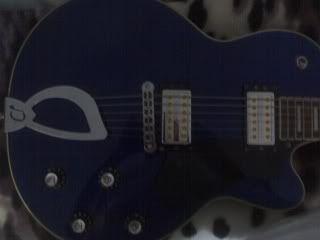 Last edited by AndrewSchaeffer at Oct 12, 2008,
ok i plan on fixing up my guitar. i have a De Armond bluebird m75
i have to realign my guitar neck, i want to paint my guitar white or black, clean rust of the pickups and giant metal D sign. fix the fret board it has cracks
Well...
Realign your neck, take it to a guitar shop and have them perform a full set-up on it. Don't adjust your neck/truss rod yourself.
Paint, easy enough. Either:
Strip with chemicals, ie nitromorse

Completely sand the paint off

Scuff up the guitar's current paint with sand paper

Then paint with paint from spray cans, like from the nearest motor store. Get primer, then paint, then laquer, there's plenty of instructions for this in the "ultimate refinishing thread"
To clear rust, get some wirewool.
Fixing the fretboard cracks, we need pics of the cracks.

Join date: Feb 2007
50

IQ
rust on pickups wont affect the sound just to let you know