Custom Jackson rr5
I'm selling my Jackson RR5, or looking for a trade with a Gibson or similar style (esp ec-1000 etc)
Perfect condition, no marks or dings!
EMG 81-85, gold hardware, custom shop paint job
Open to offers!
Located Newcastle UK.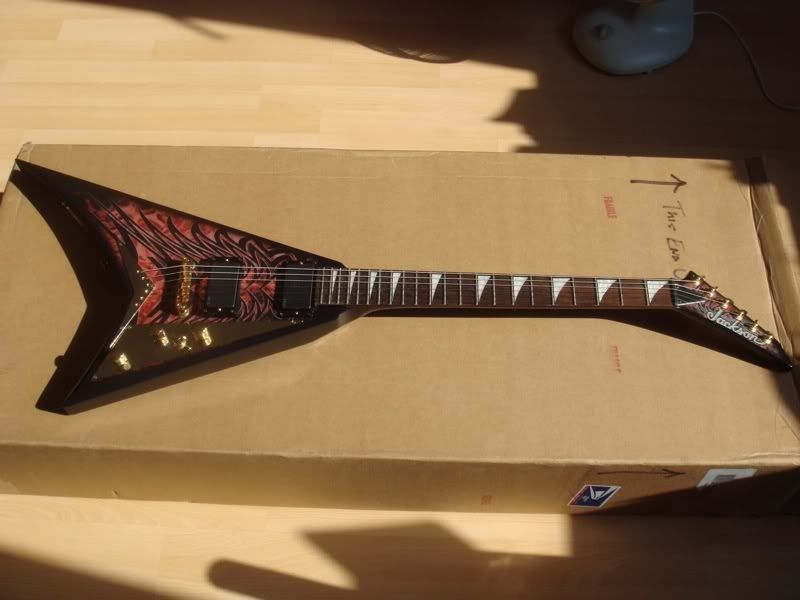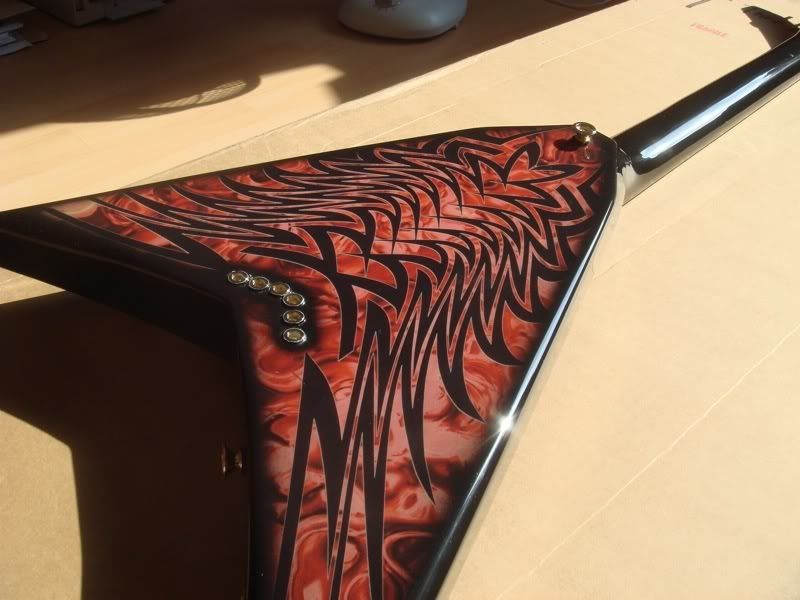 Join date: Jun 2008
30

IQ
thats an absolutely beutiful guitar. if i had the money id buy it from you defintely....but i dont. sorry
Yeah it's gonna be hard to part with!

Join date: Sep 2008
10

IQ
Thats absolutely ****ing gorgeous.

My god.

I just came.

Free bump for a gorgeous guitar...
How much were u planning on selling for?
Not that i could afford it lol.
Around £800 bud, pretty cheap considering how much i've spent on it!

Join date: Sep 2008
121

IQ
OMG that is the most beautiful rr i've ever seen. Free bump
Thanks alot man

nice RR5, I thought mine looked nice....well it does lol

Join date: May 2008
50

IQ
I'd love that if it was in the US. awesome guitar, free bump.

Join date: Dec 2006
10

IQ
That is gorgeous!
I cannot see any rational being parting with that guitar for any reason, and trading for another one just seems........ wrong.
Have you had your head checked lately?
The paint job on that RR is beautiful. Gotta say it beats the paint job on my RR24 custom, but not the appearance of it :P
Love the RR24! I got this instead of one and bought EMG's so it was similar


Join date: Aug 2007
120

IQ
OH
MY
****ING
GOD

thats sooo gorgeous

free bump

Join date: Dec 2007
40

IQ
i would trade you my ec-1000 in a second

Join date: Apr 2008
33

IQ
you sir get two bumps for that guitar
one

Join date: Apr 2008
33

IQ
If you have a guitar you think is of similar value and are up for trading, let me know...you never know, i might like it

that really is a beautiful guitar!
Thank you. Same to your guitar
If I lived closer I'd trade you but I dont.. I've seen that RR on ebay I think, Was tempted to buy it then..

Join date: Nov 2006
1,192

IQ
Great guitars, just got one last Friday, traded my EC-1000 for it. Definitely worth it.

Join date: Aug 2008
30

IQ
Where were you 4 months ago when I bought mine!
Sweet looking guitar!

Oh and have a free bump.
I'd totally trade you my gibson sg (Special faded, I wish it was a standard) for it.

But I know you wouldn't go for it, plus I live in CA so, It'd be kind of a pain there as well. :\

So here's a free bump for one of the most amazing guitars every built. I applaud you
Probably too low of an offer, but I'd give you £600 for it.
I would if i could!
What's the lowest you can go?
sorry bud, forgot to reply to you
Yeah sorry, really want another les paul and really dont like SG's!
It's fine don't worry about it. I love this guitar it looks great. And If I had the money I'd buy this this moment, [hear this a lot in these threads]


If you ever decide you may wanna trade for it. Just PM me and I'll show you all I can. I hope you sell it.

Here's a free bump.