The Ultimate Bear Thread
Okay so another thread was about some idiot being an idiot on youtube. So naturally, the thread changed onto the subject of bears. Someone suggested that we need a bear thread. So here we are.


And besides, you all know how ****ing awesome and ungodly bears are.

So post away. Or something.
Bears are Threat #1. Stay away.
bears can suck my big hairy wang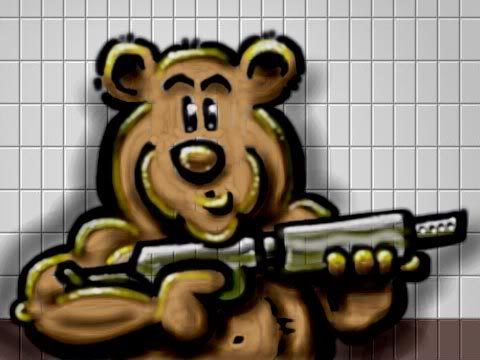 amidoinitrite?

Join date: Oct 2007
30

IQ
Our two biggest threats. Militaristic Russians and bears.
Last edited by FloyDZeD at Oct 17, 2008,

Join date: Aug 2007
30

IQ
amidoinitrite?
FTW ! ! !

Join date: May 2006
70

IQ
NOW its a party!
GRIZZLY Adams
there was a bear by my house today, in a residential area, so the cops came and shot it with a shotgun, but it ran, so now there is a pissed off wounded bear by my house.

Join date: Oct 2007
30

IQ
NOW its a party!
*Dons police uniform and aviators*

Join date: Feb 2008
10

IQ
judging by the amount of people with bear-like names in the world (grizzly adams, bear gyrills, etc.) i have concluded that bears are a worse threat than the devil. they clearly can posess people AND they have sharp teeth and claws.


basically we are screwed

Join date: Jul 2007
20

IQ

That's a badger
That's a badger
Yea I know... I wonder what it's doing with a bear though?


DOUBLE chainsaw fool!
A challenger appears.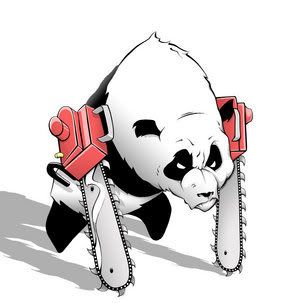 I accept your challenge.

Join date: May 2006
70

IQ
Bear story


I accept your challenge.
"Your mind powers will not work on me boy."
/Jabba
Screw mind powers. I've got a ****ing plane.
Screw your plane I've got an army!
Screw your army i've got capitalism, BITCH!
Screw your capitalism I've got gummy bears!
wheres your god now?
Quickly! Deploy the Skeletons and Penguins!
those aren't bears.
Shh...

Join date: May 2008
36

IQ
...
Last edited by gourd42 at Oct 18, 2008,

Join date: Aug 2004
80

IQ
Jim West pwns bears.
A Cariboo, B.C., man who was attacked by a bear says he used a stick to put up the fight of his life after he realized he was likely in a fight to the death.

Jim West, 45, was out walking last Saturday morning with his two dogs near 70 Mile House, about halfway between Kamloops and Williams Lake, when he came face to face with an angry mother bear.

"I turned [when] I heard a grunt. All I saw was eyes full of hatred … I had no option … So I stuck my foot up and tried to kick her in the face," he said.

The bear then attacked him, knocking him to the ground, and West soon found himself on the losing side of an ill-matched fight.

"I rolled onto my stomach and clasped my hands at the back of my neck. She tore into my skull at the back of my head, moved over and bit me on the left side of my body, on my ribs and left arm," said West.

Knowing he would likely soon be dead unless he fought back, the injured West managed to get to his feet and picked up a stick about as thick as his arm.

Bear's skull crushed

"I said, in effect, bring it on sweetie. I took one step forward — smash!" said West.

"I swung the stick and broke it over her head. She kind of stood there and shook it off, like she was stunned," he said.

"I realized if I didn't continue the attack she would knock me to the ground again and I would not get up.

"I swung my piece of wood like a sledgehammer driving spikes and I kept swinging till she was lying flat on the ground and there was blood coming out of her nose," said West.

The five-foot-nine man eventually crushed the bear's skull with the stick, killing it.

West then walked a kilometre and a half to a local lodge, where he was transported to hospital. The gashes in his body took 60 stitches to sew up.

The incident surprised even conservation officers, who say West is lucky to be alive.

Unfortunately, two young bears had to be euthanized because they would not survive the winter without their mother, West said. And while he regrets the deaths of the three bears, he believes he did what he needed to do to survive.

Join date: Nov 2005
10

IQ
NOW its a party!
z
+1
RAWR
This thread is useless without banjo