Difference between a grasshopper and a cricket?
When I think about them I think of the same thing, I don't want the scientific answere, I'd just use google or wiki then, I'd like humorous stupid answeres.

Hopefully this isn't the fail I half-expect it to be.
So pit, what's the difference between a grasshopper and a cricket?
One is in grass the other is a lame British sport.
Join date: Jul 2004
20

IQ
they look very different
Grasshopper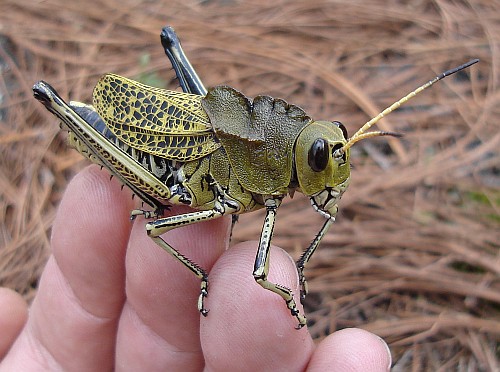 Cricket
Last edited by Kid_Thorazine at Oct 18, 2008,
they look very different
I searched google images, I can't see a whole lot of difference between some of them, just in size.
Join date: Feb 2008
50

IQ
One chirps and one eats your crops.

And by crops I mean........


Crops.

Join date: Mar 2008
30

IQ
They're two different bugs. Use google if you need to.

/thread
Orthoptera is the order of crickets/grasshoppers, and is divided into two sub orders:

-Ensifera (Crickets) - Their antennae has more than 30 segments, are generally long, and the females possess an ovipositor.

-Caelifera (Grasshoppers) - Short antennae, less than 30 segments, females do not possess an ovipositor.


My dad's an entomologist.
Last edited by emery01 at Oct 18, 2008,

Join date: Sep 2007
70

IQ
you should ask your sensei.

Join date: Jan 2007
190

IQ
Crickets have wings too...

But yes, they are very different. Grass hoppers are longer and skinnier, lighter in color, have very differently shaped heads, don't make the same sound, and can fly.

Join date: Sep 2008
10

IQ
you should ask your sensei.
this
You guys are wankers, I put so much effort into that post.
I mean, I asked my dad and he told me, then I wrote it.
Gosh.

One's a bug and ones a sport?

EDIT: shit.
Join date: Jun 2007
30

IQ
One of them has a bigger penis.
/"humorous" answer.
While they're in the same general class of insects, there are some differences:
Crickets are mostly nocturnal (active at night) and grasshoppers are diurnal (active in the day). Because of this, crickets use their song to communicate in order to find females and warn off other males. Grasshoppers call in the day also but tend to be located high in the vegetation to see and be seen by other grasshoppers.
Grasshoppers blend into the grass, but they also often have brightly colored under wings that they flash when they make short flights from place to place and also make noise when they do this. Crickets then to be dark to blend into the shadows or are pale green or brown to blend into the vegetation. The wings of a cricket are either absent or atrophied and they don't fly.
Crickets have longer antennae than grasshoppers.
The ears of a cricket are located in its legs and a grasshopper's are in its abdomen.
/serious answer
....the name.


I WIN /THREAD