where will i find a pic?

Join date: Nov 2007
110

IQ
my pick holder is empty, and usually i find picks lying around everwhere in random spots.

so far i have tried the pockets of all the pairs of jeans on my floor, my wallet, and under the junk on my desk.

where the hell do i look now? one must be hiding somewhere.
Last edited by HethaHORRIFIC at Oct 18, 2008,

Join date: Jul 2008
50

IQ
your penor?

UNDER THE SOFA
is always rewarding

Join date: Feb 2006
222

IQ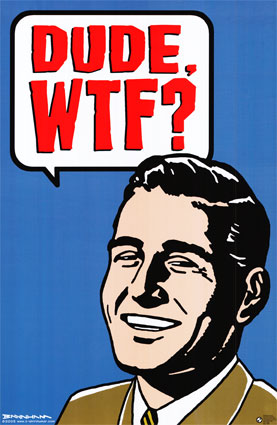 No idea what you're talking about

Join date: Sep 2006
258

IQ
On your amp? Whenever I have searched my whole house for picks, I find them lying on my amp...
I didn't know they had a picture holder, but if you're talking about a pick, I'd say under the couch, or tables, or in the guitar (if it's acoustic obviously, don't berate me.
guitar case, on amp, pockets of dirty clothes
Join date: Jul 2007
110

IQ
If you can't find a pick, the clip that keeps the packaging of a loaf of bread closed works well.

Join date: Dec 2007
36

IQ
search every pocket of all the trousers you own and have ever owned. Ok? GO!

Join date: Dec 2007
10

IQ
Just go buy a new pack of 'em and make sure to not lose these. Keep them in your guitar, dood.

I'd look everywhere within' a 10 ft radius of your amp.

Join date: Mar 2005
80

IQ
Buy more?

Seriously, get yourself a box to put them in. I have 90+ picks in a little plastic box in my guitar case and another 40 or so in an Eclipse Mints box in my acoustic guitar case. The pick gnomes can't get them there. Also, if you don't wash your own clothes, there might be a pile in your laundry (like there usually is when my mother fishes them out of my jeans pockets)

Join date: Aug 2007
40

IQ
have you tried looking where you left it?

or use the searchbar! (WHAYYYYYYY)

Join date: Jul 2006
20

IQ
Is that one behind your ear?
You can usually find them at guitar shops... Actually, you can buy them from any music store.

Join date: Nov 2007
110

IQ
oh, and people suggesting music shops.

its nine thirty at night. it will be shut.

i have found a light 0.60 pick. and its annoying me with its lack of presicion.

i found it next to the washing machine, so thank you to the guy who suggested there.

=)
My friend has one in his mouth at school yesterday, could he have stolen it from you?
I'll tell you what it was.
It was your fu*king dickhead mates who come around your house, play your guitars.
AND THEN STEAL YOUR FU*KING PICKS.
I hate my friends