So, Pit

Join date: Jun 2008
30

IQ
If the Pit were to be physically manifested, what do you think it would:

Smell like?
Look like?
Sound like?


Yes, I am very bored.

Join date: Mar 2008
80

IQ

Join date: Jun 2008
30

IQ
This was more of a hypothetical thread. Yours is more of a little remote Pit.
It'd smell like the much neglected searchbar.
It'd smell like the much neglected searchbar.
I haven't seen this done before.
smell like...ball sweat
look like...long,greasy haired 14-year-old boy
sounds like...bad metal
it would probably look something like this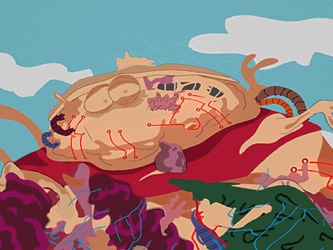 It would look/smell/feel/etc. exactly like Goatse.

/thread

Join date: Jul 2008
160

IQ
ever been in a pit?

yeah, you pretty much answered your own question.

/thread

Join date: May 2007
41

IQ
Ever played DMC III?


Yeah that bigass fat ugly pink.... thing at the end.

Join date: Jun 2007
10

IQ
I imagine it would be something like a bar but with like the mods as those agent smith things from the matrix and everyone would be talking total shit and pulling pears out and misstuning guitars......

am i the only one?
It'd just be one big blob of cum.

It'd smell like cum, taste like cum, look like cum, feel like cum.
It would be contained within this place called the interwebz, in a place known only as "UG".
It would look like the Zerg fortresses from Starcraft, only they would be human buildings covered in shit, semen and blood.

The smell would be a mixture of dead babies, crap (from every single animal on the planet, mixed together), blood, and sweat.

The sound would be the sound of masturbation, along with the sound of guitars being played, and every sort of music flooding from 1000's of speakers.

That's what I always imagined it like =P.

Join date: Apr 2007
20

IQ
BO

some crazy bar with a seperate room for each thread (a big bar)

a lot of crazy guitar songs.