Small hands, Big Bass?
Lately, we've seen quite a few threads on the "I want a short scale because my hands are too small for a standard scale bass". Well, Miss G and I would like to dispel some rumours here.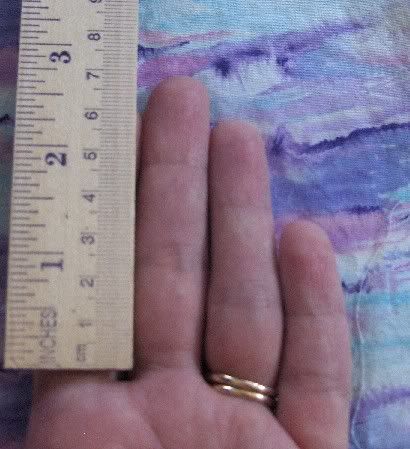 Here are two pictures of my hands. As you can see, they aren't exactly John Entwistle material. I'm not a big person overall at 5'4". And yet, I manage a full size bass quite well, even those chunky necked Precisions. I have no problems with 5 and 6 string basses either.
What it comes down to is practice, esp. scales and good technique. For those smaller handed members, here are a few words to the wise.
1. Make sure you wear your bass higher and the neck slanted up. You will never play like Paul Simonon and be able to manage a P bass:
You should be more like Rocco Prestia:
2. Make sure your fretting hand thumb is behind the neck. Your thumb should act as a pivot, which eliminates unnecessary shifts, esp when shifting from a note played with your first finger to a note played by your fourth finger (pinky). This is not a recommended technique for you; its a vital technique for you to be successful.
3. Make playing scales part of your everyday routine. Run your scales in all positions and play them straight, broken 3rds, arppegios etc. If you go to the bass FAQ, there is a link to a bass exercise routine that covers this nicely. This will help you develop stretch and stamina. Make sure you play each note cleanly with good tone. As Applehead says, speed is a by product of accuracy.
4. Be aware that tabs are not always going to work for you. You may have to adjust fingering to be more efficient and make the song easier for you to manage.
5. Spider walk scales are going to be your best bet for developing flexibility and stretch. There are two versions of this exercise, both are worth considering. My former bass teacher taught me version two and it really pushed my speed, stretch and flexibility.
Version 1:
http://www.expertvillage.com/video/5520_bass-guitar-spider-walk.htm
Version 2:
http://www.youtube.com/watch?v=QVFHpMWCuv8
And buy a short scale because you want to, not because someone tells you, you have to.

And I've posted this before, but its worth a second look. This is my former bass teacher and he's got marginally larger hands than I do. And that his 6 string he's playing.
http://www.youtube.com/watch?v=rhpdSPcu__w