New Guitar, Fleamarket Find.
So just for starters, don't rip my head off because of what I bought. ahaha.
Ok went to the flea market today, saw the usual see run of the mill Piece Of Sh!t guitars and whatnot. I eventually came upon a BC Rich Mockingbird, Bronze series(Yeah I know, usually rubbish). However it wasn't a new one. It played for a moment and it felt pretty nice, and had two black strips of tape on it to look like the higher end Mockingbirds. So for 100 bucks I though I'd grab it and maybe throw some new pups in it. Well Turns out it was made in 2000, so its a very early bronze series. The tape on it was stock, and it's in mint (I'd say 98 out of 100%) condition. The headstock would probably be the most interesting part though. Because Instead of saying BRONZE SERIES...by BC rich. It says BC RICH in big letters. then it says bronze series in small letters. Weird. Anyway I happen to think it plays and sounds pretty damn good for the 100. I'm still thinking about throwing some dimarzios in it though.
Just in case the serial number doesn't come out in the picture, its 0021462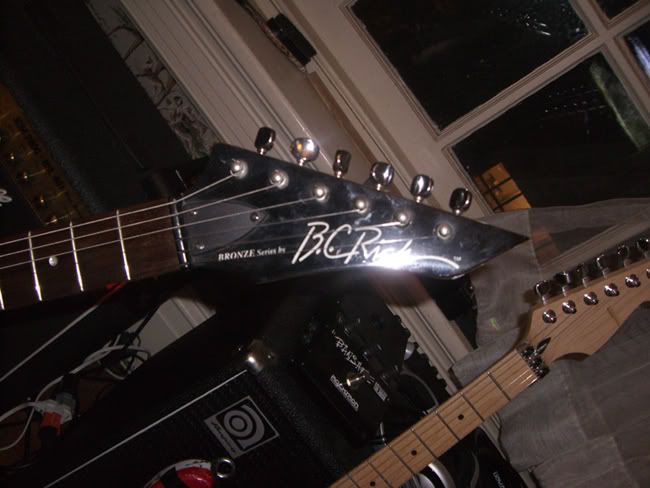 Join date: Feb 2008
194

IQ
pretty nice guitar i think Slash has a mockingbird that he rarely uses
Yeah, Slash has a nicer one, I'd say the three main differences are, Ebony fretboard. Trans red finish, and a floyd rose.

Join date: Jan 2007
10

IQ
Yeah, as I'm playing it now, I'm still surprised its not a piece of garbage, BC rich's get a bad rep around here ESPECIALLY the bronze series, I guess in 2000 they didn't make their low end guitars like crap.