Johnson Strat Make over W/pics
Hey everyone, ive been very very slowly doing a make over on my Johnson strat copy.
It had been sitting around my room for ages, its not such a bad guitar besides the horrible pickups. They are 'Johnson designed by emg, but they still suck, so one day i decided that i would give it a makeover, i wanted a new paintjob, a new neck (maple, because ive fallen in love with them) and new pickups. Anyways heres the progress so far
The patient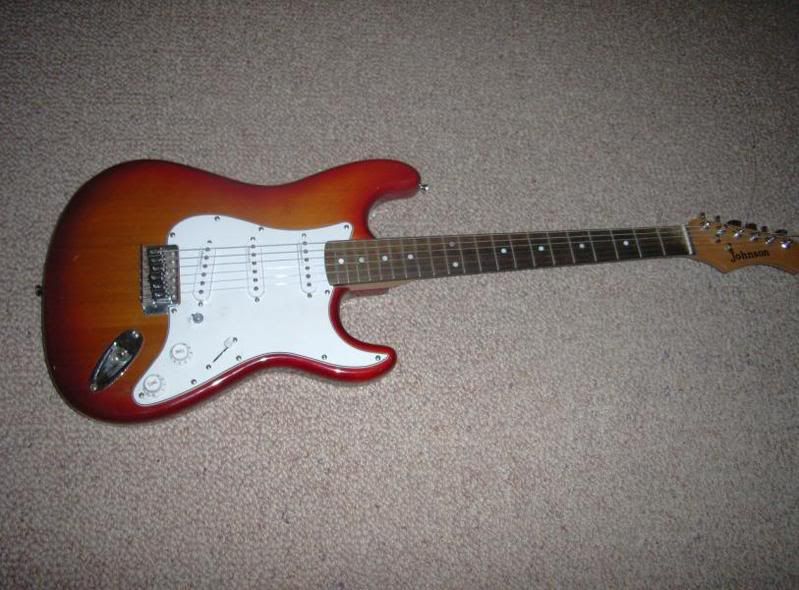 Stripped...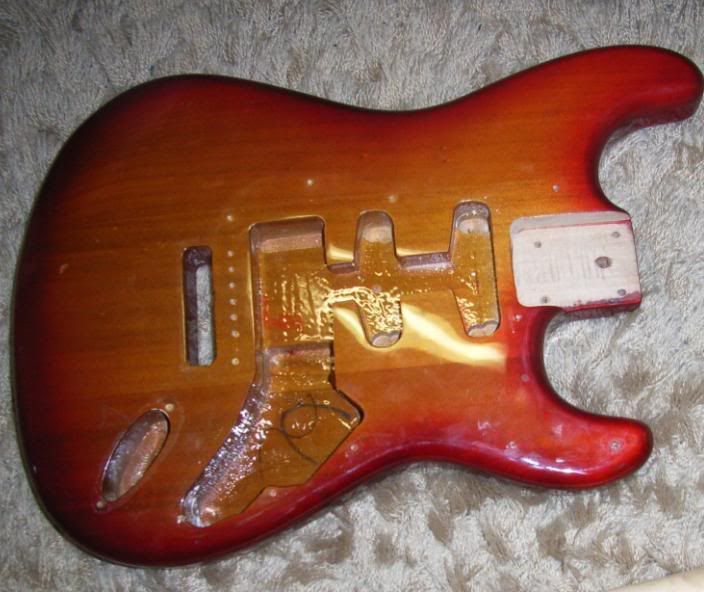 Neck from ebay (fake, unfinished)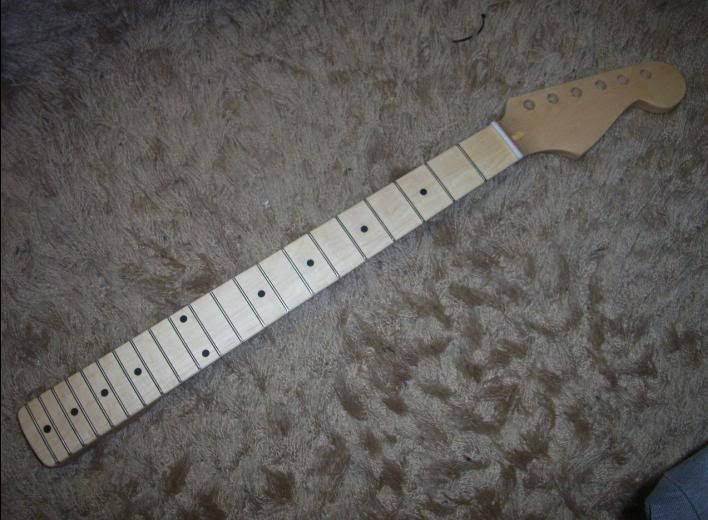 After sanding, primer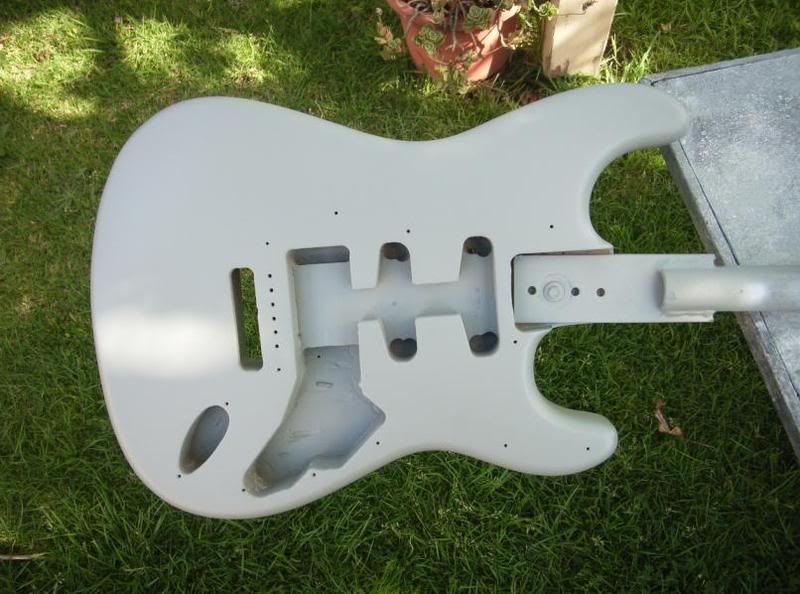 Aaaand the final coat the next day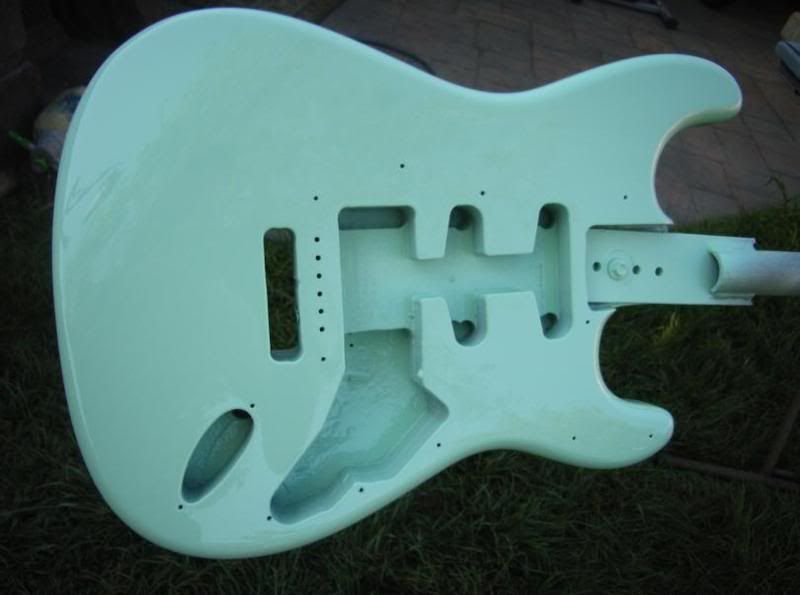 Im unsure of what the colour is called, but i based it on a 60s ish strat colour, im pleased with the outcome so far, im clear coating the necksometime soon and ordering new pickups, im pretty sure im going to get 3 SD Hot rails, I was thinking Emg Sas, but ive changed my mind, Im pretty busy with work at the moment, so the next update wont be for awhile, so enjoy anyways. Cheers
haha my bad :P
thanks dude
The colour is called Sea Foam Green by the look of things - it's a good classic colour.

Looks like you've done a nice job there - it looks much better than the original finish IMO.

Join date: Jun 2006
10

IQ
This could be good


Join date: Mar 2008
180

IQ
this is going to be way better than the original one...
The guitar before you took it apart and painted it, looked horrible, I hate Sunbursts/ Dark Colour bursts on Strats.
I'd say it's Sonic Blue. My personal favorite.
It's looking real nice so far. Keep it up. Might I suggest a mint green pickguard?
I've found out that the exact name for this colour is Seaforth green it was used on a lot of holden cars here in australia, my dad used to paint cars for work, and I found a tin of this colour in the shed that had been there since the mid 60s, it was ruined so I took it to a paint shop and got a new batch made up. I think a mint green pick guard would look good, but the original one already has a tinge to it and its been fairly thrashed, so ill keep using that one, thanks for the feedback guys, updates possibly today

im in love with that colour

Looks sweet. Now just add some pups and nice electronics and you'll have a sweet axe.

Join date: Sep 2007
40

IQ
Looks good, but to me it looks like you've got some running and bubbles in the paint, no?
thanks guys, there's no runs or bubbles, but there is a couple of spots were some bugs got in the paint, its okay, I wasn't going for the perfect look, I was originally going to relic it, but I think ill just let that happen over time

This looks really great man. Good job.

I suggest Texas specials, with "vintage" hardware. It's off coloured and stuff, to look aged. Totally sweet.
I don't think you were supposed to remove the paint in the cavities... if I'm correct it's shielding paint, which is some special sort made to help reduce hum. It'll be okay or even better if you put in some copper shielding though.
That stuff isn't shielding paint though.

It's just over spray. Not a lot of companies invest in shielding paint or tape, usually just some tinfoil on the pick guard.
Join date: Aug 2006
180

IQ
How much is a johnson strat nowadays? I might get one and copy you, that color is awesome.
Øttər, Yeah im still not sure on the pickups, i was thinking Seymour Duncan Hotrails? Anyone here have an opinion? Pickups are expensive here in Australia, so i want to make the right decision.
Raijouta, im pretty sure it was just normal paint in the cavities, this wasnt no top of the line body, i dont even know what its made of haha, but ill be doing some sheilding when im near done
walker-rose; im not sure how much they are nowdays, i got this one maybe 4 - 5 years ago for 70 bucks at some garage sale

Last edited by hate&war at Oct 28, 2008,
Guess what i have? Pictures! The neck is done. They are mock up pictures basicly, because i havent wired these pickups in because i dont want to use them because they really suck and these strings are old ones and i need new ones. So ive put some strap locks, new tuners and a new fender back plate on that i found, please dont kill me for putting on the neck plate haha, anyways heres some pictures. Enjoy.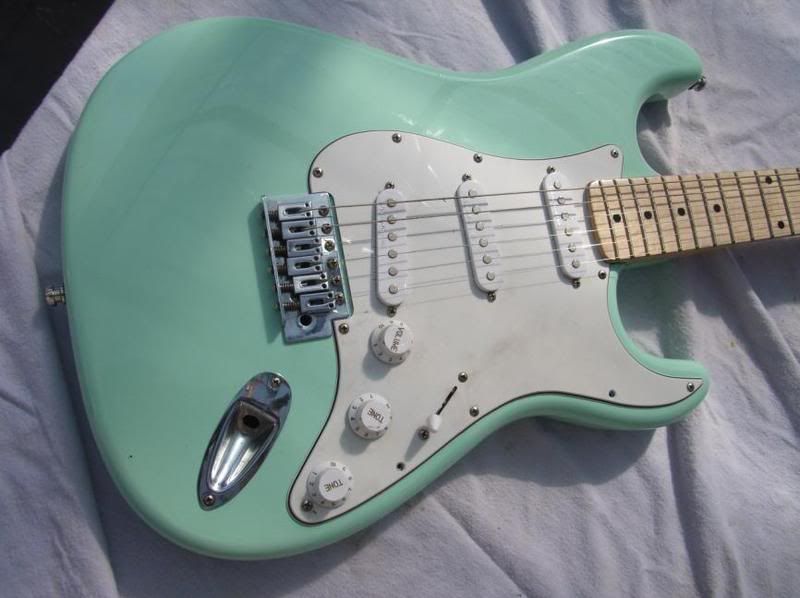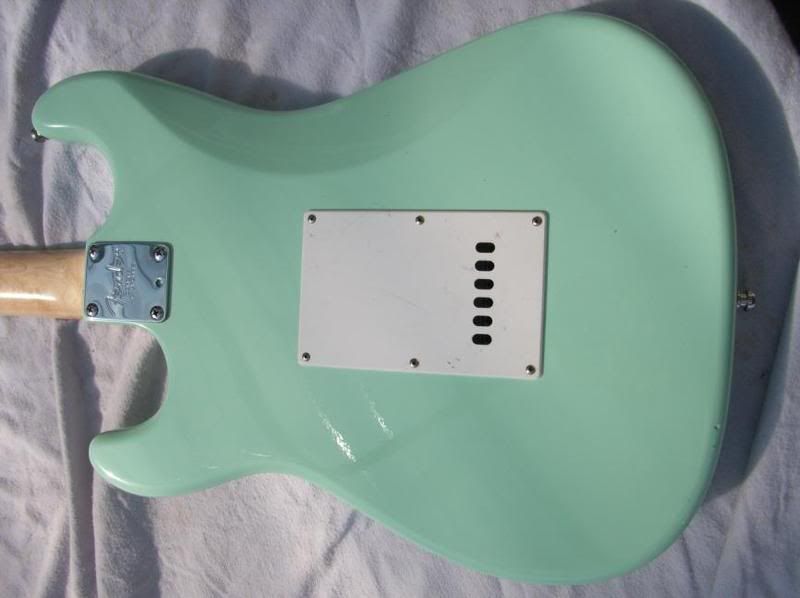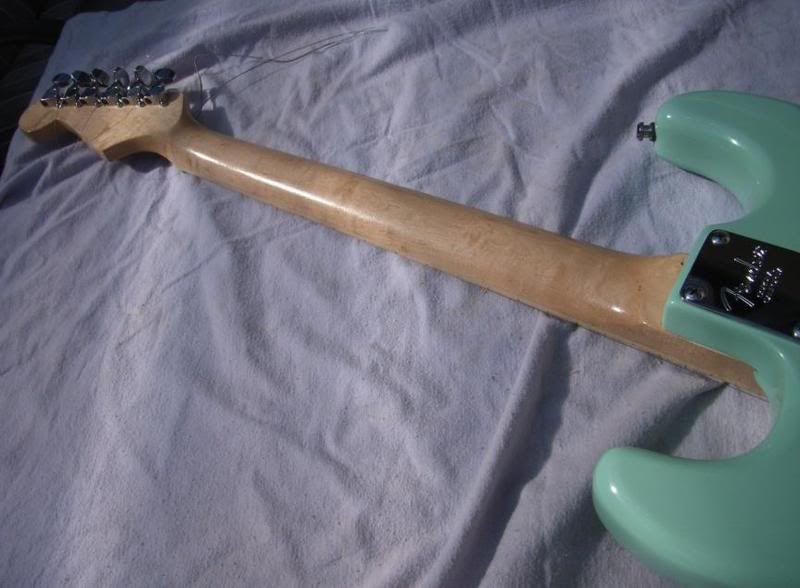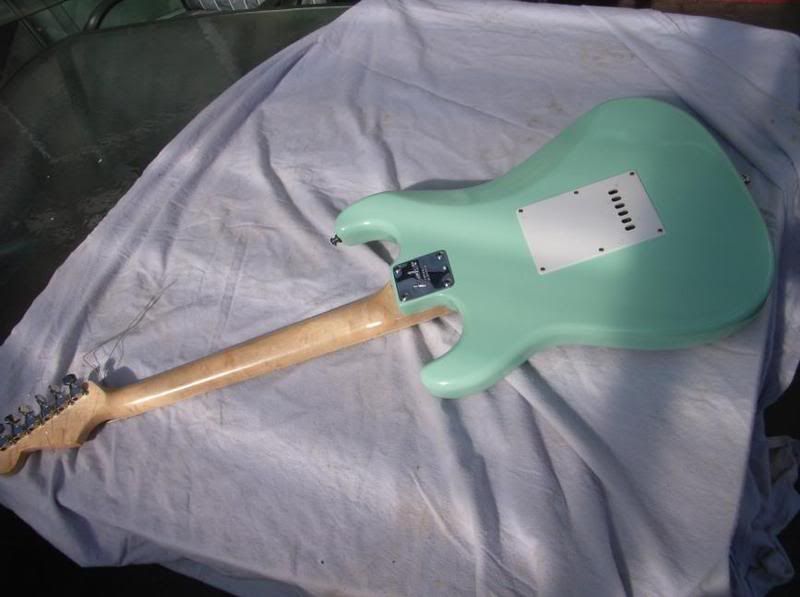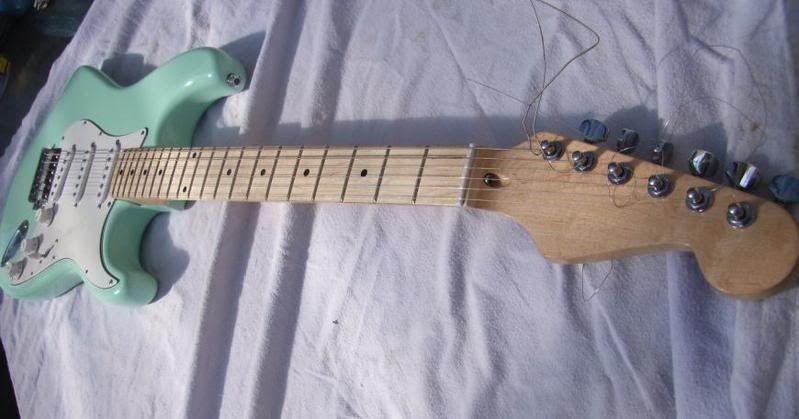 Join date: Mar 2008
180

IQ
At first I didn't like the greenish colour to much, but now with the rest of the parts, well now i like it


Join date: Sep 2005
30

IQ
I think my wants of re doing my Johnson strat has came back. Thats beautiful.
That looks like a beautiful piece of maple.

Join date: Dec 2007
80

IQ
i like the neck. nice.....

Join date: Aug 2006
300

IQ
I'd say it's Sonic Blue. My personal favorite.
It's looking real nice so far. Keep it up. Might I suggest a mint green pickguard?
It's surf green guise, '50s Fender custom colour.
I quite like it, especially the neck.

I love it, nice!

Great neck too.
thanks for the feedback guys, it was definatley worth the time and money haha

Join date: Nov 2007
10

IQ
Love it!

Seafoam is the best color ever slapped onto a guitar, IMO.

Cheers!
That is a really nice looking neck.

I have to compliment you on the finish. It looks great! Very glossy, it looks factory done.

As for pickups, I've been told you cannot go wrong with bare knuckles. From what I hear, they are absolutely the best.
thanks guys! bare knuckles ? is it possible to get them from australia? I want to be able to play a few different styles on it, from metal (a little) to hard rock etc, with also being able to get a real nice clean tone out of the neck

Join date: Jul 2008
30

IQ
Very nice job.Ive been thinking about redoing mine or at least put some new pickups in because they suck.

Join date: Nov 2008
10

IQ
hey TS i have a johnson strat copy,and do you know if the stock "johnson emg" pickups are any good with a roland cube 20x?