help me put a age/name to my guitar
as you know i have a epi v which i love ,i mean love but i was looking around for it on the internet to try and put a model name/age to it.
nothing..
so i was wondering if you peeps over here could help
heres the headstock: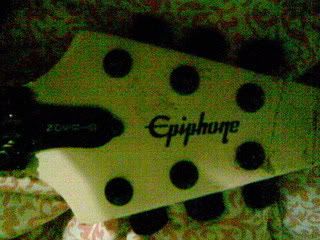 and the body (modified by a prev owner obv)
so any ideas on model name/age?
Last edited by RedEm08 at Oct 30, 2008,

Join date: Jun 2006
10

IQ
Daisy-17


Join date: Jul 2008
10

IQ
Well it's a flying V, but I am guessing you knew that name anyway. Have yopui treid looking for a serial number, I am not sure where it would be on that guitar, maybe under the trussrod cover? ONce you had the serial number, yo ould wirte to epiphone or check thier website for the excat mo9del and year etc.
tried looking for a number, nothing however there is a white patch on the back of the headstock where a small rectangular panels been removed and never put back on reckon that couldve been it?
im hoping someone will tag the age based on the headstock cos thats normally a giveaway with epi v's cos most just have the white panel reading epiphone
thing is i cant find another like mine to age it by XD
(all i kno is its a gibson epi so no "omfg im rich!" moment ,damn)
Last edited by RedEm08 at Oct 29, 2008,
bumping thread cos im curious