SG Help!
Hellooo... I'm hoping to go on a trip to the big city to buy an Epi G-400 Custom soon but I have some questions...
How does the third center pickup fair when playing (especially fingerpicking)?
Does the gold coating on the pickups last a good long time or flake off in a couple years?
I play sitting down 98.3% of the time and was wondering if it is still comfy because it doesn't have the cut-away in the back for you to rest on.
How does she souuuund? My friend lent me his Yamaha SG500 so that I could see if I liked the feel of an SG (Absolutely love it, feels amazing), and I can't get over how amazing the SG500 sounds. Haha, and he thinks I should just buy his guitar for $250 instead of spending the $450 on an Epi.
Also...
First pic- What guitar is this? I saved it onto my PC from a forum a couple weeks ago and I cannot find the thread again. This guitar looks so sexy.
Second pic- Friends Yam SG500
Thanks!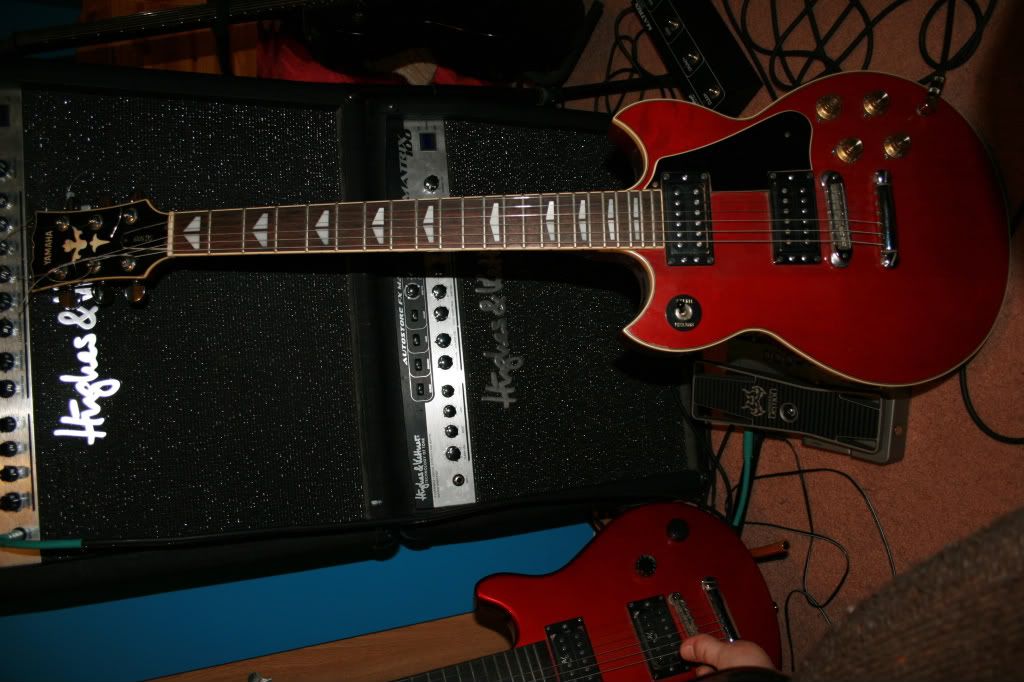 first pic to me just looks like a Gibson SG. Not sure of the year, somebody correct me if im wrong here...I know the years of SG's often have to do with the number of pickgaurd screws, I just dont remember what it is.

Join date: Jan 2008
60

IQ
The bottom one looks more like a DC les paul to me...

Join date: May 2008
80

IQ
Buy your friends Yamaha, IMO it's a much better guitar than the Epiphone. Look at the price of the Yamaha new, If I remember correctly, the Yamaha is a steal at the price your friends offering it to you for.

Regards
Delboy
http://www.guitar-museum.com/guitar-5919-Yamaha-SG500b-electric-guitar
This one went for $300 (in 2007) and had gold machinery and was in good condition.
My friends has the absolute crap scratched and chipped out of the back. 3-way switch is crooked, and one of the volume knobs is wiggly.
It still sounds damn nice, so thanks for suggesting it, but I hope to find something that sounds/plays close to it but is in better condition.
You can get used Epi G400's for around 250 also. And all you have to do is try it out to make sure its good, since some Epi's will have better quality then others.