JCM900 for METAL!!!
So we have a battle of the bands coming up in which we're supplied two JCM900's to play through. What I'm worried about, is that we play with a very modern metal sound and I'm not sure if the Marshall will be able to put that out.
I'm going to be running a really hot pickup, a GFS Crunchy Rails, but I'm still thinking about putting a pedal in front of it. What would work best for this without killing my tone or wallet
I was thinking about getting a Damage control Heavy Metal Distortion pedal from guitar center and returning it after being thoroughly dissatisfied with the tone

Would I be better off just running a hard distortion pedal on the clean channel of the amp, or using a drive pedal to push the lead channel harder?
Any advice?

Join date: Nov 2006
1,232

IQ
The JCM900s actually have a good bit of gain stock. Just buy an Overdrive pedal and run it over the distortion channel, should easily have enough gain.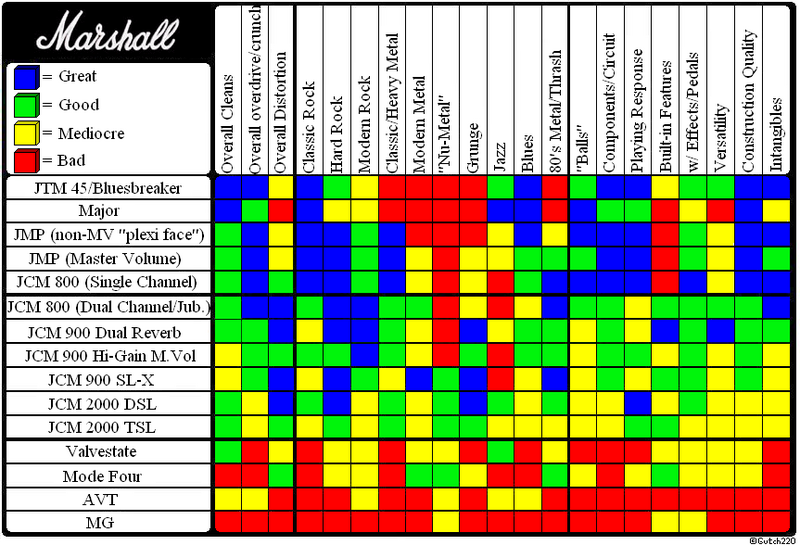 JCM900-SLX?
Join date: Jan 2008
480

IQ
I never noticed that MG is Bad for pretty much everything across the board.. Same with AVT's lol

Join date: Nov 2006
1,232

IQ
I wanna know what they're considering nu-metal and what they're considering modern metal on that list because it seems to me, if the amp is good at modern metal, it should be good at nu-metal too...
I'll try to find out what kind of JCM900 they have so I know what to expect. Thing is, I would need to be able to switch to clean as well, so putting a OD on just the lead would be impossible without stomping both pedals, right?

Also, I'd think Nu metal would be the totally saturated bassy tone made for nailing on power chords on down tuned guitars. Think slipknot or SOAD.

Modern metal would be a tighter, mid scooped tone for fast, precise palm muted runs and such. Think Lamb of God, Trivium, or even something like Dream Theater.

That's my take on it at least.