RR jackson

Join date: May 2007
368

IQ
Hi!
I bought a magazine of ozzys old guitarist randy rhoads and noticed in a picture that his jackson doesn't have a floydrose.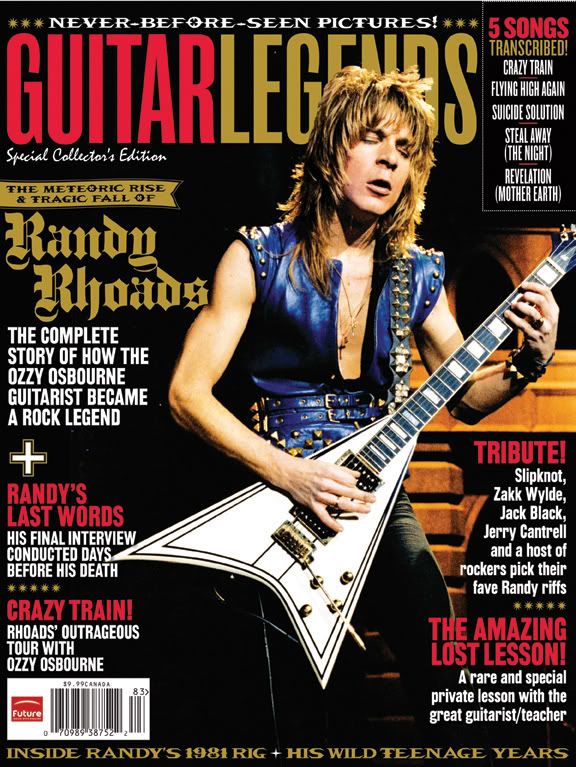 What specific jackson is this?

Join date: Jan 2007
110

IQ
prob just a custom one for him
the rr5 is similar in look but a string through

Join date: May 2007
368

IQ
Thanks for the response

The most similar model is the RR5.

Join date: Apr 2008
90

IQ
Its a Jackson Concorde!!

Its not an RR model at all!
The RR's were designed after he died, and are based on the concorde!

JESUS PEOPLE DO YOUR RESEARCH!
You can still find them on the used market. The model is called the RR LTD. They don't make them anymore, so the price kind of shot up.

Join date: Jan 2006
30

IQ
That's his original design for the RR series he called the concord. They're fairly different from the production RR's. That has a larger body with much less fret access, two volume and tone controls, and the toggle switch is on top. Not to mention the strat style bridge isn't used on any other RR. Jackson's custom shop did a limited run of these not too long ago but at a few grand a piece it's not easily within reach for anyone. The closest thing to that in production is the RR5.

Join date: Nov 2005
254

IQ
I believe he wanted to call it the Concorde but it was just a custom model at the time, after his death it was continued as the RR series.
Wiki:
It was at this time that Rhoads was beginning to receive recognition for his playing. Just before his death Jackson Guitars created a signature model, the Jackson Randy Rhoads or Randy Rhoads Pro (though it was recommended to be called the Jackson Concorde). Randy received two prototypes — one in black and one in white — but died before the guitar went into production. Rhoads also received the Best New Talent award from Guitar Player.
Join date: May 2007
40

IQ

Join date: Oct 2008
70

IQ
yea thats a concord. the shape is slightly diff from a rhoads. and its bigger

Join date: Jun 2009
300

IQ
this is thread is really old...but yeah the RR5 is pretty close to that except it has no tremolo. theres also a new RR24 thats pretty close to this except it has EMG's
Right first off that as mentioned is the concorde, thats randys original design. He never used an FR on that. He used an FR on his karl sandoval V. His Jacksons were all hardtails, they also have a neck profile which isnt far from a fender strat