drop c tuning and what strings..?

Join date: Jul 2007
111

IQ
Drop C (CGCFAD)
i need that tuning right thar. really dont know how its gonna go with my guitar so im going to use it on my squire strat. it got ernie ball hybrid slinkies as seen in the image below on it, and i guess you need certain strings to tune into this?? will this setup work.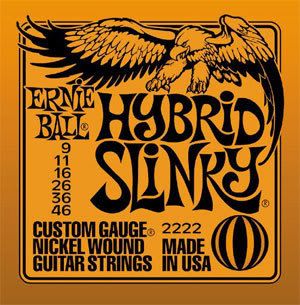 Join date: Dec 2007
200

IQ
those are way too tiny, you'd should be looking into 11's or medium top heavy bottom for drop c.
noo, you need heavier guage strings since your letting the tension out of them, theyll be like spaghetti with those stings, get something with around a .60 on the low E, check out the zakk wylde dunlop set to give you a idea
For drop C I'd use 11 or 12s
Yea those flimsy things are to light you need at least a gauge 11 to get to drop c and get it to sound clear.

Join date: Dec 2005
122

IQ
.60 for E? That's too much.

7 string guitars use .56 for low B.

10-52 is ideal IMO for drop C.
Try Ernie Ball Skinny Top Heavy Bottoms.

I use em in standard ( I actually need to change them), but they sound a lot better in drop c.
when i used slinkies, i got the skinny top heavy bottom set.

now i just go for the standard d'addario 11s set. both work well.

Join date: Nov 2007
31

IQ

Join date: Feb 2007
242

IQ
http://www.elderly.com/images/accessories/STR/GBH.jpg
i keep my Ibanez XPT-700 Xiphos always in Drop C tuning and use the strings in that link
ghs boomers
i definately like 12... but sometimes get 11 when i have my guitar set up
as you go up string size it should feel more comfortable after a few days and way better than when you played smaller.... the thing is dont go too high too fast because going back down can be really rough and awkward
so i would say try out some GHS 11s
any questions just PM me


Join date: Dec 2004
10

IQ
Skinny Top Heavy Bottom or Power Slinkys.
they are fine for drop c
i use the same ones for b standard lol
( I R RETARD )
get some elixir .11's.

'nuff said

Join date: Nov 2003
90

IQ
I use CGCFAD on one of my acoustics and they are 10 gauge. It's fine for me.

Join date: Apr 2007
80

IQ
I use D'addario 10-52. The top strings are light enough to feel comfortable, but still hold the tuning fine. And I like a bit of beefiness on the low-end.

Join date: Jan 2006
160

IQ
I use 11's for Drop C. With an X2N, thats where the beef is.

Join date: May 2008
20

IQ
I use 12's. They're not flopping all over the place like 10's.
I use GHS Heavy Bottom Boomers for my Open C tuning (which is lower than what you propose) and they work damn awesome. 10-60 guage, which is good, because it's usually the low ends that get flappy when you start drop tuning, the high end isn't quite as serious. but those hybrid slinky strings seem a bit thin. give it a shot though, it can't hurt.

Join date: Feb 2008
30

IQ
i use DR string Hi beam 11's in low tuning if the guitar has an tremolo on it since they have an thicker core wire as for String through or TOM bridges i use Dunlop 12's.

Join date: Oct 2007
430

IQ
I use GHS Boomers 11-50, works fine for Drop C. It's probably the lightest you should go if you stay in Drop C... they work well for standard too, so...