What Are I IV V (1 4 5) Chords and Why Should You Care?
What I IV V chords mean and why you should care about them.
learntheguitar
Ultimate Guitar
Posted Dec 25, 2014 02:34 PM
If you hang around musicians for long enough you'll start to hear them talking about numbers and in particular the chord numbers 1 (I) 4 (IV) and 5 (V). You may be wondering what they mean as you may know the chords A, D and E but don't know how to play I, IV or V chords. 

The numbers I, IV and V come from a musical relationship called harmony. It might not sound very cool but music is based on maths. If you can get your head wrapped around some of this math learning songs and writing your own songs can be easy and less mysterious.

The numbers I, IV and V refer to the 3 main chords used in many blues, rock/pop songs and how they're related to each other and work together. To explain this further we're going to learn some basic music theory. The numbers used in music harmony (how chords work together) are based on the steps of the major scale. Below you'll see the C major scale with each note labelled with a number in Roman numerals. Roman numerals are the convention used to write the numbers for the chords in music.




Next we'll create chords by stacking extra notes on top of the scale notes. These chords are called triads as they use 3 notes and the extra notes added are called the 3rd (note) and the 5th (note). Creating more numbers to worry about! The notes used to create these chords come from the C major scale. Doing this you'll see that some chords are major and written in capital roman numerals (e.g. IV & V) and some minor written in lowercase (e.g. ii & iii).




The I chord is called the tonic or the root chord and acts as the home base in a song. A song usually ends on the I chord as it feels comfortable just like going home. The 2 other chords that act as big signposts pointing to this "home" chord are the IV chord (called the sub dominant) and the V chord (called the dominant). The V chord resolves to the I chord which means that if you play a V chord in a song followed by the I chord it sounds like going home to rest.

See how this sounds by first playing a C chord to establish the tonic (I) chord then play a G (V) chord then play the C chord again. This should sound like going home or the end of a song.

Listen to the audio example to hear the C (I) to G (V) to C (I) chords here.

Try this also playing the C chord (I) followed by the F chord (IV) then the C chord (I) again. This should to sound like going home but not as strong as the G (V) going back to the V (I). Think of it like gravity making objects fall to the ground with the V chord being heavier than the IV chord like a lead weight falling faster than a feather.

Listen to the audio example to hear the C (I) to F (IV) to C (I) chords here.

Keys
So now we have an idea of how these chords work together we can look at how they work in songs. While many songs use I IV V chords the trick is that they're often in "different keys." The term "key" opens up a whole new can of worms as we are now have to look at the major scale but starting on different notes. 

The major scale has a particular sound based on the steps or "intervals" between the notes. These intervals must remain the same whether you start your scale on C, G or A notes etc. A whole tone (W) is 2 frets apart on a guitar and a half tone (H) is 1 fret. The note intervals of a major scale are W W H W W W H. To make the scale fit this interval pattern we have to make certain notes "sharp" (up 1 fret with the # symbol) or "flat" (down 1 fret with the b symbol).

For example for the key of G major the note F needs to be changed to F sharp (#) up one fret to fit the pattern. If this isn't done and the F note is left as a "natural" note the scale doesn't sound quite right. Also if this isn't done and we create our triad chords on the notes of the G major scale the V chord would be D minor and not D major. The D minor chord does not resolve strongly to the G chord like the D major chord does.




To hear this play the G major chord to establish the tonic then D minor followed by G major.

Listen to the audio example to hear the G (I) to Dm (v) to G (I) chords here.

Next try this again but play D major instead D minor and it will sound more like going home finishing on G major after D major.

Listen to the audio example to hear the G (I) to D (V) to G (I) chords here.

Looking at the diagram above you will see that the I IV V chords of G major are G, C and D major. I like to call these 3 chords the chords of country music as heaps of country songs use these chords including:

"Drive" - Alan Jackson
"Everywhere" - Tim McGraw
"It Must Be Love" - Don Williams
"Ring of Fire" - Johnny Cash
Below is a table showing the I IV V chords for some of the most common keys. You can use it to work out the I IV V chords used in heaps of songs.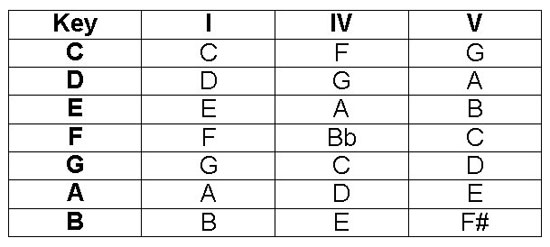 Transposing
Now we know what I IV V means and how it works as a formula used in may songs the next use for thinking of chords as numbers is being able to "transpose" or change songs into different keys. Sometimes a song isn't in the right key for a singer meaning that its not comfortable for them to sing as certain notes are too low or too high. Therefore the song needs to be transposed to a key that better suits their vocal range.

To do this use the table to work out the I IV V chords for a key that suits them best. For example they may struggle to sing "Wild Thing" in the key of A (A D E chords) but may be able to hit all the notes in the the key of D (D G A chords).

Here are examples of I IV V songs in their original keys:

"Bad Moon Rising" by Creedence Clearwater Revival - I IV V in the key of D = D G A Chords
"La Bamba" by Richie Valens - I IV V in the key of C = C F G Chords
"Summertime Blues" by Eddie Cochran - I IV V in the key of E = E A B Chords
"Steal My Kisses" by Ben Harper - I IV V in the key of G = G C D Chords
"Wild Thing" by The Troggs - I IV V in the key of A = A D E Chords
So now you know how I IV V chord harmony works, what songs they're used in and how to transpose songs between keys.