3 String 'Thunderhorse' Style Sweep Arpeggios Exercise
Hey guys. Here's a little exercise for 3 string arpeggio sweeps for those trying to get that Skwisgaar sound.
Ultimate Guitar
Posted Nov 20, 2013 09:23 AM
I put this exercise together a while back as I found a lot of my students attempting sweeping were jumping straight into 5 or 6 string sweeps and having a pretty bad time with it. The exercise is made up of basically a diatonic 'E' major (or 'E' Ionian) chord progression, but I changed the half diminished (or minor 7 flat 5) chord into a straight diminished chord to make it a more flowing arpeggio sequence. E major chord progression: E F#m G#m A B C#m D#dim (instead of minor7b5) E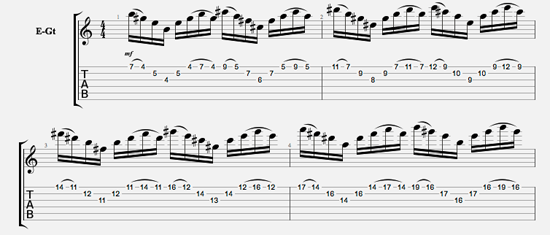 You'll notice that each arpeggio starts and ends with hammer ons and pull offs. If you wish to get a smooth legato and sweepy sound, it's best to minimalise picking where possible. You'll want to let your fretting hand do most of the work in the majority of your sweeping. The picking hand will be doing a simple gliding motion and waiting for hammer on and pull off sections to finish before starting again. Another thing to keep in mind is that in this context we're only really working with 3 shapes for 3 kinds of arpeggio. We have a Major, a Minor and a Diminished. The majority of 3 string arpeggios will be just these 3 shapes, so it's good to get them heavily cemented into your shredding arsenal. A good exercise might be to write a chord progression in any key, then try sweep it using these simple major, minor and diminished shapes. Have fun with it guys.