'B' Minor/'D' Major Diatonic Exercise
Check out this cool exercise to incorporate diatonic arpeggios into your lead playing!
Chris Zoupa
Ultimate Guitar
Posted Sep 08, 2014 02:45 PM
Many people think "Hey there's Chris Zoupa that 1/2 Greek 1/2 Sri-Lankan metal head!" which is kinda true. But I'm also a lover of Jazz and am fascinated by it. Even though we're both contributors on this wonderful website and community, I'm a massive Jens Larsen fan. I was messing around with one of Jens' exercises/ideas working through diatonic arpeggios and I came up with a jazzy progression in "B" minor/"D" major.

The chord progression is:




By playing through this chord progression you can hear very predictable diatonic intervals moving up the scale. To get the most out of the chords I decided to include 7ths so that the majority of our arpeggios will have at least 4 notes.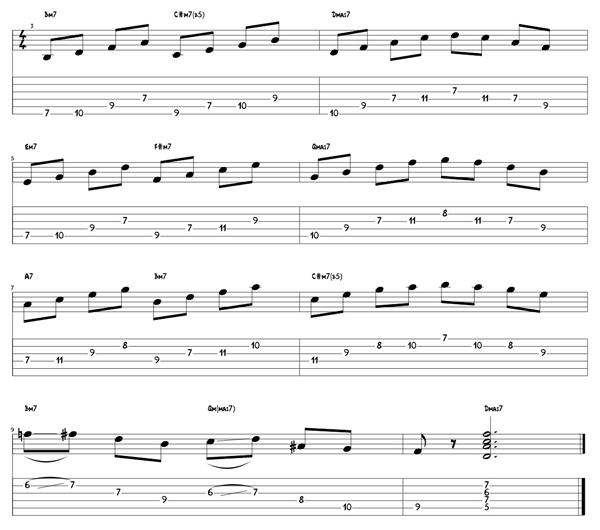 This simple concept is a cool way to highlight the sweet spots of a chord moving through a progression. You'll notice the 2nd, 4th and 6th bar have a longer arpeggio and a slightly less predictable shape than the usual 7th arpeggios as I've added an extra note and a descend. I think it's always worth experimenting with new shapes and adding in a few extra notes into your arpeggios. You might consider adding in 4ths, 6ths, 9ths, 11ths and if you're feeing sassy 13ths to get a more unique sound.

Enjoy the exercise guys! Happy Shredding!

Download tab here.




By Chris Zoupa