Beginner's Guide to Sweeping
In this lesson we cover some of the most common questions people ask about sweeping.
Chris Zoupa
Ultimate Guitar
Posted Sep 05, 2013 01:49 PM
Hey guys. In this tutorial I where going to be talking about the fundamentals of a good sweep arpeggio technique.
Step 1: Gliding Motion
The most common problem in sweeping will be your picking hand. A lot of people rush this "gliding" motion and almost treat it like a chord strum, or alternatively try to do a lot of consecutive down picks in a row which is impractical and sounds pretty awful. In my video I talk about gently pushing from one string till you're resting on the next. Let's say you're working on a C major arpeggio like the one we see below.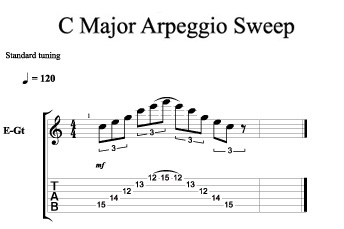 To get the first stage of the sweep we need to get from the 5th string (A) to the 1st string (E). You'd start on the 5th string and push till you're resting on the 4th and then keep going till you're at the 1st string. Do this slowly so that each string gets individual and equal attention. Once this pushing gently to the next string gets arduous you can increase the speed of pushing through the strings till you have the gliding motion happening.
Step 2: Fretting hand and arpeggio
This may seem obvious but it's important you learn your arpeggios inside and out as regularly picked arpeggios before you get the sweep involved. Another important thing when practicing them like this is to do hammer ons and pull offs on strings that have 2 notes in the arpeggio. You'll need to do this when you start sweeping at full speed.
Step 3: Hammer ons and Pull offs in sweeps
Most sweeps will have a string that has 2 notes on it. Going back to our C major arpeggio, you'll notice that on the first string we pluck 12 then hammer to 15 then pull off back to 12. You picking hand gliding motion will need to pause before you continue the sweep or your hands will be out of sync. I refer to this in the video as "wasting enough time." Once you get the hang of these pauses you can sweep up an arpeggio, wait for you hammer ons and pull offs to finish then work your way back smoothly.

Hope this has helped guys. By Chris Zoupa