Learn the Secrets Other Instruments Hold That Will Make You a Better Guitar Player
You can greatly benefit by arranging the music other instruments play on to your guitar.
Simon Candy
Ultimate Guitar

Simon Candy
Guitar instructor from Melbourne, Australia specializing in acoustic guitar. Run a guitar school and offer online acoustic guitar lessons
Posted Mar 23, 2016 03:06 PM
Interested in becoming a more creative, innovative, and inventive acoustic guitar player?

No matter what instrument you play, it always pays to closely observe, watch, and listen to how other instruments go about playing the music they play. In doing so, you will drastically increase your own skills on the guitar in a number of different areas. Let me explain.

While all instruments have the same notes to choose from, each is unique in how it plays and arranges these notes. It's these nuances of which we guitarists can take advantage to become much better and more skillful players.

In other words, taking something another instrument is playing and arranging it so that you can play it on your guitar, will get you playing quite differently to how you would normally go about things.
Further to this, if you were to use your ear when transcribing songs from other instruments on your guitar, as oppose to reading actual music, you would also improve your aural skills. The reason why is because your ears are used to hearing and working out music that is being played on a guitar. Having to do the same with music coming from another instrument can be challenging to work out.

If you have never used your ear to work any kind of music out before, don't panic. I have tips for doing this below, however to reap the benefits of what you learn in this article, it's not necessary to be able to work music out using only your ear.

A Quick Guide to Working Music Out Using Your Ear
(If you are comfortable working out music by ear you can skip this section.)

Early on in my guitar playing I began trying to work out music using my ear only. This is without doubt one of the best things I ever did, as it improved so many areas of my playing.

Yes, working out music by ear can be challenging in the beginning. I certainly found this, however, like anything it gets easier the more you do it. It is also well worth doing for the massive amounts of improvement you will see and hear in your own playing.

Our focus here is on arranging music that is played by other instruments and how this benefits our acoustic guitar playing. Therefore it is beyond the scope of this article to get too deep into the rocess of working music out by ear. I will however provide you with some guidance to help get you started if you are new to this. You may find this helpful even if you have worked stuff out by ear before.

FYI, to reap the benefits of what you learn in this article does not necessarily require you to be able to work music out using your ear. You could simple use sheet music relating to the instrument you are arranging from, or some resource that has already done this for you.

5 things you can do right now to start working music out using your ear:
What you heard last sticks in your head. Stop the recording immediately after the part you are working out. It may be just a single note or chord, but by stopping the recording immediately after this note/chord it becomes much easier to find on your guitar.
Deal with little bite size pieces at a time. This could be a single note or a chord. As you get better you will be able to work out larger chunks, but in the beginning start small.
Use your voice to help find the notes. Simply sing/pitch the note you are working out, then go about finding it on your guitar. This will create a great foundation for working music out using your ear.
When working out chords, listen to what the bass is playing as it will mostly be targeting the root notes of these chords. This will help a lot in working them out.
These days, thanks to technology, you can manipulate music in many ways by slowing it down, changing key/pitch, and looping sections of a song. All this will help you work music out using your ear. There are many programs and apps available for you to do this.
Above all else, just get in there and start working music out using your ear. There is no right time to start, so don't wait, just begin. Like me, you will be forever thankful and grateful for all the benefits your guitar playing will receive by doing so.

Phrasing
Working the music of other instruments out on your acoustic guitar will provide you with new, creative and innovative ways to play and phrase your notes.

Phrasing relates to how notes are played and organised on an instrument. Each instrument is unique in the way it phrases its notes, and this is why we will benefit greatly as guitarists by arranging music other instruments play.

Just as each person is unique in the way they form and sound their words, each musician will be unique in the way they phrase their notes. In this article I am referring to the general phrasing of an instrument. However, dialing into how a particular musician is phrasing their notes and emulating this in your own guitar playing is well worth your time.

So Exactly How Will Arranging Music Other Instruments Play Make You a Better Guitarist
Working out the music that other instruments are playing verses working out the music another guitar is playing is no different in principle. It's the transformation your guitar playing will receive as a result of doing so that is the point.

For example, think about how a saxophonist or trumpeter phrases their notes. There is one major difference compared to that of a guitarist. Do you know what it is?

Answer: You need to stop playing at regular intervals to breathe when playing a saxophone or trumpet.

Guitarists are notorious for overplaying. Phrasing can sometimes go out the window as we get trapped playing endless runs of notes up and down the fretboard without needing to stop to take a breath.

Leaving space in your playing is as important as filling it with sound. You need balance between the two and transcribing some music from a trumpet or saxophone will certainly get you playing your guitar this way.

Consider a vocalist (yes, your voice is an instrument)

A great way to play more melodically is to transcribe and arrange some of the vocal lines of a song onto your guitar. Learning the subtitles and nuances of a melody, as oppose to playing wall to wall riffs and licks, is a great way to add a touch of sophistication to your guitar playing. Riffs and licks have their place, but to play melodically is something else and transcribing a vocal line or two will get you playing your guitar this way.

What about a pianist?

The difference between how you play a piano compared to a guitar is obvious. It's these differences that will have you coming up with cool and unique ways to play your guitar should you transcribe and arrange something a piano is playing.

With horn players and vocalists, you can more or less transcribe what they are doing note for note onto your guitar. It's a little different with a piano though.

For example, have a listen to the following chord progression that is being played by a piano:







While you can transcribe a fair amount of this progression on your guitar, you will need to get a little creative for other parts of it. With a piano being the way it is, it's not going to be possible to transcribe everything, note for note on your guitar.

Have a listen to this acoustic arrangement of the piano part: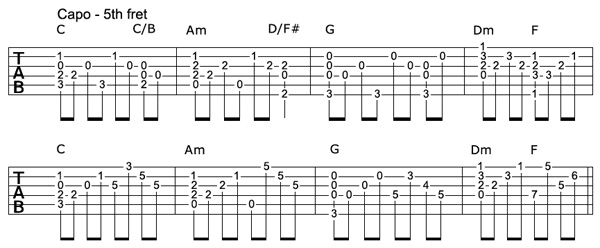 When listening to the example above it's important to realize that at no point am I trying to play what the piano is doing note for note on my guitar. Rather, I am re creating the feel of what is being played.

To begin, I have capo'd my guitar at the 5th fret. This gives me more open chords to play with than I would have had otherwise without the capo. Throughout I am fingerpicking, arpeggiating mostly, but also plucking the full chord at the beginning of each bar to emulate the piano part.

Notice in the piano arrangement how the chords extend up an octave when the progression repeats. To get a similar sound and feel in my acoustic version, I have played my chords an octave higher in the second half of each bar. These are the sorts of things you find yourself doing, that you may never have done otherwise, when arranging music from other instruments.

To sum up, you need to be looking outside of the guitar world to become more creative and innovative with your acoustic guitar playing. Studying and arranging the music of another instrument is a great way to start doing this.

About the Author:
Simon Candy is an acoustic guitar player from Melbourne, Australia. Having played guitar for over 25 years and teaching for 20 of them, Simon has developed great systems to help anybody learn how to play the guitar. Simon also offers the very best guitar lessons for acoustic players from all around the world with his highly effective online tuition.