Why You're Failing the 100 Days Sweep Picking Challenge
I've seen many videos of people attempting the "100 days sweep picking challenge," only to fail miserably. Why is that so?
R3ap3r_Tokyo
Ultimate Guitar
Posted Dec 12, 2016 07:44 AM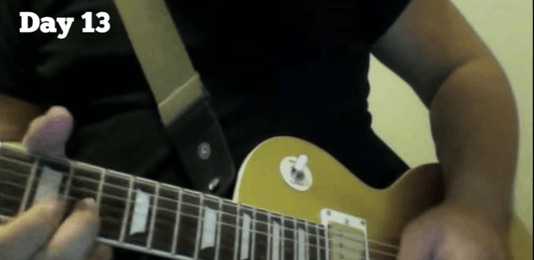 The main reason you fail at sweeping, whether it be the "100 days sweep picking challenge" or your personal attempt to acquire this technique is usually that you start by challenging something that is the last step in sweep picking, without already mastering what sweep picking is. Let me explain that:

The last thing you want to practice when learning sweeping is... Arpeggios.

And what is usually the first thing you try sweeping at? Arpeggios. Preferably 6-strings ones, because why not.
Does is sound like a bulletproof way to fail, or what?

Let's start with some mistakes and tips:

Don't brush the strings like they're going to break. Too many people attack the strings too lightly, therefore not acquiring the right "touch" for sweeping. You have to pick deep into the strings and your pick must be blocked by the next string. You'll gently brush the strings later if you want to, but when learning sweeping, you want to get that percussive sound of your pick blocking against the strings.
Sweeping is the opposite of alternate fast picking: when trying to go fast in alternate picking, you want to minimize the space between each pick stroke (you're picking just around the string). In sweep picking, though, you're picking until your pick touches the next adjacent string, so you're going to pick wider. Staying as close to the string as possible will prevent you from getting the right sweeping feeling.
Practice with a clean or crunch sound, but not with a distorted sound at first. You want feedback. Not the siren one, the feedback of your sound telling you "you hit the string correctly and both of your hands are in sync". Having a distorted sound will not give you that feedback, because it smoothes everything.

"But if I can't play arpeggios, what I am supposed to play, then ?", you may ask.

Scales-like patterns. like 1 2 4, 1 2 4, or 1 3 4, 1 3 4 on the six strings. Here is why, and how:

What you're looking for, is getting a good grasp of what sweeping is, therefore you need to practice the "digg to the adjacent string" feeling. "ARPEGGIOS DO EXACTLY THAT!", you might say.

They do, but arpeggios are too demanding for both hands, and what you want NOW is focusing on ONE hand (the right one) to get a perfect sweeping movement. We're going to use scales-like patterns where you don't have to think about your left hand, so you can focus on the right hand.

The reason we use scales-like patterns and not open strings is because you want to practice having both hands in sync when doing wider pick strokes with the right hand (to be clear: though there is alternate picking involved in this exercise, you want to keep you pick strokes wide).

Practice goes like this (I assume you already know when to use downstrokes and upstrokes):

E (low) string: 1 2 4 (this is fingering, not the fret numbers)
A: 1 2 4
D: 1 2 4 4 2 1
A: 4 2 1 1 2 4
D: 1 2 4
G: 1 2 4 4 2 1
D: 4 2 1 1 2 4
G: 1 2 4
B: 1 2 4 4 2 1
G: 4 2 1 1 2 4
B: 1 2 4
E: 1 2 4 and reverse.

On each 4 and 1, the pick must be touching the adjacent string before you pick it (or else you're not sweeping). And keep the rhythm consistent: we don't want those little rushes because your pick went too fast on some consecutive downstrokes/upstrokes.

You get it: we do a tango 3 strings downward/1 string upward to maximize the number of sweep strokes across the 6 strings.

Once you get that correctly done and have a very good grasp of how your right hand should feel when sweeping, you may start practicing arpeggios on 2 (pentatonic scales fingerings, for instance) then 3, then 4, 5, and finally 6 strings.

Since most 6-strings arpeggios usually involve the "banana fingering" (finger rolling to play the same fret on 2 adjacent strings), you may want to start practicing that on 2 high strings only, then downward till you can roll all your fingers on the low E and A strings too. And then rolling all your fingers on 3 strings, a la Frank Gambale's "Sweeping statement" (the original one, not the 2015 one).

Chances are if you start that way, you'll end up not wasting 100 days of your life on sweep picking, only to be left with regrets, or worse: a feeling that sweep picking is too hard for you (it is not).