Flat vs. Angled Headstocks
Which is better? Does one give better tone?
Bobby_Davis
Ultimate Guitar

Bobby_Davis
Owner and blogger at www.guitaranswerguy.com.
Posted Nov 15, 2016 07:08 PM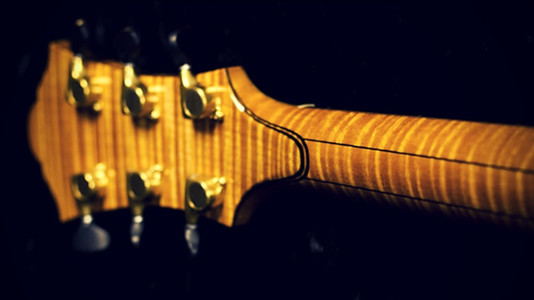 Why are some guitar headstocks flat while others are angled backward? Is one somehow better than the other? Does one result in better overall tone or sustain? In this article, I'll tackle the question of why some headstocks are flat and other's are angled, and address whether one is somehow better than the other.



A reader wrote-in recently and asked why some guitar headstocks are flat and others are angled. Naturally, he had "heard from a friend" that one was more prone to breakage, but was superior in tone and sustain. So, he wanted to know what my opinion was on the subject.

Ah, the old "does it affect tone" question.

When it comes to guitars and whether something like wood or certain construction methods affect tone, we guitarists can get into some pretty nasty, almost religious debates. So, let me put the tone question aside for a minute and first talk about the practical differences between flat and angled headstocks.

For a guitar builder, the decision whether to make a headstock flat (like a Stratocaster) or angled (like a Les Paul) has less to do with tone - if tone is a factor at all - and more to do with practicality and aesthetic choice.
Production Advantages
It really comes down to cost and speed of production. Itэs simply faster, cheaper, and easier to construct a neck with a flat headstock. This is why the Fender Stratocaster was born with a flat headstock - to better facilitate mass production.
On the other hand, angled headstocks require a bit more work and/or more wood, depending on which construction method used. You can carve an angled headstock from a single, thick piece of wood, but it results in more waste (and therefore higher cost). To avoid extra cost and waste, the other option is to create a scarf joint - where you actually cut the end piece off the wood, flip it over, then glue it back on: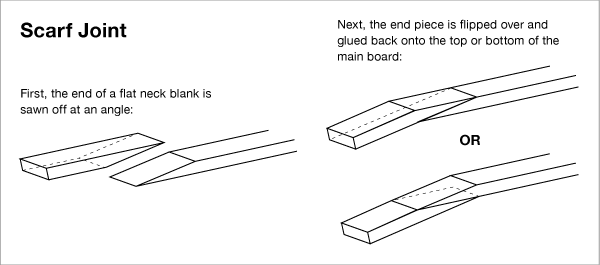 However, the drawback to scarf joints is that they require more time and effort than simply cutting a flat headstock. For these reasons, flat headstocks can be a pretty appealing option to a guitar builder looking to save time and money.
String Break Angle Over the Nut
For guitars with standard (non-locking) nuts, flat headstocks can present challenges when it comes to the angle of the strings behind nut (between the nut and tuning posts), especially for the 4 highest strings. With a flat headstock, due to the lesser angle behind the nut, the higher strings can pop out of the nut slots during heavy bends. That's why we see little string retainers (string trees) on flat headstocks - usually on the high B and E strings, but sometimes also on the D and G strings. The retainers pull the strings down at a sharper angle behind the nut, which helps keep them seated. Angled headstocks, on the other hand, minimize this issue by naturally creating a steeper break angle over the nut. Therefore, no string retainers are required. You'll notice Les Pauls, which have an angled headstock, don't have string trees. The angle of the headstock alone does the job of keeping the strings firmly seated in the nut's string slots during heavy bends: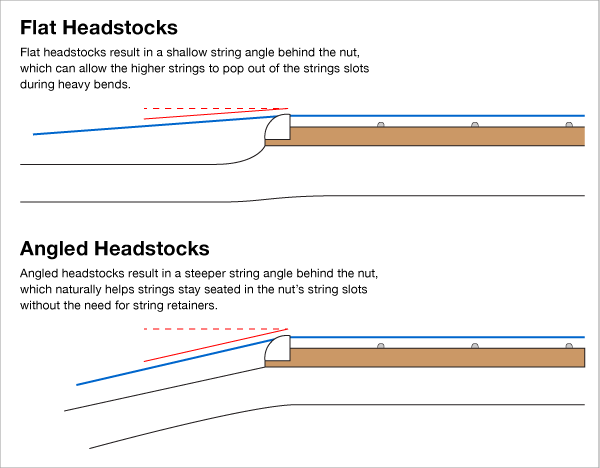 Of course, we now have graduated tuning pegs which get progressively shorter as they get further from the nut, which helps alleviate this issue on flat headstocks.
Aesthetic Choice
The last reason a builder may choose a flat or angled headstock just comes down to style. The builder has a vision, and wants to achieve a certain aesthetic, and maybe one or the other fits the overall look of the guitar better. Now, let's look at some of the "debatable claims" out there: as with many guitar-related topics, there are a few claims flying around out there regarding flat and angled headstocks. Let's examine a few of the more prominent ones.
Debatable Claim #1: Angled headstocks break easier
Some people think that the angle alone makes an angled headstock more prone to breakage if it's whacked against something or if the guitar falls or is dropped. In fact, this isn't true. Not entirely. The simple fact that the headstock is tilted backwards doesn't make it more prone to breakage. Instead, it's the construction method used that can make an angled headstock (potentially) more susceptible to breakage. For example, cutting a steeply-angled headstock from a single piece of wood can indeed create a weak spot - because of the short wood grain created by the angle. Builders attempt to compensate for this by carving a volute behind the headstock. On the other hand, angled headstocks created using one of the scarf joint methods mentioned above are quite strong and just as durable as a flat headstock (possibly more durable, as a properly glued joint creates a bond stronger than the natural wood). Now, keep in mind that I'm talking about accidents here. Regardless of how it's constructed, an angled headstock isn't more prone to breakage under normal use and abuse. The key phrase here is "normal use and abuse."
Debatable Claim #2: Flat headstocks have better tuning stability

Some people believe that flat headstocks have better tuning stability - crediting the lesser break-angle of the string over the nut. The belief is that this creates less friction in the string slot, allowing the string to slide more freely over the nut (and therefore returning to pitch more accurately). In reality, a nut's effect on tuning stability has more to do with how the nut and string slots are shaped and polished. A properly shaped nut and string slots will result in better tuning stability, regardless of whether the headstock is flat or angled. Other factors come into play here as well, such as the type of nut, material used, friction created by string trees, etc.
Debatable Claim #3: Angled headstocks result in better tone and/or sustain

This is the big one - the old "tone" question. Many people believe that angled headstocks result in better tone and/or sustain. They believe it's because the strings on angled headstocks are pulled tighter against the nut. Is this true? I honestly have no idea, and I would say that no one else really knows for sure either. The problem with these types of tone debates is that all the evidence is anecdotal. To really find the answer, we'd need a proper scientific study. Now, think for a minute what such a study would need to entail: the time and cost involved, the number of variables you'd have to control for, not to mention crafting dozens of guitars that are all nearly identical with the exception of the headstock angle. Who the hell is going to fund a study like that? In the meantime, there are just too many other variables that go into a guitar's construction to say whether headstock angle alone has any significant impact on tone or sustain.
Final Thoughts
Guitar builders choose whether to make a guitar's headstock flat or angled based primarily on practical factors like production speed and cost, as well as the visual style they want the guitar to have. It's less about factors like durability and tuning stability, and even less about tone and sustain. Whether one headstock or the other is better in this regard will remain a matter of personal opinion that we guitarists will continue to debate. At the end of the day, you should buy the guitar that sounds and feels good to you, and inspires you to pick it up every day and play.
Wanna learn more about this or you have some other questions about guitars that need to be answered? Then ask Bobby Davis at guitaranswerguy.com.