The Top 3 Myths You're Being Told On How To Be A Musician
Are you a musician who educates yourself by examining how your favourite artists went about achieving success? Are you constantly reading through interviews and taking notes of exactly how little or how much your favourite band practiced before getting famous? If this sounds like you, then we got some talking to do.
tommaso.zillio
Ultimate Guitar

tommaso.zillio
Prog rock guitarist and teacher with a passion for Music Theory applied to Guitar.
Posted Jul 31, 2017 07:48 AM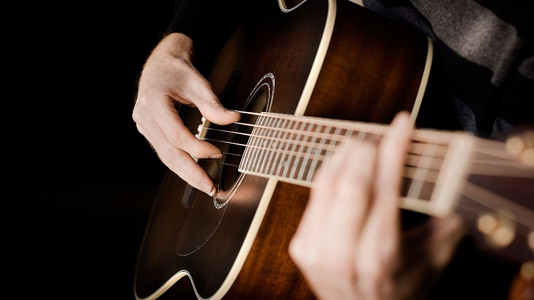 Are you a musician who educates yourself by examining how your favourite artists went about achieving success? Are you constantly reading through interviews and taking notes of exactly how little or how much your favourite band practiced before getting famous? If this sounds like you, then we got some talking to do.
I still recall being a young teen, learning to play my first (junky) guitar. I desperately searched for insider info on how to master my instrument, though all I really had to choose from at the time were magazines found at the corner store (ah the good old pre-internet days).
Little did I know, all this "important" information I was consuming was doing more to hurt than help me. My playing was not advancing at the rate it should have been, and I didn't even realize it could have to do with what the professional musicians were saying in their interviews.
Are all famous musicians evil? No, of course not. However, a famous musician is understandably going to have different motives than someone who teaches music professionally. Famous musicians have albums to sell, shows to sell out, and a fanbase they need to build. They are not concerned with giving accurate advice to their potential competitors. When asked questions about their career, they are going to lean towards telling a story that is interesting, concise, and makes them look good.
What I am saying is nothing shocking, it just makes sense. First thing a working musician needs to know is now to sell themselves, and that comes down to exactly what they say and how they choose to say it. Its not their job to be honest, it's their job to be entertaining.
"You Either Got It, Or You Don't"
There are a lot of people in the world that would like you to believe that there is a magical thing called "it" that determines if you will ever find success in music. If this were true than musicians, music teachers, and music education as a whole would not exist.
So why do you hear this phrase thrown around so often? Simple. Rock Stars are aware that just about anyone could be in their same place if they worked hard enough. Becoming a successful musician really comes down to how hard a person is willing to work for it. Hearing people say this does kind of benefit you in a way though, because either one of two things will happen:
It might actually stop you from pursuing your craft. If hearing this is all it took to make you quit, then there probably wasn't much hope anyway
Hearing this might have absolutely no effect on you which means good work, you have successfully made it through the first round of obstacles that will be thrown your way
The concept of one "having it or not having it" is what I like to refer to as the Harry Potter theory of musical talent and you may read the whole article I wrote on the subject.
"Rock Stars Don't Need Music Theory"
If I were to ask you who you believe makes better music and your choices were between someone who learned what they know from a teacher or someone who had natural talent, who would you choose?
While the value of someones music has nothing to do with the method in which they developed their skill, most people intuitively will feel like natural talent is more genuine and interesting. Because of this misconception, many artists will try to make it seem like their musicianship came entirely natural to them.
A wise man (Michelangelo) once (supposedly) said "If people knew how hard I had to work to gain my mastery, it would not seem so wonderful at all." This is exactly why Rock Stars may choose to downplay all the theory books they read through and rudiments they practiced.
It makes sense why they might choose to do this, but I am of the belief that it is in fact more wonderful to know how hard a person has worked to get where they are, rather then brushing it all off as natural ability. At the same time, it is a Rock Stars job to impress you, so whats more impressive than having you believe they were inherently born to perform?
"The Key To Success Is All About Timing And Luck"
I know many musicians who are diddling on their guitar just waiting to be "found". They think as long as you know the basics of your instrument, you have no choice but to leave the rest up to chance. These people find themselves in this situation because they have heard enough famous people say it to be true.
The truth is that Rock Stars will talk about luck like it was the key to their success to avoid coming off like a pompous prick. Not only do they not want to talk about all the struggles and hard work that got them there, but they know most people don't want to hear about it either.
This is not to say that those stories you often hear about a band playing a show the same night a big time producer is in the crowd have absolutely no element of chance to them. Though what is more important is being the right person in that situation. It doesn't matter how much luck is involved if you aren't good.
The Truth: How Good You Can Get As A Musician Is All Up To You
The real key to success as a musician comes down to doing the following things.
Find yourself a good music teacher who actually knows their stuff.
After you have chosen a teacher, listen to them. Don't waste anyones time and actually do the things that they tell you to do.
Stop sorting through magazines and celebrity interviews for your advice. If you have hired a teacher to help you, then let them be the ones helping you.
Surely there are some of you out there right now who are questioning my motives as a teacher who is promoting music teachers. Which is fair (I always support critical thinking). I am not saying you must specifically choose me as a teacher. All I wish you to do is to find one who truly fits your needs as a player. As someone who has been playing music for a very long time, I know how important a proper teacher was to my own growth as a guitarist, and I also know how much it can help you reading this article as well.
So toss out those guitar magazines, find a professional that wants to help you (online or offline) and don't leave anything to chance.
About the Author
Tommaso Zillio is a prog rock guitarist and teacher with a passion for Music Theory applied to Guitar