5 Shapes of the Minor Pentatonic Scale
A short lesson on learning the 5 shapes of the minor pentatonic scale and how to use them!
Dom Hawthorn
Ultimate Guitar
Posted Oct 19, 2016 02:10 PM
Hello everyone!

For this lesson I'm going to share with you the method of learning the shapes of the minor pentatonic scale that I've found most effective when teaching and learning myself! There are plenty of other methods out there, that some may find more effective, but this has always proved to be the best way for me!

This image below shows diagrams of all 5 minor pentatonic shapes.

Minor Pentatonic Shapes (E Minor)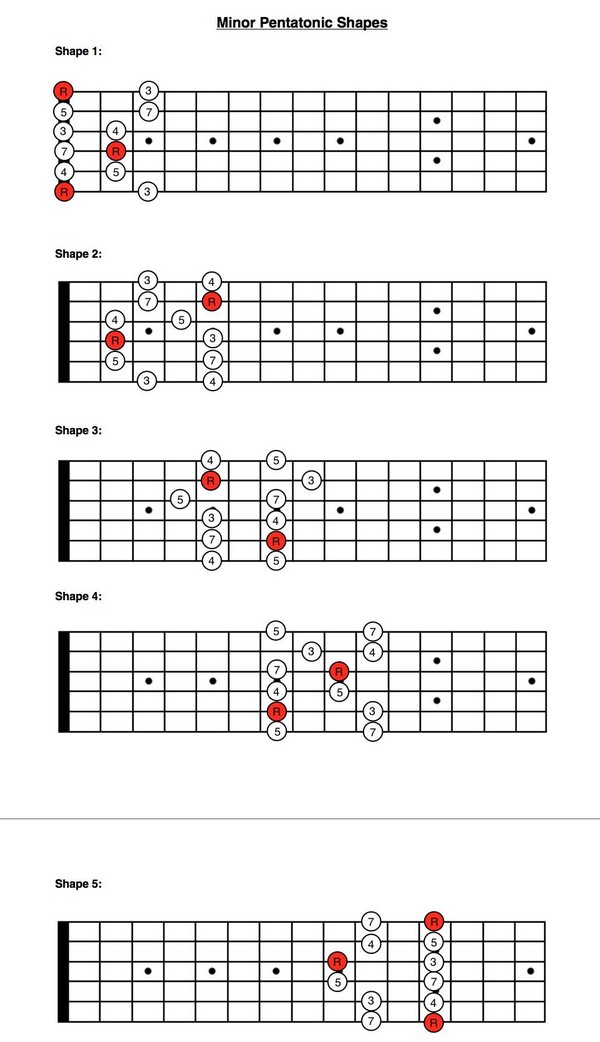 These diagrams are in E minor. The "R" shows the root note, E. The numbers in the circles tell us which degree of the Minor scale each note is. The minor pentatonic scale is made up of the 1, 3, 4, 5, and 7 notes, of the natural minor scale.

Shape 1 is the "classic" pentatonic box shape. Shape 4 is the second most common pentatonic shape.

In my opinion, the best way to learn all of these shapes, is to first learn shapes 1 and 4. Once you've learnt these two shapes we can begin to look at "extending" these shapes, with Shapes 2, 3 and 5.

Once we've learnt Shape 1, we can begin to extend it with the preceding and succeeding shapes, 5 and 2. This method works well, as rather than learning an entirely new shape, we're simply adding to our existing shape.

Joining Pentatonic Shapes (A Minor Pentatonic)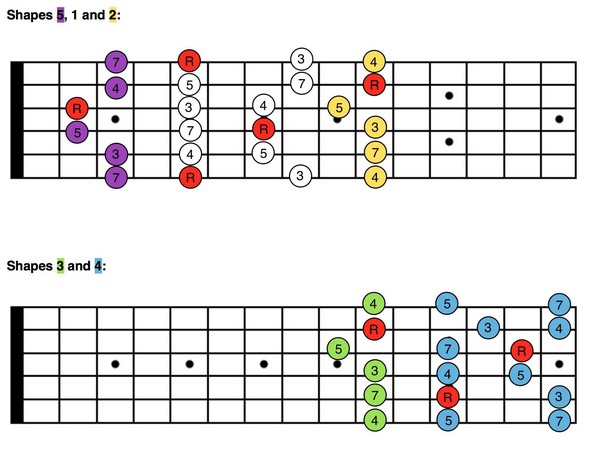 The first diagram in the second image above, shows Shape 1 (white) with Shapes 5 (purple) and 2 (yellow) added to it. I would recommend adding the notes for shape 5 first and learning/memorising that, and then adding the notes for shape 2 and learning/memorising that. What makes this way so much easier is that rather than learning a new shape, you're really just memorising another "row" or "column" of notes to add to your Shape 1.

The same applies for Shape 3 (green) and Shape 4 (blue). After learning shape 4, we simply add another 'column' of notes preceding it, to form shape 3.

You can then think of shapes 5, 1, and 2 as a whole new shape, and shapes 3 and 4 as a whole new shape. And you now have ended up with only two shapes, that are easy to remember and use. Obviously, the aim is to then, join these two 'new' shapes together, and voila, you've mastered the shapes of the minor pentatonic scale.

So to summarise:

Learn shape 1.
Add shape 5.
Add shape 2.
Learn shape 4.
Add shape 3.
Practise as two big shapes.
Conjoin the two big shapes together!
Below is a video of some licks you can practise to get an idea for how you can use the different shapes of the minor pentatonic scale!





Hope you find this lesson interesting and helpful! :) Feel free to leave a comment if you have any questions!