Modes With Mode Dictionary
Learn about modes, how to use them, and where to use them. Dictionary of all modes included. All 12 notes with all 7 modes.
slash_pwns
Ultimate Guitar
Posted Apr 12, 2005 12:09 PM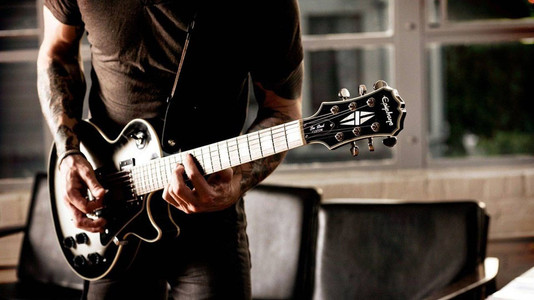 If you find memorizing steps was too difficult, this is the lesson for you! Modes are not put together with steps, but by altering the major scale. The entire point of modes are to change scales to suit your needs.

A mode is just an alteration of a major scale. Once you know your major scales, you can begin to learn modes. Good knowledge of you fretboard and basic intervals is a must for modes. I will go through how to make modes, as well as every mode for every note (Ab, A, Bb, B, C, Db, D, Eb, E, F, Gb, G) for easy reference.


Ionian     - 1  2  3  4  5  6  7 1

Dorian     - 1  2 b3  4  5  6 b7 1

Phrygian   - 1 b2 b3  4  5 b6 b7 1

Lydian     - 1  2  3 #4  5  6  7 1

Mixolydian - 1  2  3  4  5  6 b7 1

Aeolian    - 1  2 b3  4  5 b6 b7 1

Locrian    - 1 b2 b3  4 b5 b6 b7 1


Ionian
Ionian mode is just the name for the major scale. It has no alterations made to it. Play this mode over Major chords, Maj7, Maj6

Dorian
Dorian mode has a flattened third and seventh (b3 and b7) making it ideal for m7 chords. You can also use Dorian mode for m6 chords. Dorian mode is often used in jazz styles.

Phrygian
Phrygian mode has a lowered second, third, sixth, and seventh. Phrygian has a Spanish feel to it so you can Play it over spanish progressions or heavy metal/rock riffs with a b2.

Lydian
Lydian mode's only alteration is a raised fourth (#4) making it very close to the major scale. The #4 makes it a good chord to use for Maj7#11 chords, but can also be used over maj7 chords.

Mixolydian
The only alteration in Mixolydian mode is the lowered seventh (b7). This makes it perfect for dominant 7th chords. This mode can be used in blues, jazz or even country.

Aeolian
Aeolian mode, a.k.a. the minor scale has a b3, b6 and b7. (All minor scales have a b3). Aeolian mode works over minor chords, and can be used as a substitute for Dorian mode, by using it over m7 chords.

Locrian
Locrian mode has a b2, b3, b5, b6 and b7. Locrain mode is very dark sounding. It fits a m7b5 chord perfectly.

Mode dictionary
To find the mode you want press Ctrl+F, then type the note and mode. (ex. C Ionian). Each entry has the name of the mode, the notes that are found in it, and the TAB for it.
Legend.
#= sharp
b= flat
bb= double flat

Ab Ionian (Ab Bb C Db Eb F G Ab):
|-----------------------------4----|
|-------------------------6-8------|
|-------------------5-6-8----------|
|-------------5-6-8----------------|
|-------4-6-8----------------------|
|-4-6-8----------------------------|

Ab Dorian (Ab Bb Cb Db Eb F Gb Ab):
|-----------------------------4----|
|-------------------------6-7------|
|-------------------4-6-8----------|
|-------------4-6-8----------------|
|-------4-6-8----------------------|
|-4-6-7----------------------------|

Ab Phrygian (Ab Bbb Cb Db Eb Fb Gb Ab):
|-----------------------------4----|
|-------------------------5-7------|
|-------------------4-6-8----------|
|-------------4-6-7----------------|
|-------4-6-7----------------------|
|-4-5-7----------------------------|

Ab Lydian (Ab Bb C D Eb F G Ab):
|-------------------------------4--|
|-------------------------5-7-8----|
|-------------------5-7-8----------|
|-------------5-6-8----------------|
|-------5-6-8----------------------|
|-4-6-8----------------------------|

Ab Mixolydian (Ab Bb C Db Eb F Gb Ab):
|-----------------------------4----|
|-------------------------6-7------|
|-------------------5-6-8----------|
|-------------4-6-8----------------|
|-------4-6-8----------------------|
|-4-6-8----------------------------|

Ab Aeloian (Ab Bb Cb Db Eb Fb Gb Ab):
|-----------------------------4----|
|-----------------------4-5-7------|
|-------------------4-6------------|
|-------------4-6-8----------------|
|-------4-6-7----------------------|
|-4-6-7----------------------------|

Ab Locrian (Ab Bbb Cb Db Ebb Fb Gb Ab):
|-----------------------------4----|
|-------------------------5-7------|
|-------------------4-6-7----------|
|-------------4-6-7----------------|
|-------4-5-7----------------------|
|-4-5-7----------------------------|

___________________________________

A Ionian (A B C# D E F# G# A):
|-----------------------------5----|
|-------------------------7-9------|
|-------------------6-7-9----------|
|-------------6-7-9----------------|
|-------5-7-9----------------------|
|-5-7-9----------------------------|

A Dorian (A B C D E F# G A):
|------------------------------5---|
|--------------------------7-8-----|
|--------------------5-7-9---------|
|-------------5-7--9---------------|
|-------5-7-9----------------------|
|-5-7-8----------------------------|

A Phrygian (A Bb C D E F G A):
|-----------------------------5----|
|-------------------------6-8------|
|-------------------5-7-9----------|
|-------------5-7-8----------------|
|-------5-7-8----------------------|
|-5-6-8----------------------------|

A Lydian (A B C# D# E F# G# A):
|-----------------------------5----|
|-------------------------7-9------|
|-------------------6-8-9----------|
|-------------6-7-9----------------|
|-------6-7-9----------------------|
|-5-7-9----------------------------|

A Mixolydian (A B C# D E F# G A):
|-----------------------------5----|
|-------------------------7-8------|
|-------------------6-7-9----------|
|-------------5-7-9----------------|
|-------5-7-9----------------------|
|-5-7-9----------------------------|

A Aeolian (A B C D E F G A):
|-----------------------------5----|
|-------------------------6-8------|
|-------------------5-7-9----------|
|-------------5-7-9----------------|
|-------5-7-8----------------------|
|-5-7-8----------------------------|

A Locrian (A Bb C D Eb F G A):
|-----------------------------5----|
|-------------------------6-8------|
|-------------------5-7-8----------|
|-------------5-7-8----------------|
|-------5-6-8----------------------|
|-5-6-8----------------------------|

Bb Ionian (Bb C D Eb F G A Bb):
|----------------------------------6-|
|-----------------------------8-10---|
|----------------------7-8-10--------|
|---------------7-8-10---------------|
|--------6-8-10----------------------|
|-6-8-10-----------------------------|

Bb Dorian (Bb C Db Eb F G Ab Bb):
|---------------------------------6--|
|-----------------------------8-9----|
|----------------------6-8-10--------|
|--------------6-8--10---------------|
|-------6-8-10-----------------------|
|-6-8-9------------------------------|

Bb Phrygian (Bb Cb Db Eb F Gb Ab Bb):
|-------------------------------6----|
|---------------------------7-9------|
|--------------------6-8-10----------|
|-------------6--8-9-----------------|
|-------6-8-9------------------------|
|-6-7-9------------------------------|

Bb Lydian (Bb C D E F G A Bb):
|----------------------------------6-|
|-----------------------------8-10---|
|----------------------7-9-10--------|
|---------------7-8-10---------------|
|--------7-8-10----------------------|
|-6-8-10-----------------------------|

Bb Mixolydian (Bb C D Eb F G Ab Bb):
|---------------------------------6--|
|-----------------------------8-9----|
|----------------------7-8-10--------|
|---------------6-8-10---------------|
|--------6-8-10----------------------|
|-6-8-10-----------------------------|

Bb Aeolian (Bb C Db Eb F Gb Ab Bb):
|-------------------------------6----|
|---------------------------7-9------|
|--------------------6-8-10----------|
|-------------6-8-10-----------------|
|-------6-8-9------------------------|
|-6-8-9------------------------------|

Bb Locrian (Bb Cb Db Eb Fb Gb Ab Bb):
|-----------------------------6------|
|-------------------------7-9--------|
|-------------------6-8-9------------|
|-------------6-8-9------------------|
|-------6-7-9------------------------|
|-6-7-9------------------------------|

B Ionian (B C# D# E F# G# A# B):
|----------------------------------7----|
|-----------------------------9-11------|
|----------------------8-9-11-----------|
|---------------8-9-11------------------|
|--------7-9-11-------------------------|
|-7-9-11--------------------------------|

B Dorian (B C# D E F# G# A B):
|-----------------------------------7---|
|------------------------------9-10-----|
|-----------------------7-9-11----------|
|---------------7-9--11-----------------|
|--------7-9-11-------------------------|
|-7-9-10--------------------------------|

B Phrygian (B C D E F# G A B):
|-----------------------------------7---|
|------------------------------8-10-----|
|-----------------------7-9-11----------|
|---------------7--9-10-----------------|
|--------7-9-10-------------------------|
|-7-8-10--------------------------------|

B Lydian (B C# D# E# F# G# A# B):
|-----------------------------------7---|
|------------------------------9-11-----|
|----------------------8-10-11----------|
|---------------8-9-11------------------|
|--------8-9-11-------------------------|
|-7-9-11--------------------------------|

B Mixolydian (B C# D# E F# G# A B):
|----------------------------------7----|
|-----------------------------9-10------|
|----------------------8-9-11-----------|
|---------------7-9-11------------------|
|--------7-9-11-------------------------|
|-7-9-11--------------------------------|

B Aeolian (B C# D E F# G A B):
|----------------------------------7----|
|-----------------------------8-10------|
|----------------------7-9-11-----------|
|---------------7-9-11------------------|
|--------7-9-10-------------------------|
|-7-9-10--------------------------------|

B Locrian (B C D E F G A B):
|----------------------------------7----|
|-----------------------------8-10------|
|----------------------7-9-10-----------|
|---------------7-9-10------------------|
|--------7-8-10-------------------------|
|-7-8-10--------------------------------|

C Ionian (C D E F G A B C):
|---------------------------------------8--|
|---------------------------------10-12----|
|-------------------------9-10-12----------|
|-----------------9-10-12------------------|
|---------8-10-12--------------------------|
|-8-10-12----------------------------------|

C Dorian (C D Eb F G A Bb C):
|----------------------------------------8-|
|----------------------------------10-11---|
|--------------------------8-10-12---------|
|-----------------8-10--12-----------------|
|---------8-10-12--------------------------|
|-8-10-11----------------------------------|

C Phrygian (C Db Eb F G Ab Bb C):
|--------------------------------------8---|
|---------------------------------9-11-----|
|-------------------------8-10-12----------|
|----------------8--10-11------------------|
|--------8-10-11---------------------------|
|-8-9-11-----------------------------------|

C Lydian (C D E F# G A B C):
|---------------------------------------8--|
|---------------------------------10-12----|
|-------------------------9-11-12----------|
|-----------------9-10-12------------------|
|---------9-10-12--------------------------|
|-8-10-12----------------------------------|

C Mixolydian (C D E F G A Bb C):
|---------------------------------------8--|
|---------------------------------10-11----|
|-------------------------9-10-12----------|
|-----------------8-10-12------------------|
|---------8-10-12--------------------------|
|-8-10-12----------------------------------|

C Aeolian (C D Eb F G Ab Bb C):
|--------------------------------------8---|
|---------------------------------9-11-----|
|-------------------------8-10-12----------|
|-----------------8-10-12------------------|
|---------8-10-11--------------------------|
|-8-10-11----------------------------------|

C Locrian (C Db Eb F Gb Ab Bb C):
|------------------------------------8-----|
|-------------------------------9-11-------|
|-----------------------8-10-11------------|
|---------------8-10-11--------------------|
|--------8-9-11----------------------------|
|-8-9-11-----------------------------------|

Db Ionian (Db Eb F Gb Ab Bb C Db):
|-----------------------------------------9--|
|-----------------------------------11-13----|
|--------------------------10-11-13----------|
|-----------------10-11-13-------------------|
|---------9-11-13----------------------------|
|-9-11-13------------------------------------|

Db Dorian (Db Eb Fb Gb Ab Bb Cb Db):
|----------------------------------------9---|
|----------------------------------11-12-----|
|--------------------------9-11-13-----------|
|-----------------9-11--13-------------------|
|---------9-11-13----------------------------|
|-9-11-12------------------------------------|

Db Phrygian (Db Ebb Fb Gb Ab Bbb Cb Db):
|----------------------------------------9---|
|----------------------------------10-12-----|
|--------------------------9-11-13-----------|
|-----------------9--11-12-------------------|
|---------9-11-12----------------------------|
|-9-10-12------------------------------------|

Db Lydian (Db Eb F G Ab Bb C Db):
|------------------------------------------9-|
|------------------------------------11-13---|
|---------------------------10-12-13---------|
|------------------10-11-13------------------|
|---------10-11-13---------------------------|
|-9-11-13------------------------------------|

Db Mixolydian (Db Eb F Gb Ab Bb Cb Db):
|----------------------------------------9---|
|----------------------------------11-12-----|
|-------------------------10-11-13-----------|
|-----------------9-11-13--------------------|
|---------9-11-13----------------------------|
|-9-11-13------------------------------------|

Db Aeolian (Db Eb Fb Gb Ab Bbb Cb Db):
|---------------------------------------9----|
|---------------------------------10-12------|
|-------------------------9-11-13------------|
|-----------------9-11-13--------------------|
|---------9-11-12----------------------------|
|-9-11-12------------------------------------|

Db Locrian (Db Ebb Fb Gb Abb Bbb Cb Db):
|---------------------------------------9----|
|---------------------------------10-12------|
|-------------------------9-11-12------------|
|-----------------9-11-12--------------------|
|---------9-10-12----------------------------|
|-9-10-12------------------------------------|

D Ionian (D E F# G A B C# D):
|-------------------------------------------10----|
|-------------------------------------12-14-------|
|----------------------------11-12-14-------------|
|-------------------11-12-14----------------------|
|----------10-12-14-------------------------------|
|-10-12-14----------------------------------------|

D Dorian (D E F G A B C D):
|--------------------------------------------10---|
|--------------------------------------12-13------|
|-----------------------------10-12-14------------|
|-------------------10-12--14---------------------|
|----------10-12-14-------------------------------|
|-10-12-13----------------------------------------|

D Phrygian (D Eb F G A Bb C D):
|--------------------------------------------10---|
|--------------------------------------11-13------|
|-----------------------------10-12-14------------|
|-------------------10--12-13---------------------|
|----------10-12-13-------------------------------|
|-10-11-13----------------------------------------|

D Lydian (D E F# G# A B C# D):
|-------------------------------------------10----|
|-------------------------------------12-14-------|
|----------------------------11-13-14-------------|
|-------------------11-12-14----------------------|
|----------11-12-14-------------------------------|
|-10-12-14----------------------------------------|

D Mixolydian (D E F# G A B C D):
|-------------------------------------------10----|
|-------------------------------------12-13-------|
|----------------------------11-12-14-------------|
|-------------------10-12-14----------------------|
|----------10-12-14-------------------------------|
|-10-12-14----------------------------------------|

D Aeolian (D E F G A Bb C D):
|-------------------------------------------10----|
|-------------------------------------11-13-------|
|----------------------------10-12-14-------------|
|-------------------10-12-14----------------------|
|----------10-12-13-------------------------------|
|-10-12-13----------------------------------------|

D Locrian (D Eb F G Ab Bb C D):
|-------------------------------------------10----|
|-------------------------------------11-13-------|
|----------------------------10-12-13-------------|
|-------------------10-12-13----------------------|
|----------10-11-13-------------------------------|
|-10-11-13----------------------------------------|

Eb Ionian (Eb F G Ab Bb C D Eb):
|-------------------------------------------11----|
|-------------------------------------13-15-------|
|----------------------------12-13-15-------------|
|-------------------12-13-15----------------------|
|----------11-13-15-------------------------------|
|-11-13-15----------------------------------------|

Eb Dorian (Eb F Gb Ab Bb C Db Eb):
|--------------------------------------------11---|
|--------------------------------------13-14------|
|-----------------------------11-13-15------------|
|-------------------11-13--15---------------------|
|----------11-13-15-------------------------------|
|-11-13-14----------------------------------------|

Eb Phrygian (Eb Fb Gb Ab Bb Cb Db Eb):
|--------------------------------------------11---|
|--------------------------------------12-14------|
|-----------------------------11-13-15------------|
|-------------------11--13-14---------------------|
|----------11-13-14-------------------------------|
|-11-12-14----------------------------------------|

Eb Lydian (Eb F G A Bb C D Eb):
|-------------------------------------------11----|
|-------------------------------------13-15-------|
|----------------------------12-14-15-------------|
|-------------------12-13-15----------------------|
|----------12-13-15-------------------------------|
|-11-13-15----------------------------------------|

Eb Mixolydian (Eb F G Ab Bb C Db Eb):
|-------------------------------------------11----|
|-------------------------------------13-14-------|
|----------------------------12-13-15-------------|
|-------------------11-13-15----------------------|
|----------11-13-15-------------------------------|
|-11-13-15----------------------------------------|

Eb Aeolian (Eb F Gb Ab Bb Cb Db Eb):
|-------------------------------------------11----|
|-------------------------------------12-14-------|
|----------------------------11-13-15-------------|
|-------------------11-13-15----------------------|
|----------11-13-14-------------------------------|
|-11-13-14----------------------------------------|

Eb Locrian (Eb Fb Gb Ab Bbb Cb Db Eb):
|-------------------------------------------11----|
|-------------------------------------12-14-------|
|----------------------------11-13-14-------------|
|-------------------11-13-14----------------------|
|----------11-12-14-------------------------------|
|-11-12-14----------------------------------------|

(These modes can alternatively play 12 frets (1 Octave up the fretboard)


E Ionaian (E F# G# A B C# D# E):
|-----------------------------0----|
|-------------------------2-4------|
|-------------------1-2-4----------|
|-------------1-2-4----------------|
|-------0-2-4----------------------|
|-0-2-4----------------------------|

E Dorian (E F# G A B C# D E):
|------------------------------0---|
|--------------------------2-3-----|
|--------------------0-2-4---------|
|-------------0-2--4---------------|
|-------0-2-4----------------------|
|-0-2-3----------------------------|

E Phrygian (E F G A B C D E):
|------------------------------0---|
|--------------------------1-3-----|
|--------------------0-2-4---------|
|-------------0--2-3---------------|
|-------0-2-3----------------------|
|-0-1-3----------------------------|

E Lydian (E F# G# A# B C# D# E):
|-----------------------------0----|
|-------------------------2-4------|
|-------------------1-3-4----------|
|-------------1-2-4----------------|
|-------1-2-4----------------------|
|-0-2-4----------------------------|

E Mixolydian (E F# G# A B C# D E):
|-----------------------------0----|
|-------------------------2-3------|
|-------------------1-2-4----------|
|-------------0-2-4----------------|
|-------0-2-4----------------------|
|-0-2-4----------------------------|

E Aeolian (E F# G A B C D E):
|-----------------------------0----|
|-------------------------1-3------|
|-------------------0-2-4----------|
|-------------0-2-4----------------|
|-------0-2-3----------------------|
|-0-2-3----------------------------|

E Locrian (E F G A Bb C D E):
|-----------------------------0----|
|-------------------------1-3------|
|-------------------0-2-3----------|
|-------------0-2-3----------------|
|-------0-1-3----------------------|
|-0-1-3----------------------------|

(These modes can alternatively play 12 frets (1 Octave up the fretboard)


F Ionian (F G A Bb C D E F):
|-----------------------------1----|
|-------------------------3-5------|
|-------------------2-3-5----------|
|-------------2-3-5----------------|
|-------1-3-5----------------------|
|-1-3-5----------------------------|

F Dorian (F G Ab Bb C D Eb F):
|------------------------------1---|
|--------------------------3-4-----|
|--------------------1-3-5---------|
|-------------1-3--5---------------|
|-------1-3-5----------------------|
|-1-3-4----------------------------|

F Phrygian (F Gb Ab Bb C Db Eb F):
|------------------------------1---|
|--------------------------2-4-----|
|--------------------1-3-5---------|
|-------------1--3-4---------------|
|-------1-3-4----------------------|
|-1-2-4----------------------------|

F Lydian (F G A B C D E F):
|-----------------------------1----|
|-------------------------3-5------|
|-------------------2-4-5----------|
|-------------2-3-5----------------|
|-------2-3-5----------------------|
|-1-3-5----------------------------|

F Mixolydian (F G A Bb C D Eb F):
|-----------------------------1----|
|-------------------------3-4------|
|-------------------2-3-5----------|
|-------------1-3-5----------------|
|-------1-3-5----------------------|
|-1-3-5----------------------------|

F Aeolian (F G Ab Bb C Db Eb F):
|-----------------------------1----|
|-------------------------2-4------|
|-------------------1-3-5----------|
|-------------1-3-5----------------|
|-------1-3-4----------------------|
|-1-3-4----------------------------|

F Locrian (F Gb Ab Bb Cb Db Eb F):
|-----------------------------1----|
|-------------------------2-4------|
|-------------------1-3-4----------|
|-------------1-3-4----------------|
|-------1-2-4----------------------|
|-1-2-4----------------------------|

(These modes can alternatively play 12 frets (1 Octave up the fretboard)


Gb Ionian (Gb Ab Bb Cb Db Eb F Gb):
|-----------------------------2----|
|-------------------------4-6------|
|-------------------3-4-6----------|
|-------------3-4-6----------------|
|-------2-4-6----------------------|
|-2-4-6----------------------------|

Gb Dorian (Gb Ab Bbb Cb Db Eb Fb Gb):
|-----------------------------2----|
|-------------------------4-5------|
|-------------------2-4-6----------|
|-------------2-4-6----------------|
|-------2-4-6----------------------|
|-2-4-5----------------------------|

Gb Phrygian (Gb Abb Bbb Cb Db Ebb Fb Gb):
|-----------------------------2----|
|-------------------------3-5------|
|-------------------2-4-6----------|
|-------------2-4-5----------------|
|-------2-4-5----------------------|
|-2-3-5----------------------------|

Gb Lydian (Gb Ab Bb C Db Eb F Gb):
|-----------------------------2----|
|-------------------------4-6------|
|-------------------3-5-6----------|
|-------------3-4-6----------------|
|-------3-4-6----------------------|
|-2-4-6----------------------------|

Gb Mixolydian (Gb Ab Bb Cb Db Eb Fb Gb):
|-----------------------------2----|
|-------------------------4-5------|
|-------------------3-4-6----------|
|-------------2-4-6----------------|
|-------2-4-6----------------------|
|-2-4-6----------------------------|

Gb Aeolian (Gb Ab Bbb Cb Db Ebb Fb Gb):
|-----------------------------2----|
|-------------------------3-5------|
|-------------------2-4-6----------|
|-------------2-4-6----------------|
|-------2-4-5----------------------|
|-2-4-5----------------------------|

Gb Locrian (Gb Abb Bbb Cb Dbb Ebb Fb Gb):
|-----------------------------2----|
|-------------------------3-5------|
|-------------------2-4-5----------|
|-------------2-4-5----------------|
|-------2-3-5----------------------|
|-2-3-5----------------------------|

(These modes can alternatively play 12 frets (1 Octave up the fretboard)


G Ionian (G A B C D E F# G):
|-----------------------------3----|
|-------------------------5-7------|
|-------------------4-5-7----------|
|-------------4-5-7----------------|
|-------3-5-7----------------------|
|-3-5-7----------------------------|

G Dorian (G A Bb C D E F G):
|------------------------------3---|
|--------------------------5-6-----|
|--------------------3-5-7---------|
|-------------3-5--7---------------|
|-------3-5-7----------------------|
|-3-5-6----------------------------|

G Phrygian (G Ab Bb C D Eb F G):
|------------------------------3---|
|--------------------------4-6-----|
|--------------------3-5-7---------|
|-------------3--5-6---------------|
|-------3-5-6----------------------|
|-3-4-6----------------------------|

G Lydian (G A B C# D E F# G):
|-----------------------------3----|
|-------------------------5-7------|
|-------------------4-6-7----------|
|-------------4-5-7----------------|
|-------4-5-7----------------------|
|-3-5-7----------------------------|

G Mixolydian (G A B C D E F G):
|-----------------------------3----|
|-------------------------5-6------|
|-------------------4-5-7----------|
|-------------3-5-7----------------|
|-------3-5-7----------------------|
|-3-5-7----------------------------|

G Aeolian (G A Bb C D Eb F G):
|-----------------------------3----|
|-------------------------4-6------|
|-------------------3-5-7----------|
|-------------3-5-7----------------|
|-------3-5-6----------------------|
|-3-5-6----------------------------|

G Locrian (G Ab Bb C Db Eb F G):
|-----------------------------3----|
|-------------------------4-6------|
|-------------------3-5-6----------|
|-------------3-5-6----------------|
|-------3-4-6----------------------|
|-3-4-6----------------------------|