The Definitive Modal Approach. Part Five
The complex. Learn about pitch axis, shifting tonal centres and the final remarks for the series.
Ultimate Guitar

Colohue
Posted Nov 17, 2016 10:37 AM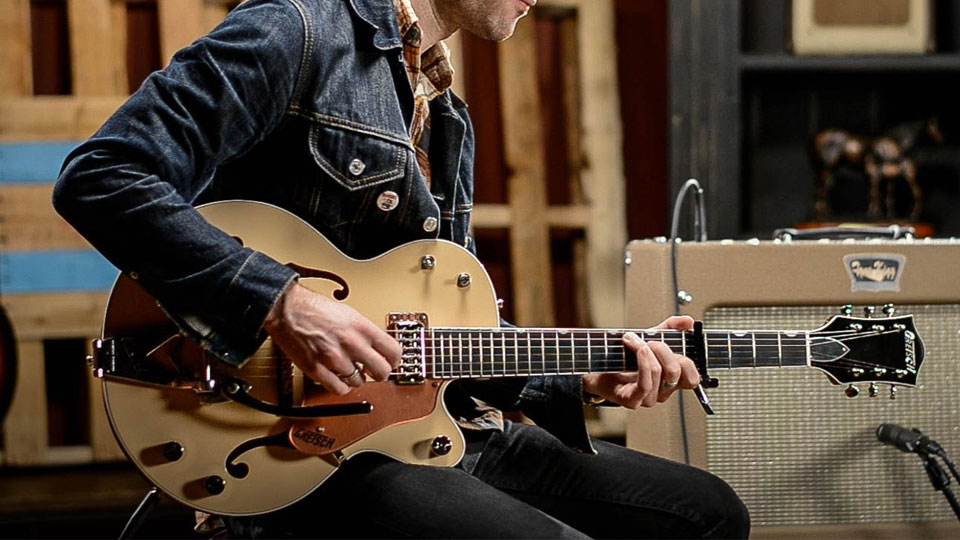 Hello again. I'm Tom Colohue and this is the fifth and final installment of The Modal Approach.

This revised and definition edition was always more about subtle tweaks and additions to the previous work rather than any particularly large changes. However, it has bitten me with the writing bug again so you might see a bit more of me in future. Something on the major scale? Maybe some modal solo lessons, who knows? That's for another time though. For now it's all about wrapping up loose ends and closing this off with a few little fancy additions. After all, if you're going to do it, do it with flair.

During this final piece, we're going to be seeing modal interplay to its logical conclusion. We're going to come to the end together by letting the modes themselves take us the last of the way. After that, any further learning is up to you. If modes are something you want to learn about then there's only so far lessons like these can take you. Your ears will tell you more about modes than anything else. Given how much planning has to go into them, it's really a bit weird that.

That said though there is still some ground left to cover before it's all over and that's what this particular article is for. Today we'll be covering what options are available when you let modes have their way. This will include how resolving outside of a mode can be beneficial as well as pitch axis theory.

The final quest in our modal adventure begins here. Deep breath everyone, ready to take the plunge. Ooh, I'm all excited.

The Modal Approach by Tom Colohue
Part Five: The Complex
Switching Tonal Centre

Last time, we looked at how to make a progression modal based on an already established tonal centre. The most important part there was to hold the chosen tonal centre, ensuring that our chosen mode did not resolve to an alternate key at the time. This time, we're going to break that rule and let it resolve.

Say we're in G, and we're establishing the tonal centre.

G D Am C
 
3 2 0  3
3 3 1  1
0 2 2  0
0 0 2  2
2 x 0  3
3 x x  x 
Here we have a fairly simple progression in G. Now if we wanted to use a mode to change our tonal centre to D, we need a mode which contains the same notes as D, but starting on G.

First, we take the G major intervals and notes.
Then, we take the intervals and notes of D and compare the two.

G Major
G A B C D E F# G
D Major
D E F# G A B C# D 
Put them both with G as the root, and what do we have?

G Major
G A B C D E F# G
D Major
G A B C# D E F# G 
What's the difference? Only a #4, which means that D Major contains the same notes as G Lydian. If we look over our chosen progression, we can see that three of our chords can contain the C# note, so let's make that progression modal.

Gmaj7 Dmaj7 A7 C#m7b5
 
2     2     3  3
3     2     2  2
0     2     2  0
0     0     2  2
2     x     0  4
3     x     x  x 
Well there's a bitch of a progression. The C# in the Dmaj7 makes a very unstable modal interplay, since it so obvious calls out to C major. The A7 might contain a G note, but by this point the damage has been done because it feels out of place in G major, and the C#m7b5 is the final nail in the coffin. This progression held onto the G tonal centre long enough to give a sound of Lydian, but in no time at all the Lydian collapses and, the next moment, you're in D major.

So what? Now you're playing in D. Plan your chords to accommodate and all you've done is change tonal centre. You haven't failed at anything, in fact, you've succeeded in doing exactly what you were planning. You've simply gone from one tonal centre, to another.

Let's make that a nice logical progression, shall we?

Gmaj7 Dmaj7 A7 D
 
2     2     3  2
3     2     2  3
0     2     2  2
0     0     2  0
2     x     0  x
3     x     x  x 
Simple and effective. Also, never doubt the power of a suspended chord when it comes to resolutions. Especially if a suspended note can also be a modal note. See Phrygian in particular for that little gem. Dsus4#? It does exist and it's just a little bit sexy as a transitional chord.

Gmaj7 Dmaj7 A7 Dsus4#
 
2     2     3  2
3     2     2  2
0     2     2  2
0     0     2  0
2     x     0  x
3     x     x  x 
Finish that off with a nice D chord and just let it ring.

Switching Modes

Switching modes after this is just as easy, and the logical route to take for your next step.

Let's use the same example. G major going into G Lydian going into D major. We'll throw up a progression for D major.

D Bm A Em
 
2 2  0 0
3 3  2 0
2 4  2 0
0 4  2 2
x 2  0 2
x x  x 0 
While G is present in one of these chords, it is quite obviously not the tonal centre any more once you so obviously move from the C#m7b5 onto the D. All of the previous chords want to resolve in that exact moment, so you let them, and then you're in D, using this progression instead.

So what's to stop you letting this establish itself as the new tonal centre, then going modal again? Perhaps you could once again use Lydian, or go Dorian this time. You could choose a new tonal centre all over again just by choosing a new mode to play around with.

G - G Lydian - D - D Dorian 
As an easy example. Give the tonal centres enough time to cement themselves and then transition back to modal.

As I said before, there is a lot of planning involved with something like this but you'd be surprised how often it comes up in jazz music. It's easy, you just follow it wherever you want the sound to go. It can be fast and sudden or slow and obvious. It's entirely up to you.

Pitch Axis Theory

Pitch Axis involves changing mode without changing tonal centre. It gets its name from this. The Axis is the tonal centre and then you change pitch around it.

Let's go back to having G as our axis. We've already explored G Lydian, so how about instead of moving on to D, we change a chord or two around and make a more stable modal progression. Leave out the C and, for example, put in an E minor.

Gmaj7 Dmaj7 A7 Em7
 
2     2     3  0
3     2     2  3
0     2     2  0
0     0     2  0
2     x     0  2
3     x     x  0 
Now our final chord contains a G, its major third in B and its fifth in D. While D is also the root of D major the note G is not present in the Dmaj7 chord, which helps to hold the tonal centre.

Now we have a choice. We can either go back to the original G - D - Am - (C or Em) progression to further safe our tonal centre or, if we feel that the progression is still fairly stable, we can change the mode.

Let's move to another fairly close mode to the major scale: the Mixolydian.

G7 Dm7 Amin7 Em7
 
3  1   3     0
3  1   1     3
0  2   2     0
3  0   2     0
2  x   0     2
3  x   x     0 
In this example, two chords now show the Mixolydian input. These are the G7 and the Dmin7. The A7 has also changed to an Amin7, but that is because the Lydian flavour is no longer present.

Did the switch work, or do you feel that the progression should have had more time within the boundaries of the original tonal centre? That's a question you should be able to answer by now.

Pitch Axis is just that. You stick to one tonal centre and change mode around it, using safe major scale progressions intermittently as and when necessary to strengthen the tonal centre. Try it yourself with the other modes and see what you get. Remember, strengthening your tonal centre is the most important part.

Further Learning

There are plenty of other resources on modes out there, but the best option right now when it comes to further learning is to find yourself an instrument and play some modes. Work out what works and what doesn't. Argue with yourself. Plan a song that flows from mode to mode and just never stop with the bloody things.

Remember though, and it might be worth going back to the first article here, are modes necessary? Does the song that you're writing require modes or perhaps just a little suggestive something over tonal play? They're an option, and while they're a handy one, they're only an option nonetheless.

What comes next? Well that's up to you because we're done here. The Modal Approach is now complete and we're in the after party period. What you do with the knowledge that you've obtained is also your choice. Now that you've navigated all of the convoluted back story, you'll be able to sort the fact from the fiction.

What's next for me? I'm not sure. The original Modal Approach was released seven years ago and it was the last major article series I released on UG before I started to release novels. Time got swallowed up by the release of those but right now I'm finding time a little easier to come by. My books aren't burning the same hole in my soul that they did. You'll probably see me again soon in a month or two.

If people still have questions feel free to send me a PM and depending on the demand I might close up with a loose ends session either in a column or in a blog.

Other than that, there's nothing left to say.

Goodbye for now.

Part 1
Part 2
Part 3
Part 4

by Tom Colohue
Follow him on Facebook and Twitter.