Bullet For My Valentine: 'The Last Fight' Guitar Solo Lesson with Chris Zoupa
Hi guys. Enjoy my easy step by step tutorial of the solo from "The Last Fight" by Bullet For My Valentine. A great solo to help you work on your arpeggios! Difficulty: Easy-Intermediate.
Ultimate Guitar
Posted Dec 16, 2013 03:14 PM
TUNING: C G C F A D I've had many students over the years who asked to learn Bullet For My Valentine. One thing I've noticed is their solos are always relatively simple and sound a lot harder then they actually are. The majority of this solo is based around a few simple arpeggio shapes. If we were in standard tuning we'd be looking at a simple "E" minor, "D" Major and "C" major arpeggio across 3 strings, then ending on a 5 string "B" major arpeggio.

Once you get your head around those we can start looking at adding in the little trills at the start of the arpeggios and begin the descend into the ascend.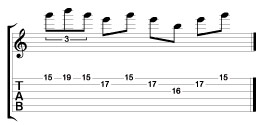 As you can see after the triplet trill (or hammer on into pulloff) the rest of the arpeggio is straight quavers (or eighth notes). This solo isn't too fast, but I would still recommend that you trying to alternate pick the whole thing. This is a great solo for beginner to intermediate shredders. Download tab here. Take care guys! Have fun with this one and happy shredding!

By Chris Zoupa