'E' Dominant Phrygian Shred Lick
Check out this cool lick to build speed with an exotic edge!
Chris Zoupa
Ultimate Guitar
Posted Sep 30, 2014 02:47 PM
When people think "Dominant Phrygian" they generally associate the scale and sound with Yngwie Malmsteen. I've also noticed Alex Skolnick from Testament, Lamb Of God and Dimebag use this scale quite a bit too. Whilst exploring Dominant Phrygian I wanted to make a shred lick that would work over over an E7 chord that resolves to an Am. First let's take a look at one of the most common scale shapes you'll see for Dominant Phrygian in the key of "E." (see diagram below)




You'll notice Dominant Phrygian and Harmonic Minor have a few interesting scale shapes and finger patterns due to occasionally having an interval of 1 and a 1/2 tones. These shapes may look and feel strange as all of the standard diatonic scales are made up of only full tones and semitones. Let's have a look at the full exercise.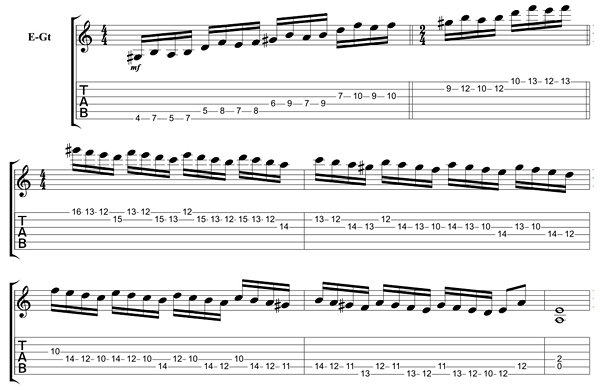 The first 2 bars are using the "E" Dominant Phrygian scale starting from a G# across 3 Octaves. You'll notice even though we're not using a conventional diatonic scale, the shapes are pretty simple 3 note per string patterns we would've seen countless times before. You'll notice from the 3rd bar till the end of the exercise we're using the original Dominant Phrygian shape starting from 16th fret of the first string. If you're comfortable enough with the original shape you can add the epic shred pattern to put together the full exercise. Try just working through the the whole exercise in little chunks of 4 semiquavers/sixteenth notes at a time. 

Enjoy the exercise guys! Happy Shredding!




By Chris Zoupa