'E' Minor Pentatonic Speed Builder Exercise with Chris Zoupa
Check out this exercise to improve your speed and hand synchronisation using the humble ol' pentatonic.

Chris Zoupa
Posted on Oct 31, 2014 03:37 pm

Zakk Wylde's put in some hard hours defending the pentatonic and it's use in faster metal and heavy rock.

When practicing shredding I found a lot of my students and friends were all practicing triplets, 3 note per string patterns or 4 note per string chromatics… But if practiced enough, pentatonic exercises are a great way to build picking speed and hand synchronisation.

This exercise uses 2 box shapes of the "E" minor Pentatonic. Let's take a look at this lick (see diagram below).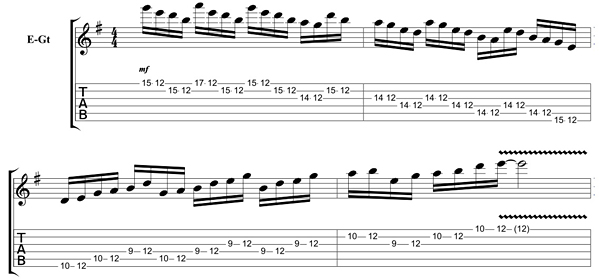 Be sure to pick every note and to not do any cheeky short cut legato! Don't start this exercise at full throttle Zakk Wylde pace. Build your picking hand speed up slowly and get to a point where you're busting to play a bit faster.

Have fun with this lick guys. Happy shredding!




By Chris Zoupa
Thanks for the lesson, good as always. You go at just the right pace for me. Proud to hail from the same city mate
I have learned a lot from your lessons. Thank you for being such a great mentor! Much love from the Philippines. Cheers!

Hi Chris! As always great lesson! I'm a newby into the eduring and fine art of shredding! I've got some trouble into building up consistently the speed, I'll try to write some kind of "rules" to reach the goal, there are my toughts, there aren't any rank in these: - Always practice with metronome and start at lower tempo (for ex 60bpm then increasing?) - Be careful of accuracy of notes trying to avoiding any sloppy notes - Keep movement at minimum (both hands) - Practice consistently every day (How much is relative to goal to achieve and skill?) (For ex: My goal is to play at 160 bpm and I can play at 60 bpm pentatonic scale without any issue, how much time do I need? ) I have excluded elementary things such as be sitted comfortably, keep the right posture and be in tune and last but not least stop when you're body told to stop! (in brackets are the questions to which I hope will answer ) Regards from Italy!
ciao! Keeping movement to a minimum is not necessarily important. It can lead to stiff hands. It does not matter how much your fingers move whilst playing. Some guitarists fingers fly around like a spider running crazy. Some other guitarists look like they aren't even touching the frets whilst playing. Play what is comfortable to your own hands.
awesome lesson, building up my style. Cool