'E' Minor Pentatonic Speed Builder Exercise with Chris Zoupa
Check out this exercise to improve your speed and hand synchronisation using the humble ol' pentatonic.
Chris Zoupa
Ultimate Guitar
Posted Oct 31, 2014 03:37 PM
Zakk Wylde's put in some hard hours defending the pentatonic and it's use in faster metal and heavy rock.

When practicing shredding I found a lot of my students and friends were all practicing triplets, 3 note per string patterns or 4 note per string chromatics… But if practiced enough, pentatonic exercises are a great way to build picking speed and hand synchronisation.

This exercise uses 2 box shapes of the "E" minor Pentatonic. Let's take a look at this lick (see diagram below).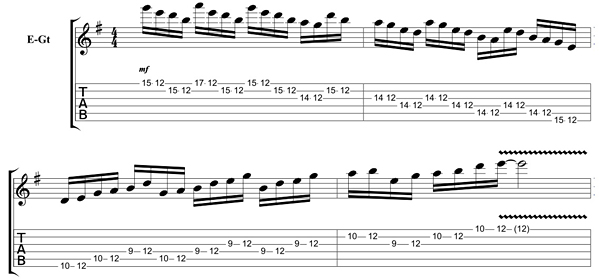 Be sure to pick every note and to not do any cheeky short cut legato! Don't start this exercise at full throttle Zakk Wylde pace. Build your picking hand speed up slowly and get to a point where you're busting to play a bit faster.

Have fun with this lick guys. Happy shredding!




By Chris Zoupa