Month of Shred, Week 3: Mode Madness
In this week's lesson we'll focus on the harmonic minor and melodic minor scales.
Sam-Russell
Ultimate Guitar
Posted Aug 07, 2015 02:40 PM
Week 3! You're going to feel the burn this week. In the first two bars, we are using legato to play through the first position of the harmonic minor scale.

We then go up to B on the high E string, with a bent note vibrato (bar 15), before coming out of that into a picking run that descends through the second position of the melodic minor scale (bars 16 - 17), and we end on some chord tones.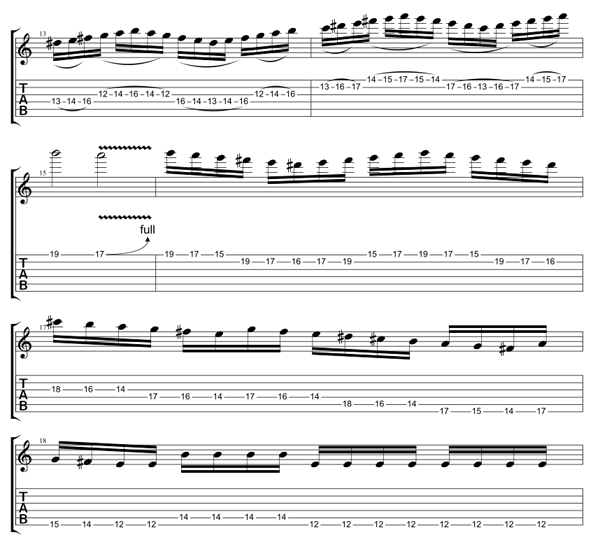 The harmonic minor and melodic minor scales are very similar:

Harmonic minor: 1 2 b3 4 5 b6 7

Melodic minor: 1 2 b3 4 5 6 7

And when we compare scale patterns, we can see that the shapes we are using overlap, which gives us a nice smooth transition between these two different scales.

E harmonic minor, position 1:




E harmonic minor position 2:




E melodic minor position 2 (notes that overlap with E harmonic minor position 2 are in blue):



How to practice:
1. Get your fingers around this week's section.

2. Practice to a metronome!

3. Add it to Week's 1 and 2.

If you want to learn more about the modes of the major scale and how they work, you can check out my free eBook here, which will give you a thorough grounding in these scales and the theory behind them, so that you can use your entire guitar neck and have more freedom and expression in your playing.

By Sam Russell