Elements That Contribute to Your Guitar Sound - Part 2: Attachment of Neck to Body
AKA how to get the best toanz...
Berklee_Online
Ultimate Guitar
Posted Sep 20, 2016 01:28 PM
The tone wars debate continues... If you're up for finding out what Berklee experts have to say about the wood's impact to a guitar's tone, feel free to read on.

Additionally, we are looking at a concise guide on how other factors such as neck attachment affect the final sonic attack. Dig in!


Attachment of Neck to Body
How the neck is joined to the body of a guitar also affects its overall sound. Most guitar necks are either bolted onto, or glued into, a cavity in the body.


Bolt-On Necks
Bolt-on necks are the most common and least expensive means of attachment.

The Fender guitar sound is partially due to the bolt-on neck. And with a bolt-on, it's possible to swap one neck for another to change the sound and feel of a guitar. For example, a bright, snappy-sounding solid maple neck could be exchanged with a maple neck with a warm-sounding rosewood fingerboard.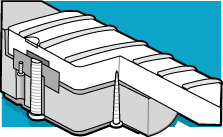 Glued-In Neck
The heels of Gibson style necks are glued into the neck cavity and are thought to have a "tighter fit," contributing to sustain. Many guitar makers offer guitars with both styles of neck attachment.



Neck-Through Body
Some necks run all the way through to the strap button with body side pieces attached on each side. The Gibson Firebird and the Jackson Soloist both have "neck through body" construction and are well-known for their sustain capabilities.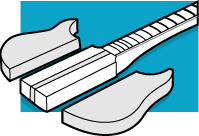 Nut Material
String vibrations are transferred by the nut to the guitar neck. Due to its hardness, bone is preferable over factory-installed plastic nuts. Graphite nuts are more "slippery," allowing the strings to slide through with ease. They are a popular choice for tremolo arm enthusiasts!

Stay tuned for Part 3: Types of Electric Guitar Bodies

Elements That Contribute to Your Guitar Sound - Part 1: Wood

Elements That Contribute to Your Guitar Sound - Part 3: Body Types

About Berklee Online:
Berklee Online is the continuing education division of Berklee College of Music, delivering access to Berklee's acclaimed curriculum from anywhere in the world. The material above was excerpted from the Berklee Online course "Getting Your Guitar Sound" by Dan Bowden. Learn more about Berklee Online's guitar courses, certificate programs, and Bachelor of Professional Studies degree program. Also, be sure to check out Berklee's Online Guitar Tuner, a free tool for getting your best guitar sound.