Elements That Contribute to Your Guitar Sound - Part 3: Body Types
What difference does it make if it's a Les Paul body or a Strat body...
Berklee_Online
Ultimate Guitar
Posted Sep 27, 2016 01:15 PM
Continuing the discussion on all the elements that contribute to your guitar's sound, we've reached the third and final part of the story.

This time around, the chit-chat will be focused on how different body types affect your toanz. The goods await below.
Hollow Body Guitars
Not including some early lap steel electrics, the first electric "Spanish," or round-neck guitar, was produced by Gibson in 1936.


Gibson ES-150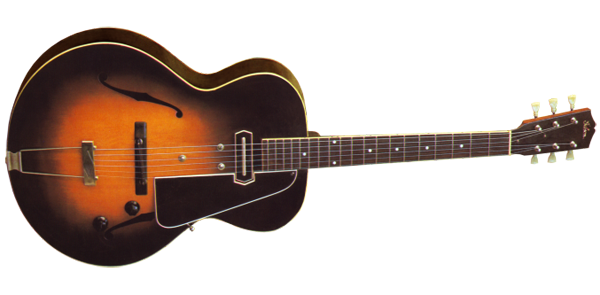 The Gibson ES-150 was an archtop hollow-body equipped with a pickup and volume and tone controls. Charlie Christian defined the sound of electric jazz guitar on his recordings with Benny Goodman with an ES-150. Electrified hollow-body archtops historically have been, and continue to be, the instrument of choice of mainstream jazz guitarists.


Gibson ES-175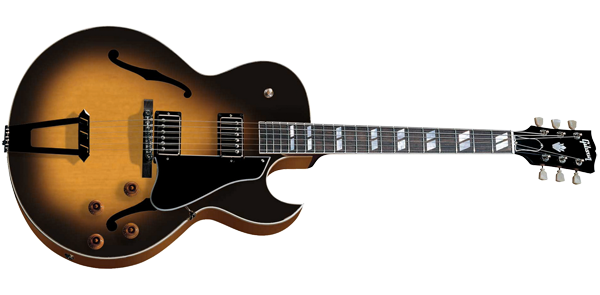 The Gibson ES-175 was introduced in 1949 and is a very popular choice for jazz. It's used by Herb Ellis, Jim Hall, Steve Howe, Pat Metheny, and Joe Pass.


Semi-Hollow Body Guitars
Semi-hollow body guitars are usually constructed from laminates and have elements of both the hollow and solid body inherent in their design. A solid block of maple runs down the center of the hollowed body, providing sustain and reducing feedback potential.


Gibson ES-335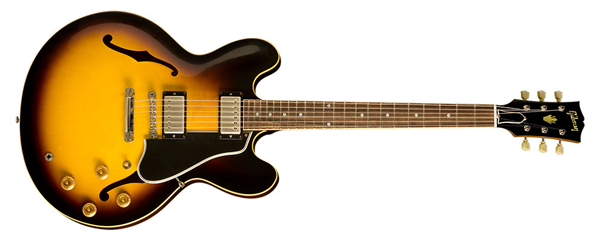 Introduced by Gibson in 1958, the ES-335 is the original semi-hollow body guitar. It's used by Larry Carlton, Steve Howe, Matt "Guitar" Murphy, Chuck Berry, Alvin Lee, and others.


Ibanez JSM100


Based on the Ibanez AS200 with more features. John Scofield is most closely identified with these models.


Solid Body Guitars
The first solid bodies on the market were the electric Hawaiian guitars developed by Adolph Rickenbacker and George Beauchamp. These were soon followed by models from Gibson and others.

Gibson fitted one of its production archtops with a pickup to create the first successful electric Spanish guitar. Although this guitar was revolutionary in terms of the evolution of jazz guitar, its problems and limitations were apparent. The feedback generated by the vibrating top piece of an archtop guitar put a cap on achievable volume levels. And because string vibrations are quickly absorbed by the soundboard top piece of a hollow body, the long, sustained notes that were easily achieved by wind players were elusive to early electric guitarists. These are the primary reasons Les Paul was compelled to create his early homemade solid body - "the log" - to be a part of the development of the Gibson Les Paul, and why Leo Fender developed his ideas to produce the first commercially successful solid body, called the Fender Esquire, in 1950.


Fender Stratocaster


The Fender Stratocaster, introduced in 1954, featured many innovations, such as the three-pickup configuration and a built-in vibrato arm. The original three-position selector was designed to activate the individual pickups, but guitarists soon found that the "in between" settings combined the neck or bridge pickup with the middle pickup, yielding an unprecedented range of tones. This led to the now-standard five-way switch.

Strats are widely used in many contrasting styles, including blues, rock, surf, country, pop, funk, R&B, reggae, and metal. A small sampling of artists known for using Strats: Buddy Holly, Jimi Hendrix, Buddy Guy, Steve Cropper, Jeff Beck, Mark Knopfler, Eric Clapton, Stevie Ray Vaughan, Jeff Beck, Ritchie Blackmore, and many, many others.


Gibson Les Paul


The original Gold Top model went into production in 1952, followed by the Custom and Junior in 1954. A Sunburst model equipped with humbucker pickups replaced the Gold Top in 1957. These became known as the Les Paul Standard. Warm tone and sustain qualities have made the Les Paul a workhorse for blues, rock, and metal. Set-neck design generates more sustain and fullness of tone than the bolted-on varieties, and the higher output of humbucking pickups delivers more crunch. A small sampling of artists known for using a Les Paul: Eric Clapton (Blues Breakers era), Peter Green, Jimmy Page, Duane Allman, Billy Gibbons, Slash, Gary Moore, Zakk Wylde, and Les Paul himself.

Elements That Contribute to Your Guitar Sound - Part 1: Wood

Elements That Contribute to Your Guitar Sound - Part 2: Attachment of Neck to Body

About Berklee Online:
Berklee Online is the continuing education division of Berklee College of Music, delivering access to Berklee's acclaimed curriculum from anywhere in the world. The material above was excerpted from the Berklee Online course "Getting Your Guitar Sound" by Dan Bowden. Learn more about Berklee Online's guitar courses, certificate programs, and Bachelor of Professional Studies degree program. Also, be sure to check out Berklee's Online Guitar Tuner, a free tool for getting your best guitar sound.