How to Learn 'Stairway to Heaven' Intro in 20 Minutes With Tab Pro
This tutorial will walk you through the entire cycle of learning Led Zeppelin's greatest masterpiece using Tab Pro service.
Ultimate Guitar
Posted Oct 25, 2016 01:31 PM
Hey, I'm David from Ultimate Guitar's Tab Pro team, and I want to offer you a challenge: I bet you can learn the awesome "Stairway to Heaven" solo in 20 minutes or less (text tab, Tab Pro tab).

Back in the day, it took me 2 weeks, a whole bunch of broken strings and millions of dead brain cells to learn it. I guess it's easier to learn a song from tabs rather than from notes. Of course, quality of tabs can vary, some of them are good, but then there's Tab Pro, where tabs are evaluated by thousands of guitar enthusiasts and dozens of professional musicians. I could name all of its features, but do you really want to hear them? 

So our goal is to learn "Stairway to Heaven" solo, a part of a song that gets a 6/10 on the difficulty scale and 11/10 on the awesomeness scale.

Okay, let's launch Tab Pro, find the tab and see what we can do. Here's how it all looks like: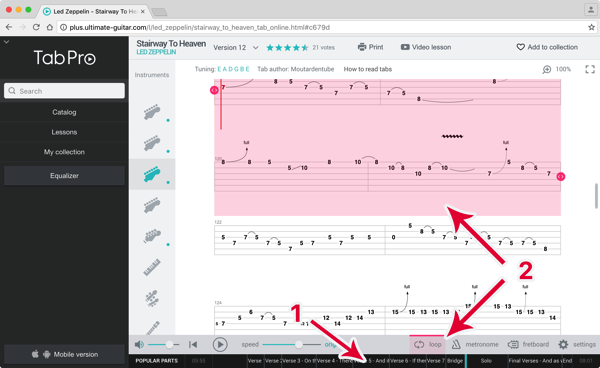 When I learned a song as a kid, I had to find a tablature, then to print it, and then to divide it into parts by myself. Take a good look at the timer, as parts of the song (1) are already marked on the bottom of the tab. Moreover, you can choose any part you like to put it on a loop (2). So I selected "Solo" and looped it. Nice, let's move on.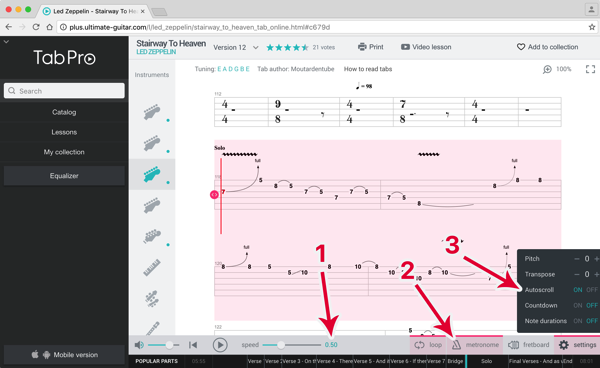 You know what pain in the ass it is to learn a song in its default tempo. You can try playing it slower from a text tab, but I bet you'll feel something's off. Look, here you can control tab's tempo (1).
I suggest you to start learning the solo in a REALLY SLOW tempo and increase it a little after you can play it perfectly at least 3 times in a row. That might sound boring, but this is the only way to be able to play it like you borrowed Jimmy's hands and mind for a couple of days.
Playing in a slow tempo you might feel something off. Oh, right, that's because you don't hear a proper rythm. Turn on a metronome (2), that's kind of a robo-drummer who will always keep the proper rhythm you need.
The other nice thing is that you don't even have to scroll a page, just turn the Autoscroll (3) feature on, and it will scroll the page for you. Learn to play, don't take hands off the guitar even for a second.
Here are more features: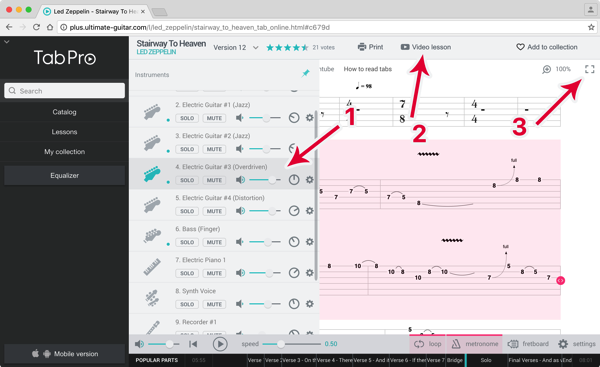 (1) A list of instruments in the tab helps you to see what does each instrument play in the song. (2) A video lesson that you can watch directly from the tab page. (3) Fullscreen mode to let nothing disturb you while you learn the best solo in the world.
So now you're using Tab Pro and you'll be able to learn whatever songs you want, quickly and easily. If I had such thing back when I was learning, I most likely swear and smoke less than I do today. I could joke that Tab Pro keeps your nerve cells intact. But it's the truth!
So, will you try to learn "Stairway to Heaven" solo in 20 minutes?