How to Write Good Guitar Pro Tabs
DarthTyrannus83
Ultimate Guitar
Posted Jun 20, 2017 04:10 PM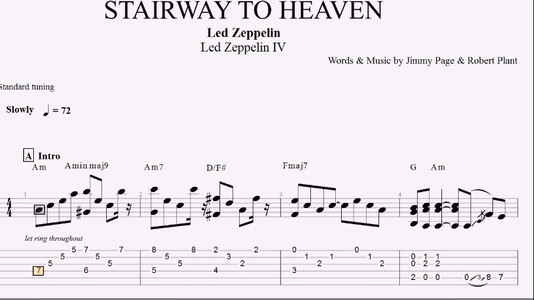 1) Use as few tracks as possible.
It's important to keep the track panel as concise as possible, so use track variations/automation where possible, and condense everything into one track. For example, all the lead guitar work can go into a single track like in the picture below (but you should always tab both stereo rhythm guitars unless you're absolutely sure there's no difference in the tracks as well as no pan tricks at any point).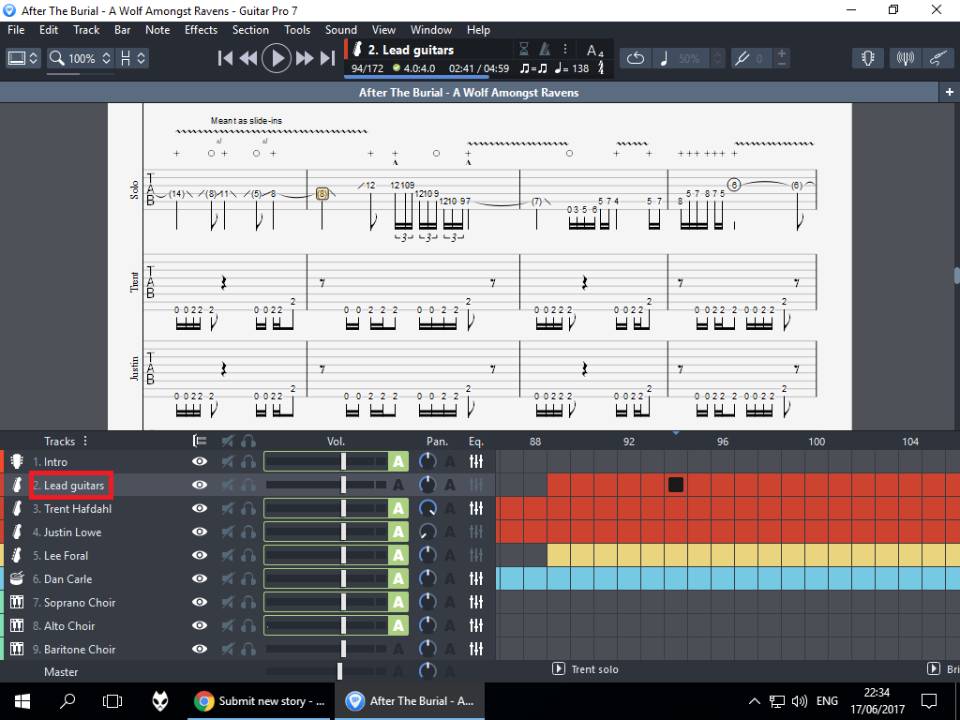 2) Don't use bar repeats.
Using repeats makes things easy and is ok if you're only tabbing out the guitars (which you shouldn't anyway, more on this later). But if you have a drum track, it's most certainly going to have differentfills at the end of each section of the song, and using bar repeats disables you from writing the correct drum part for the respective bars. So you should always write the song all the way through, using as many bars as needed.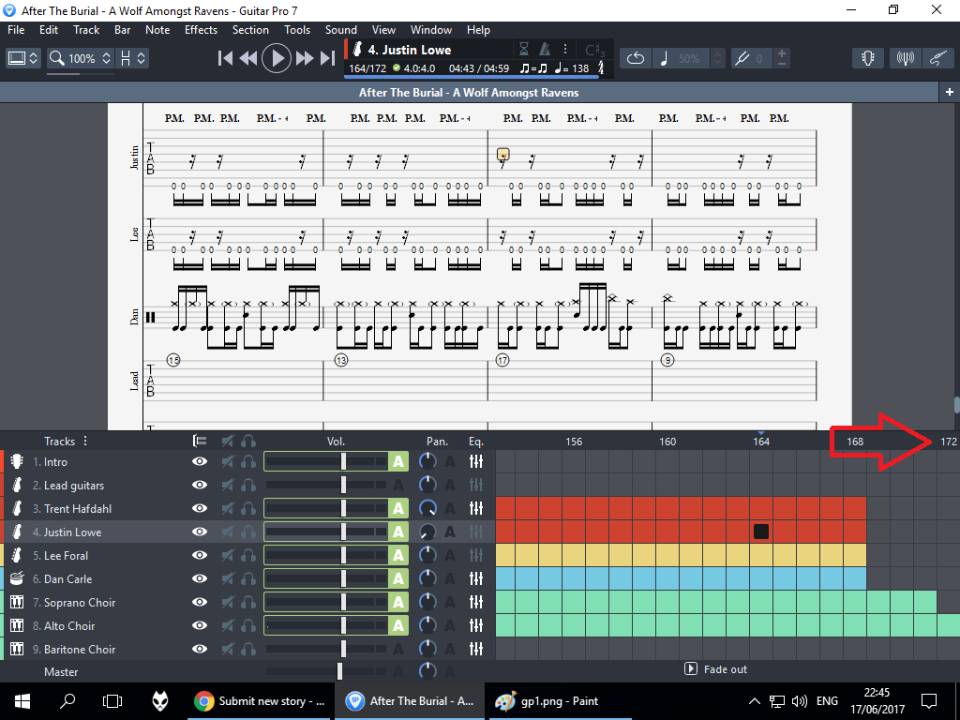 3) Tab out every instrument.
I always think of Guitar Pro as not just a tab editor, but a way of experiencing the whole song and I approach the editing process with the same principle. If you're just going to write the guitar tab, you might as well use the text editor; a full tab is good for everybody, since for example if a band wants to cover a song and they open your tab and see all the instruments are present, it's gonna make their job a lot easier and subsequently increase the chance of your tab getting a high rating. Understandably, not every instrument can always possibly be tabbed, but at least the basic band setup of all guitars + bass + drums should be covered. If suitable, also cover the vocals (as a separate guitar or synth track). And don't just half-ass it, the bass may have intricacies that are only heard when you EQ the rest of the song out, so they're not necessarily following the guitars all the time. And don't use generic drum beats that only somewhat match the song throughout the whole track, each bar should have its correct beat and fill, all according to the studio version of the song. Watching a live show will help with figuring out the cymbal work, but be wary as many drummers use a different setup live than in the studio, so the song ends up being played a little different.
4) Use Transcribe! or similar software when figuring out a song.
Transcribe! is a great app for this task, you can slow down a track with no pitch shift, EQ and pan, cut out the vocals (karaoke function), use the note guess function (you can setup the guitar tuning in the settings so that the piano roll also shows the position of the notes on the fretboard), etc, all pretty much one-two clicks away. Sure you can use any DAW but i find Transcribe! the most intuitive and fitting for this kind of work.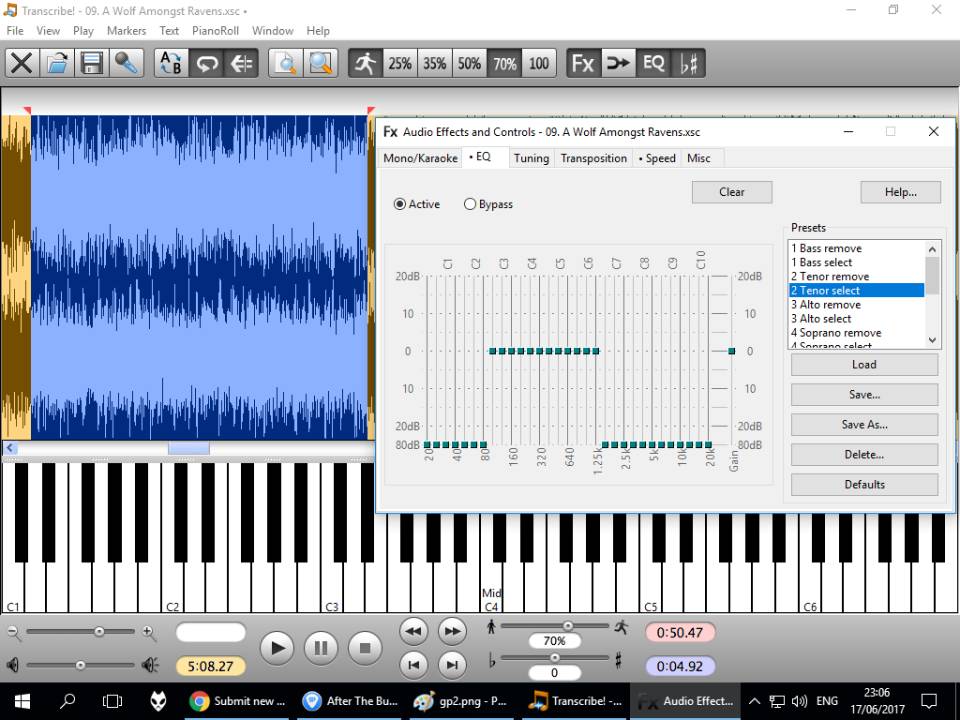 5) Always use the correct studio tuning and riff fingerings for guitars/bass.
There's no such thing as "adapting" a song to a more common tuning/guitar type (eg writing a 7-string song tab for a 6-string guitar), everything should be as true to the original as possible. Learning tabs is also a way of exploring the band, and you're compromising that if you take liberties with the way the band originally wrote the song. Especially in advanced metal bands, where low and unusual tunings are more common, you should go out of your way of figuring out the correct tunings and fingerings for all stringed instruments. Watch live performances, read interviews and gear/rig rundowns, it's possible to find out a lot. Few things are more frustrating than opening a tab and realizing while it's pitch-correct, it's in the wrong tuning or on a different guitar type whatsoever.
6) Avoid note dynamics as much as possible (forte, piano, etc).
Unfortunately, the RSE samples are still not perfect, and different note dynamics can make the same instrument sound completely different by itself and in the mix. You should really choose one dynamic and stick with it, for guitars I usually go with f or ff, rarely fff, and drums are almost always ff. If you need to add some dynamic variation to certain notes/beats, use the ghost/accented note functions. For example, the tom samples are so much lower than the rest of the drums and get drowned out in a busy mix, so i always add heavy accents on tom fills in my tabs.
7) Mark each section for easy navigation.
GP has a feature of inserting a section description so it's easier to jump from one part of the song to next. Just put the cursor at the beginning of a bar and press Shift+Insert, a window will pop up where you can choose one of the preset section types or write your own. Please avoid writing long descriptions and just stick to short ones like "Chorus, Breakdown, Leads, Solo, etc". Use the text function for longer description (place cursor on a note an press T), it will also show up right above where you placed the cursor, not just at the beginning of the bar, so it's a more specific way of describing things, use it for marking parts you're not sure about.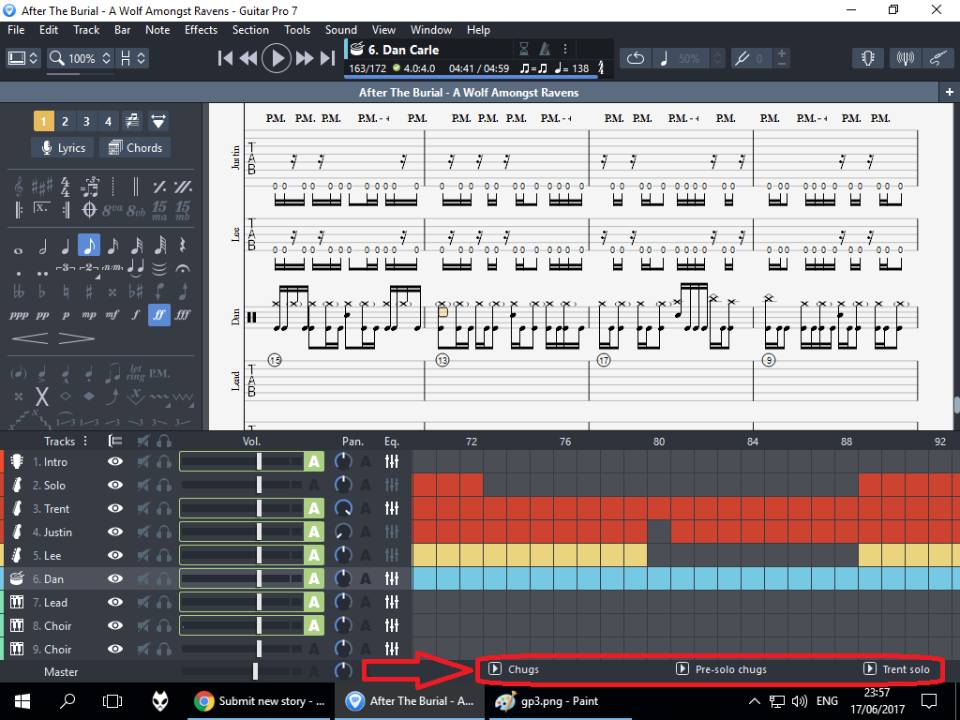 8) Use volume/pan automations
Use them to match any fade in/out effect and pan effects present in the song. Also, use them for altering the mix during the song when for example a lead comes on and the rhythm tracks need to get turned down (if necessary).
9) Double-click on that volume slider, will ya?
When you open a new project or add a new track, the track volume slider is set at -0.3dB, if you double click it, it defaults to -2dB in GP6 and -4dB in GP7. Use this value as your base and leave it that way, since it makes your track less noisy. If you need to alter the instrument in the mix, do it from the instrument effect chain (usually tweaking the amp volume or the EQ master slider does the trick). This keeps the relative volume of the instruments consistent across all tracks so that you can figure out what needs to be fixed through the instrument effects panel. Guitar Pro 7 introduced automatic relative volume shifting where the master volume slider decides the overall volume, while the track volume sliders only relatively affect it, ie, if you have 1 track, it will occupy the whole volume space, if you have 2 tracks with equal volume sliders, they would each occupy half the volume space and still sound only as loud as your master volume allows. This helps with keeping your volumes in check and ears safe but also makes mixing harder as it's harder to recognize which track got drowned out.
10) Please, please make sure your bars are complete and song structure is preserved
If you're a new tabber, this could be a daunting task, but it's better not to publish your tab whatsoever than to have an out-of-time one. Make sure your tab structurally sounds just like the song, it shouldn't fall out of rhythm/time because you failed to figure out the correct time signature for a bar. And don't use unnecessary tempo changes, or try to (wrongly) interpret a hard-to-tab part with a tempo change instead of note values (eg quarter notes @60bpm = half notes @120bpm, triplets, etc), most songs are written in one tempo and I've seen a lot of tabs that add unneeded/wrong tempo changes for different sections, only use them when there's a definite tempo change in the song, annotate anything else with correct note values.
11) Annotate all palm mutes/tappings/slides, etc.
Don't be lazy and mark everything as close to the original song as possible, including palm mutes, tapping, sliding, vibratos, etc. You should also watch lives and preserve the correct fingering/positioning and playing styles (eg whether it's a slide or a hammer on or just normal picking, etc) for riffs and solos.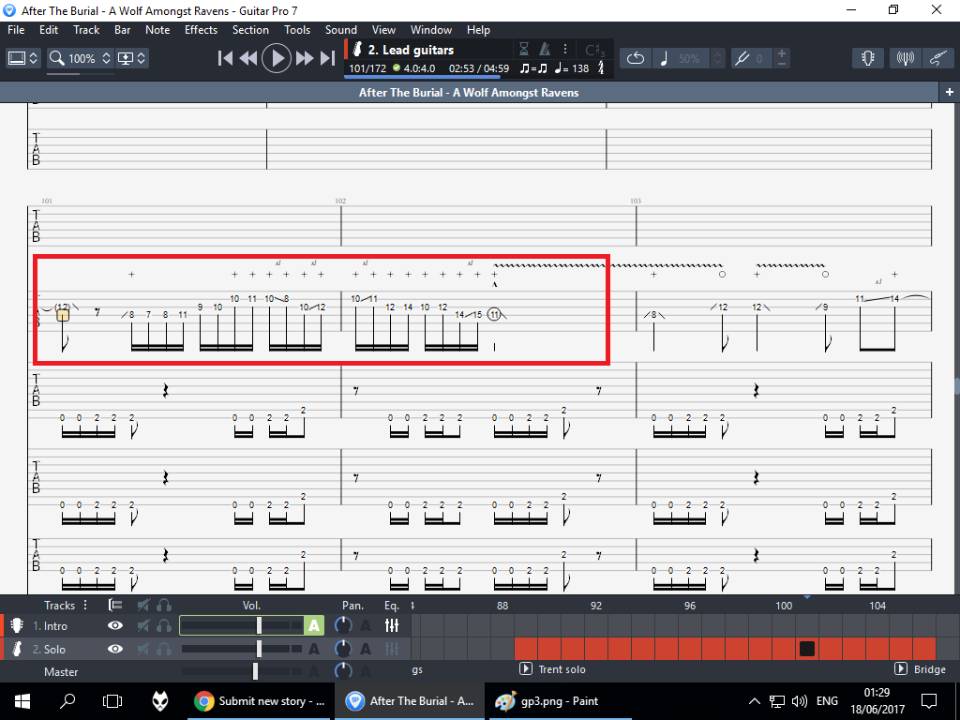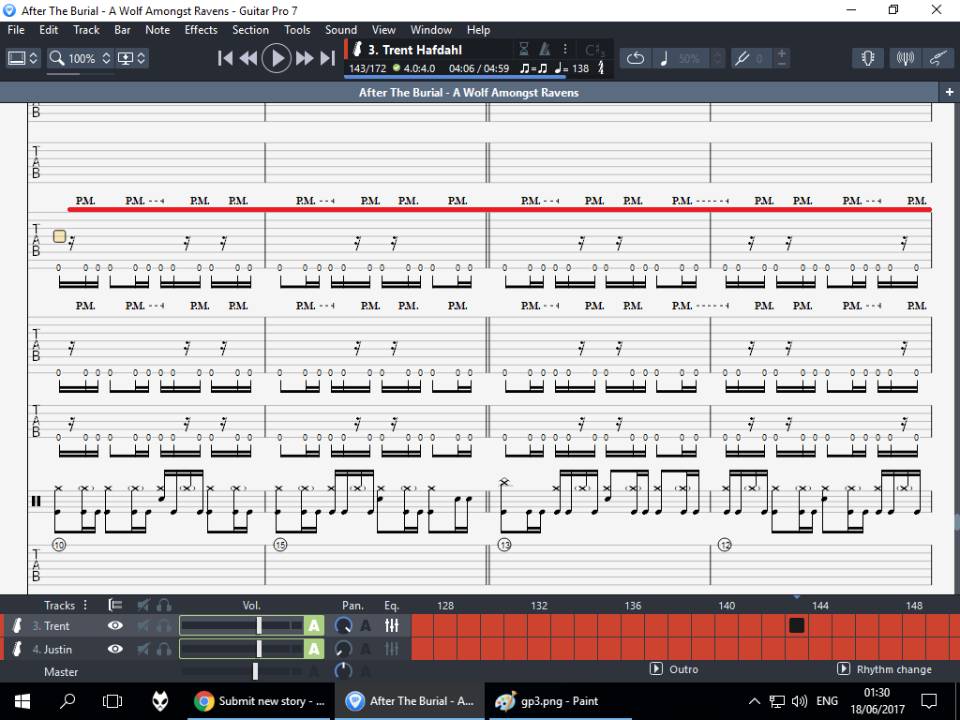 12) About solos, n-tuplets, dotted notes and bends
Most solos don't strictly follow the click and it can be tricky to figure out how many notes of what value fall into a bar. As per principle, you should try to go for the feel of the song and use n-tuplets, dotted notes and anything else in your arsenal to keep it authentic. As for bends, they're probably the easiest to make errors with and get fooled by the tab, but if you're really attentive, you should be able to get them right with the help of pre-bend and bend-release functions. Remember, a bad-written bend can break the whole feel of a lick, so don't ignore them.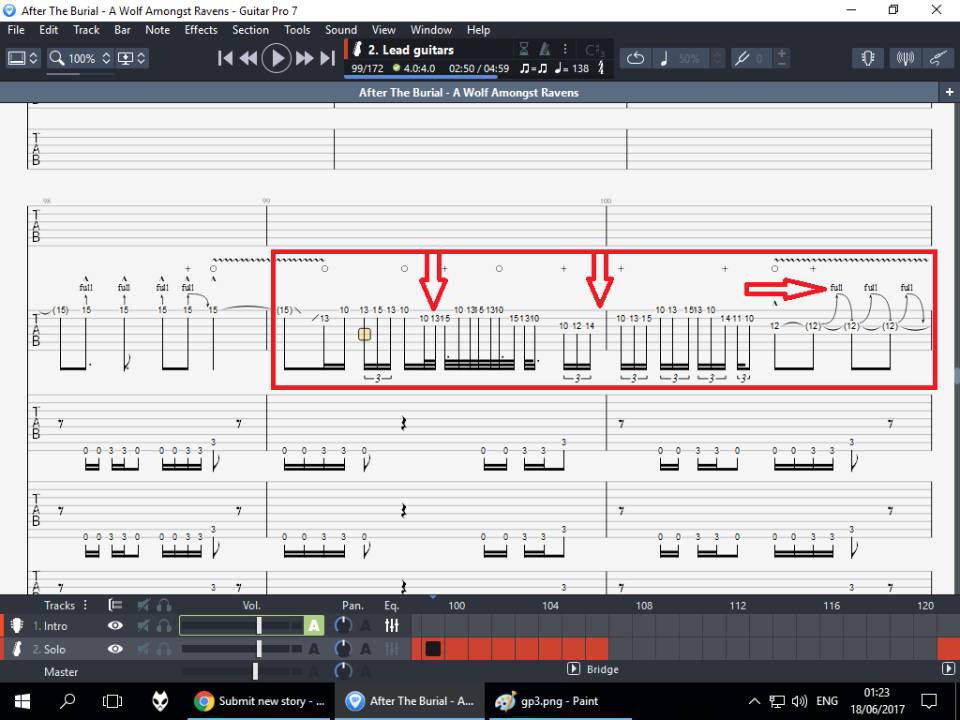 13) Choose correct playing style, pickups, etc
Choose a finger-style bass if the band's bassist uses fingers, if it's a heavy song, choose a L.Paul guitar with bridge or combined pickups. Choose either default playing style or StringedPick for pick players and StringedFinger for finger players. Choose rock drums preset for rock/metal songs, etc. That is, make everything as close to the style of the song as possible. NOTE: Choosing the anything other than the default playing style may sometimes make your rhythm guitars sound funny with all the added dynamics, so be advised.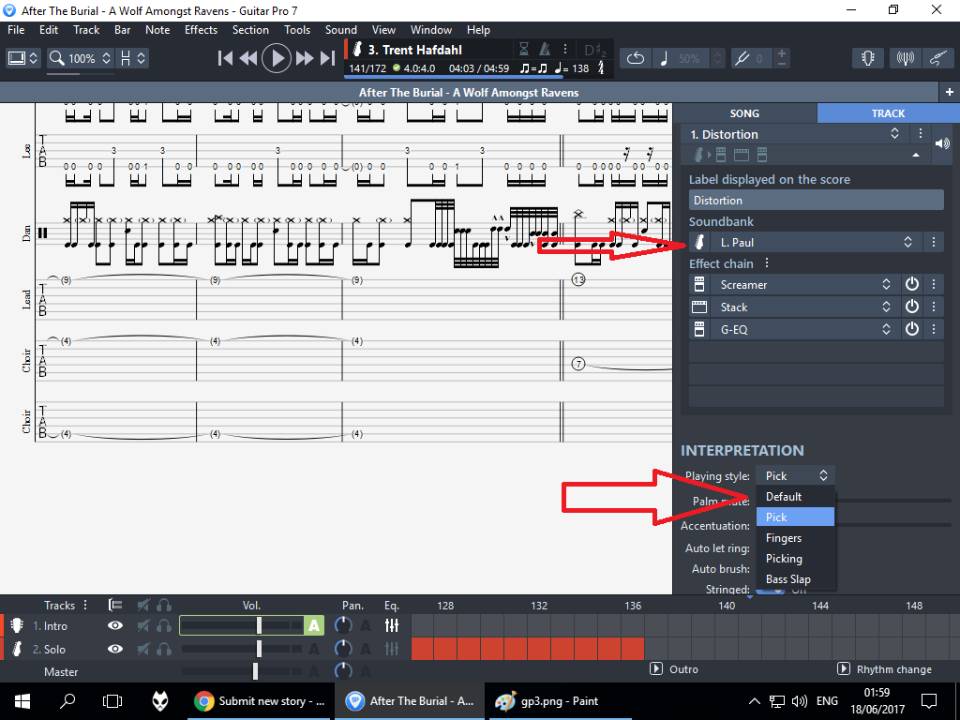 14) Write a good description for your tab in the submission page
Fortunately, UG finally added the option to write a description for tabs on the tab view page, so please include anything specific that people need to know about the tab (ie custom tuning, things to note, etc). Also, DO NOT choose a tuning from the list if it doesn't match the one in the tab (ie choosing standard tuning when submitting a 7-string tab would still only show up as EADGBE standard 6-string tuning), so it's better to leave it blank and explain it in the tab description.


This is it. Hope this helps in your tabbing process and improves the quality of submitted tabs.